Posted on
Sat, Nov 5, 2011 : 6:11 p.m.
Michigan loses the turnover battle, in turn, loses the game Saturday against Iowa
By Nick Baumgardner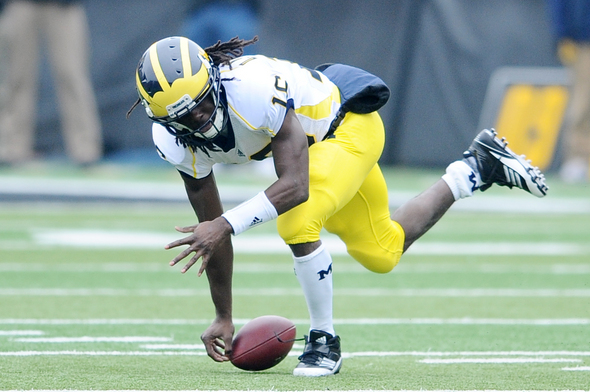 Melanie Maxwell | AnnArbor.com
For most of the season, the Michigan football team's defense has been able to overcome turnovers by the offense.
Against Notre Dame, the Wolverines coughed the ball up three times, but picked up five turnovers of their own. Against San Diego State, Michigan lost the ball four times, but took it back three.
The same was true against Northwestern, when the Wolverines threw three interceptions but forced the Wildcats into a fumble and a pick.
Michigan played with fire again Saturday against Iowa. But this time, it got burned in a 24-16 loss.
"Turnovers always hurt," Michigan coach Brady Hoke said. "The thing we missed today, though, is we didn't get any back."
Michigan turned the ball over twice Saturday against Iowa, a pair of interceptions by junior quarterback Denard Robinson on the final two drives of the first half.
Defensively, though, the magic wasn't there.
Entering Saturday, Michigan had the third-highest turnovers committed total in the Big Ten (14). However, the Wolverines still managed to sit as the co-leader in turnover margin, having forced 20.
Hoke and defensive coordinator Greg Mattison have refused to chalk up the high number of forced turnovers to luck, calling the unit "opportunistic" instead.
On Saturday, Iowa gave Michigan no opportunities. But the Wolverines didn't create any either.
"You've got to give it to Iowa, they played well and they had good ball control," Michigan senior defensive tackle Mike Martin said. "But we've got to get better on our side of it."
Junior safety Jordan Kovacs echoed Martin, saying Michigan didn't create any of that opportunistic luck on Saturday.
"They won the turnover battle," he said. "That was the difference in the game."
Toussaint 'bruised up'
Michigan sophomore running back Fitz Toussaint had to be helped off the field following a run late in the third quarter and did not return.
Hoke, as per usual, did not elaborate on the nature of Toussaint's injury and did not offer any indication of how serious it might be.
"He got bruised up a little bit," Hoke said. "But that's the kind of game it is."
Toussaint finished with 58 yards on 16 carries to lead Michigan on the ground. Junior Vincent Smith finished with four carries for 14 yards.
Senior tight end Kevin Koger left the game in the second half, appearing to favor his ankle. He wasn't out long, though, as he returned in time to catch Michigan's final touchdown.
Botched PAT on the hold
Hoke said Michigan's missed extra point following its first touchdown was the result of a mishandled snap from holder Drew Dileo.
The snap appeared fine, but Dileo, a sophomore wide receiver, had trouble placing the ball. He then picked it up and tried to run with it, but was brought down in the backfield.
"He's caught probably 1,000 of them," Hoke said. "It's like anything else, probability. It's going to happen."
Hoke pleased with offensive line play
Despite being without starting guard Ricky Barnum (ankle) again Saturday, Hoke said he had no serious issue with his banged-up offensive line.
Michigan sophomore tackle Taylor Lewan played through both a leg and ankle injury, and the absence of Barnum left the Wolverines basically with no proven backups, as sophomore Michael Schofield was forced into starting duty.
"I thought they did OK," Hoke said. "Fitz had close to 70 (yards rushing), we'd like to have 170, but I think they did some good things.
"I'm sure as we look at it there will be some things they did real well, and then there will be some things we have to go back and fix."
Iowa sports special helmets
The Hawkeyes changed the look of their helmet Saturday, altering the trademark gold tigerhawk logo to honor members of the military as part of the school's recognition of Veteran's Day.
Iowa's black helmet featured a red, white and blue logo on the right side to honor current and former military members.
The left side of the helmet was left black, honoring all the men and women who have given their lives in the line of duty.
Odds and ends
Michigan's 16 points scored was the second-fewest the Wolverines have put up all season. Michigan scored 14 points in a loss to Michigan State. ... Michigan's winless streak at Kinnick Stadium now spans six years. The Wolverines' last win in Iowa City was a 23-20 overtime win in 2005. ... With a 32-yard field goal in the third quarter, Brendan Gibbons is 7-for-9 on the season.
Nick Baumgardner covers Michigan sports for AnnArbor.com. He can be reached at 734-623-2514, by email at nickbaumgardner@annarbor.com and followed on Twitter @nickbaumgardner.