Posted on
Thu, Jun 17, 2010 : 8 a.m.
Michigan, Nebraska will rekindle rivalry when Cornhuskers join Big Ten
By Dave Birkett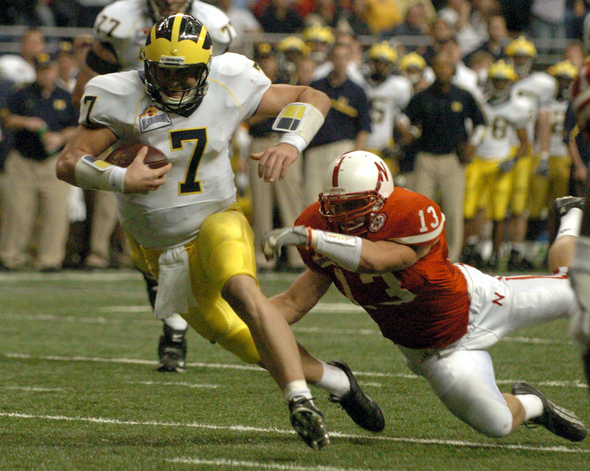 Ann Arbor News file photo
When Nebraska joined the Big Ten last week, NFL Network host Rich Eisen, an unabashed Michigan alum, tweeted, "Can Nebraska's price of admission in Big 10 please include giving Michigan back half of its national championship from 1997?"
An odd fit in some ways, the Cornhuskers enter their new league with the potential for several natural rivalries already in place.
Nebraska and Iowa are next-door neighbors. Wisconsin athletic director Barry Alvarez played for Nebraska. And Michigan and Penn State disputed national championships with the Cornhuskers in the mid-1990s.
In 1997, Michigan and Nebraska shared the title, with Michigan taking the Associated Press vote after beating Washington State in the Rose Bowl, and Nebraska topping the USA Today/ESPN poll following Hall of Fame coach Tom Osborne's last game.
Three years earlier, Penn State and Nebraska both went undefeated, but Nebraska finished first in both polls.
"Hey, Coach, we didn't get to share the championship in 1994," Big Ten commissioner Jim Delany said to Osborne, now Nebraska's athletic director, on a conference call last week. "Penn State was two, and you were one. I'm still a little bit upset about that."
Thirteen years ago, Delany had company.
After Nebraska bumped Michigan from the No. 1 spot in the coaches poll following an Orange Bowl romp of Tennessee, Osborne recalled getting "a few e-mails, things like that," from irate fans.
He said he never felt any animosity towards either the Michigan or Penn State programs - "I was a real good friend of Bo Schembechler, and I know Lloyd Carr quite well, and of course I'm a real good friend of Joe Paterno's," he said. Former Wolverine tight end Mark Campbell, who played on the '97 team, said that feeling was mutual.
"By no means did it really bother us because we did everything we could do," said Campbell, now an analyst for the Big Ten Network. "We won every game we played in and the press poll came out first so we already knew that we were national champions. Nobody could take that away from us, and I'm sure Nebraska feels the same way. I don't want to say it necessarily bothered us. Would it have been a little nicer? Yeah, absolutely."
Osborne recalled watching Michigan's Rose Bowl win with his team the night before Nebraska played Tennessee.
"I told the team afterwards, I said, 'You know, this makes it harder, but there's still a crack,'" Osborne said. "'The door's still got a crack, but we're not going to be able to just go out and barely win. We're going to have to go out and really play lights out.' And they did that."
For Campbell, the memories of Nebraska's '97 season are different but just as keen. He remembers the Cornhuskers' kicked-ball touchdown to stave off an upset against Missouri, and he remembers Nebraska quarterback Scott Frost lobbying voters to rank his team No. 1 after its bowl game.
"I remember him pleading the case for how they deserved it," Campbell said. "He brought up Coach Osborne on multiple occasions, talking about how he deserves the national championship. Now who's to say if we played who would have won that game, who knows? They were a great football team, too.
"But to me, we were ranked No. 1 in both polls going into the last week and we win, and then it comes out after the season (and for one poll to change) just doesn't make much sense to me."
Campbell and Frost played one NFL season together in Cleveland, and Campbell said he brought up Frost's lobbying efforts in the locker room one day.
"I remember talking to him like, 'Man, that was weak,' and he was laughing it up," Campbell said. "He knew exactly what he was doing, and if I was in his shoes I would have done the same thing,"
Nebraska and Michigan have played once since 1997, five years ago in the Alamo Bowl in a game most Wolverine fans would rather forget. Nebraska overcame a nine-point fourth-quarter deficit for a 32-28 win, and Michigan's lateral-filled final play came to a halt at the 13-yard line with extra Cornhuskers on the field.
Still, Campbell said he's "excited" about Nebraska joining the Big Ten and rekindling a rivalry.
"I've told a lot of people this, it's good to have another power school in the conference," he said. "In most cases, when people talk about the Big Ten, the Big Ten's kind of down right now. It's essentially Ohio State, and Penn State's kind of in the mix and Wisconsin was in the mix a year ago. But with Michigan struggling the conference is losing some star power, so it's great that Nebraska's coming in because they can deliver it back."
Dave Birkett covers University of Michigan football for AnnArbor.com. He can be reached by phone at 734-623-2552 or by e-mail at davidbirkett@annarbor.com. Follow him on Twitter @davebirkett.