Posted on
Mon, Dec 26, 2011 : 5:59 a.m.
Michigan offensive coordinator Al Borges knows Virginia Tech's defense well, and identifies a weakness
By Kyle Meinke
The Michigan football team might not be that familiar with Virginia Tech, but offensive coordinator Al Borges knows exactly what he'll get from the Hokies' defense.
All he can handle.
After all, he already matched wits with Virginia Tech defensive coordinator Bud Foster while at Auburn, and not a whole lot has changed since that 2005 tilt — which came in the Sugar Bowl, of all places.
Foster got the better of Borges, whose high-powered Auburn offense was held to 16 points, well off its season average of 33.4. The Tigers won, 16-13, but a message was sent by Foster.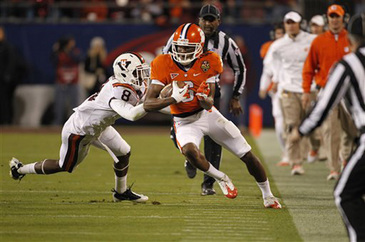 Associated Press
"They're a sic-'em type defense," Borges said last week. "By that, I mean they come after you. They come after you and try to force the issue. Very athletic.
"His defense (remains) very similar. He's changed some things, but still very similar."
Much like his Michigan offense this year, Borges' Auburn offense in 2005 relied heavily upon two prolific runners in tailbacks Cadillac Williams and Ronnie Brown. They rushed for 1,165 and 913 yards, respectively, that season.
Against Foster and Virginia Tech, they managed 61 and 68, respectively.
Could Foster do the same to the Wolverines' top-two rushers, quarterback Denard Robinson and tailback Fitz Toussaint, when the teams square off Jan. 3 in the Sugar Bowl (8:30 p.m., ESPN)?
Virginia Tech (11-2) is 14th in total defense this year and ranks 17th against the run, giving up 107.8 yards per game.
Conversely, Robinson and Toussaint already are 1,000-yard rushers and the Wolverines (10-2) average 235.7 yards per game, which is 11th nationally.
It'll be a battle of strength against strength.
"They're a good team, well coached, and they're going to give us all we want," Borges said. "Hopefully, not more than we want."
There was one team in particular, though, that was able to find the soft spot in the Hokies' defense, and that was the lone team that beat them this year.
Clemson defeated Virginia Tech twice, and did it in impressive fashion. The Tigers won 23-3 on Oct. 1, and again, 38-10, in the ACC title game earlier this month.
Borges said he's dissected the game film from those routs, and saw one significant weakness he plans to attack.
"(Clemson) got on the perimeter a few times," Borges said. "They got in the open field on them, and Clemson's got some pretty athletic kids. With anybody, if you can get some athletes in space, you have a good chance for success."
That could bode well for Michigan, which has excelled this year at getting to the perimeter. Robinson, in particular, could be effective in such a strategy because his terrific speed allows him to get to the outside, and Virginia Tech has lost two starting linebackers to injury.
But it won't be easy.
Foster has been at Virginia Tech since 1995, and he built that defense into the nation's best overall unit in 2005 and '06. The Hokies also led the nation in scoring defense in 2007, and have been in the top 10 in six of the past seven seasons.
They likely will add to that total this year after finishing seventh in the regular season. They tied with Michigan at 17.2 points allowed per game.
This season perhaps was Foster's best coaching job to date, considering Virginia Tech is ranked among the top 12 in the nation in most defensive categories despite losing three opening-week starters to season-ending injuries.
Borges said Foster's longevity and track record at Virginia Tech gives him an advantage against Michigan, which has implemented new schemes on both sides of the ball this year.
"They know their system," Borges said. "That's a long time to be running what is in essence the same defense. ... He's changed bits and pieces of his defense as he's gone on, but those kids know it, and they know how to play it. That's a nice situation to be in.
"He can do a lot of stuff because he's got the kind of kids that have been in his system."
Kyle Meinke covers Michigan football for AnnArbor.com. He can be reached at 734-623-2588, by email at kylemeinke@annarbor.com and followed on Twitter @kmeinke.