Posted on
Fri, Aug 26, 2011 : 2:35 p.m.
Michigan offensive coordinator Al Borges' system can look vastly different, depending on who is running it
By Kyle Meinke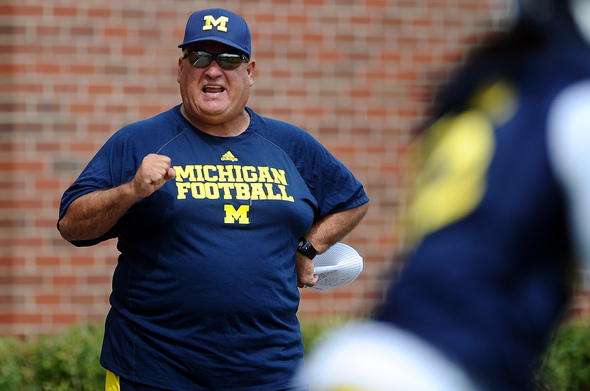 Melanie Maxwell | AnnArbor.com
Note: This is the first story in a three-part series on Michigan's new coaching staff.
Today: Al Borges | Saturday: Greg Mattison | Sunday: Brady Hoke
-----
After spending 24 of the past 25 years as a college football offensive coordinator, there's one thing Al Borges knows he'll never tire of.
Scribbling.
"I'm obsessive," he said of drawing up plays. "The guys tell me I'm a nut job, and I think I am. I just like that part of the game. I like so many parts of the game, but I like the tactics, and I like to scribble."
Borges is a West Coast guy, by and large. The 55-year-old is from Salinas, Calif., went to California State-Chico and has held jobs from San Diego State to Portland State.
AL BORGES FILE
Hometown:
Salinas, Calif.
College:
Cal State-Chico
Age:
55
Family:
Wife, Nikki; son, Cole; daughter, Mady Jo
COACHING STOPS
2009-10: San Diego State (OC)
2004-07: Auburn (OC/QBs)
2002-03: Indiana (OC/QBs)
2000-02: California (OC/QBs)
1996-00: UCLA (OC/QBs)
1995: Oregon (OC/QBs)
1993-94: Boise State (OC/QBs)
1986-92: Portland State (OC/QBs)
1983-85: Diablo Valley (TEs/WRs)
1982: California (assistant)

BOWL GAMES
San Diego State: Poinsettia Bowl (2009); Auburn: Chick-Fil-A Bowl (2007), Cotton Bowl (2007), Capital One Bowl (2006), Sugar Bowl (2005); UCLA: Sun Bowl (2000), Rose Bowl (1999), Cotton Bowl (1998); Oregon, Cotton Bowl (1996).
PLAYCALLING SPLITS
1995: 50.9% pass / 49.1 % run
1996: 43.6% pass / 56.4% run
1997: 37.6% pass / 62.4 % run
1998: 42.7% pass / 57.3% run
1999: 48.0% pass / 52.0% run
2000: 46.3% pass / 53.7% run
2001: 52.4% pass / 47.6 % run
2002: 51.1% pass / 48.9% run
2003: 37.8% pass / 62.2% run
2004: 36.1% pass / 63.9% run
2005: 41.4% pass / 58.6% run
2006: 37.9% pass / 62.1% run
2007: 39.9% pass / 60.1% run
2009: 58.3% pass / 41.7% run
2010: 49.8% pass / 50.2% run

He now is entering his first season as Michigan's offensive coordinator after holding that position at Diablo Valley College, Portland State, Boise State, Oregon, UCLA, California, Indiana, Auburn and San Diego State.
One thing that's always defined him along the way — besides his pro-style offense — has been his passion for drawing up plays.
Even back in Salinas.
"My dad always said as long as I had a pencil and a piece of paper, I was never bored," recalled Borges, one of seven children. "He said, 'I envy you. Pencil and a piece of paper, and you're never bored.' That's probably true.
"Maybe some of the stuff I'm drawing is worthless, and I'm sure some of it is. I throw it all away. I don't keep it very often. Once I write it down, I normally remember it."
That proclivity surely has been put to use this off-season, when he's fit quarterback Denard Robinson to his pro-style scheme — and the scheme to Robinson.
How to marry a running quarterback
to a pro-style scheme
Borges has run the West Coast offense -- "God, I hate using that word," he says -- since he studied legendary coach Bill Walsh in the late 1970s. It emphasizes the power-run game, big receivers, big linemen, tight ends and a pocket quarterback.
In other words: Pretty much the opposite of what Michigan has run the past three years.
The nucleus of the Wolverines' offense is Robinson, who posted the most prolific offensive season in school history last year running the spread-option. He's a lightning-fast runner with good instincts and vision.
That's why he was given 19.7 carries per game last year, a staggering number for a quarterback.
Rather than confine Robinson to the pocket, though, Borges, who will call plays from the press box at Michigan, has said he will adapt his system to fit the junior's strengths.
"We'll be 'gunning more than we've ever 'gunned," Borges said. "We've used the shotgun before, but we're just tailoring the gun more to (Robinson's) skills.
"I'm not revealing any trade secrets here, but we're going to use Denard the best way he can exploit the defense."
Hoke said that could include 10 to 15 runs per game for Robinson, who so far has been given a "starter set" of passing plays from Borges' playbook. That includes about 65 to 70 percent of what Borges hopes to run.
"We are smart enough -- which I know people don't usually say about me -- to have elements in our offense which Denard does well from what he did in the spread," Hoke said recently.
Borges tailors schemes

Still skeptical? Here's proof that Borges will bend his offenses.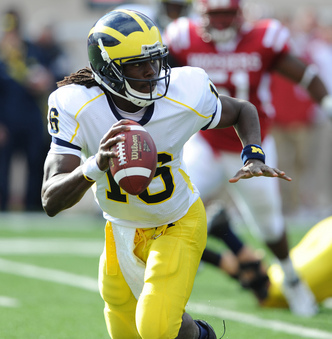 AnnArbor.com file photo
In the past 15 seasons, his offenses have passed 46.7 percent of the time and run 53.3 percent of the time. By comparison, Michigan passed on 43.0, 40.1 and 41.0 percent of its plays the past three years.
But there are outliers.
For example, Borges' 2004 offense at Auburn passed just 36.1 percent of the time. He also happened to have future pro tailbacks in Cadillac Williams and Ronnie Brown at his disposal that year.
The result? A 25th-ranked offense that led the Southeastern Conference in scoring. Auburn finished 13-0 that year.
By contrast, Borges' 2001 offense at California passed on 52.4 percent of its snaps. Why? Future NFL player Kyle Boller was at quarterback.
Borges even had a mobile quarterback in Cade McNown when the pair were at UCLA in the late 1990s. The former turned the latter into a first-round NFL draft pick, and together they guided the Bruins to a top-five finish in 1997 and a Rose Bowl appearance in 1998.
The offenses at UCLA in the late 90s, California in 2001 and Auburn in 2004 were dissimilar in almost every way, except they all ran the same base formation under the same man.
That system can look vastly different, depending upon who is running it.
Most recently, Borges passed 58.3 percent and 49.8 percent of the time the past two years, respectively, at San Diego State. He also had one of the Mountain West Conference's best quarterbacks in Ryan Lindley, and two 2010 draft picks at receiver in Vincent Brown and DeMarco Sampson.
Last year, San Diego State ranked 16th in total yards (456.7) and 19th in scoring (35.0).
What does it all mean?
Borges likes the pro-style system, but will bend it to fit his players -- and more often than not, with success.
This year, he will attempt to do the same.
Which version of his past offenses will most resemble this year's product?
"None," he said.
The scribbler inside him must be giddy.
Kyle Meinke covers Michigan football for AnnArbor.com. He can be reached at 734-623-2588, by email at kylemeinke@annarbor.com and followed on Twitter @kmeinke.