Posted on
Tue, May 18, 2010 : 5:07 p.m.
Michigan, Ohio State expect rivalry to remain an annual one, despite Big Ten expansion talk
By Dave Birkett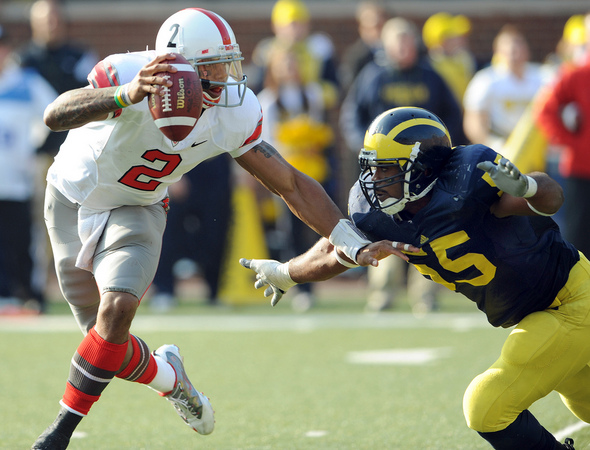 CHICAGO - It's a minor detail in the grand scheme of expansion, but one the Big Ten must address if grows to 12, 14 or 16 teams: What to do with Michigan and Ohio State?
The Wolverines and Buckeyes have one of the most storied rivalries in college football, and the league likely won't do anything to disrupt that.
But should Michigan and Ohio State be in the same division, or is it better to have two of the Big Ten's biggest names in different divisions so they could play in a theoretical conference championship game?
"I think what's probably most important is that you play them every year," Michigan coach Rich Rodriguez said Tuesday from the Big Ten spring meetings. "For us, it's always been at the end and that's always had a great buildup and excitement to that, so you would think that would be part of the conversation. But there's a lot of factors in play. I have not put a lot of thought into it."
Ohio State athletic director Gene Smith said that issue is "very important" to him.
"At the end of the day when I look at things quantifiably, I'll determine how hard I jump on the table," Smith said. "But I can't say for sure how high a table I'll jump on. I have to wait and see."
Rodriguez said the Big Ten's plethora of rivalries makes these expansion talks unique. Along with Ohio State, Michigan has a protected in-state rivalry with Michigan State the Big Ten also will take into account when drawing up future divisions.
"There's other rivalries that have been going on for years in our league, so how do you work that into the process?" Rodriguez said. "I think that's why it takes more than two or three months to figure this out."
Dave Birkett covers University of Michigan football for AnnArbor.com. He can be reached by phone at 734-623-2552 or by e-mail at davidbirkett@annarbor.com. Follow him on Twitter @davebirkett.