Michigan-Ohio State football clips playing on loop in Buckeyes' locker room
Posted on Wed, Apr 11, 2012 : 1:55 p.m.
When fullback Zach Boren walks into Ohio State's football locker room today, he knows exactly what is going to be on the TV.
Tomorrow, too.
And the next day.
After all, new coach Urban Meyer has one thing playing on loop: The Buckeyes' football series against Michigan.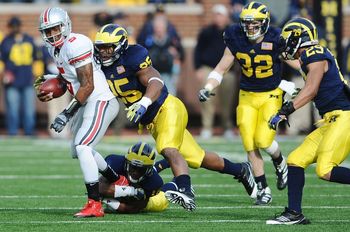 Melanie Maxwell | AnnArbor.com
"That video's been playing for a long time in the locker room, and it just kind of reminds us every day of how significant that game is, and how many great games have been played in that rivalry, and how important it really is," Boren said Tuesday during a Big Ten Leaders Division conference call with reporters.
Meyer was hired late last year to replace Luke Fickell, who was promoted to interim head coach after Jim Tressel was forced out.
He has yet to coach a down at Ohio State, but understands his rivalry against Michigan well. Meyer is a Toledo, Ohio, native, and once was a graduate assistant with the Buckeyes.
He has called Ohio State his dream job. And now he has it.
Meyer was hired in November, shortly before the Michigan game, and saw the Buckeyes' seven-game winning streak against the Wolverines snapped in Ann Arbor. They don't expect the Wolverines to repeat in Columbus next season.
"We're going to be ready for that game -- we always are," said Boren, whose brother, Justin Boren, played for Michigan before leaving for Ohio State. "We're reminded of that game every single day throughout the year. ... We know it's a big game, just because of what happened last year. We'll be ready for it, we'll be competing with them.
"If you want to be successful at Ohio State, or That Team Up North, you have to embrace that rivalry, and that game has to be put on a pedestal, just because of how big it really is and all the tradition behind it."
Yes, Ohio State is calling Michigan "That Team Up North." And Michigan is calling Ohio State "Ohio."
Game on.
Meyer on critical article
Meyer also commented on the conference call regarding a Sporting News story that took a critical look at his tenure with Florida. That included preferential treatment for star players and featured an alleged ugly episode in which star receiver Percy Harvin physically attacked a position coach.
Meyer said he had several specific problems with the story, and said several times he didn't understand the "intent" of the story. He also noted several times there were no NCAA violations committed under his watch.
"We're extremely proud of what we did down there," Meyer said. "And throwing not good players, great players, under the bus like that, I don't get the intent. I'll fight for those guys. Those guys did a lot of great things for the University of Florida.
"It's just disappointing, and I'm not sure of the intent."
Meyer said he's received many calls of support since the story was published.