Posted on
Tue, Dec 20, 2011 : 5:59 a.m.
Michigan losing recruiting lead over Ohio State after torrid run by Urban Meyer
By Kyle Meinke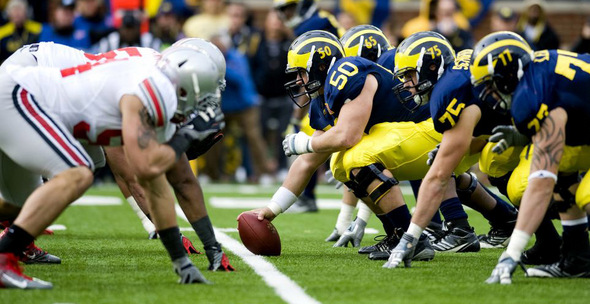 Joseph Tobianski | AnnArbor.com
Remember when Brady Hoke was last summer's recruiting darling?
That is fading into a distant memory, thanks to the Big Ten's newest coach.
Urban Meyer was hired at Ohio State three weeks ago, and began his tenure with such a recruiting flurry that the Buckeyes' class shot up to No. 5 in the nation this week, according to Scout.
Texas remains No. 1 overall and Michigan is holding steady at No. 2 on the strength of Hoke's hot summer, which included raiding Ohio while the Buckeyes were embroiled in a memorabilia-for-gifts scandal that cost coach Jim Tressel his job.
RELATED CONTENT
The most recent 2012 recruiting class rankings from Scout.com, with total number of recruits and top-100 recruits in parenthesis.
1. Texas
(25, 7)
2. Michigan
(23, 5)
3. Alabama
(22, 5)
4. Texas A&M
(22, 3)
5. Ohio State
(19, 5)
6. LSU
(21, 1)
7. Florida
(17, 5)
8. Miami
(28, 1)
9. Notre Dame
(16, 7)
10. Clemson
(20, 3)
(
See complete list
)
Michigan has nine verbal commitments from Ohio prospects, including five-star offensive lineman and former Ohio State pledge
Kyle Kalis
. If they all sign Letters of Intent in February, that would be the Wolverines' largest take from that state since at least 2002.
At this rate, though, the Buckeyes might round out their class with enough talent to overtake Michigan in the national rankings. Scout Midwest recruiting expert Allen Trieu said it will be close, but projects Ohio State to surpass the Wolverines because they have more slots to fill.
As it stands, Michigan's only five-star commit is Kalis. The Buckeyes have four -- and counting.
"Meyer is a tireless recruiter," Trieu said. "I'm a little surprised all this has happened so fast, with the (NCAA) sanctions still coming, but there was never any question Meyer was going to recruit well."
Meyer also is aided by a waiver that allows him to recruit, and only recruit, while former Ohio State coach Luke Fickell has a full staff to prepare for the team's Gator Bowl matchup against Florida.
Hoke didn't have that luxury as he prepares to face Virginia Tech on Jan. 3 in the Sugar Bowl (8:30 p.m., ESPN).
"It's different," Hoke said recently. "That would be my reaction. I've never heard of it, but there's probably a lot of things I haven't heard of. ... Is it an advantage? Yeah, I think so."
That advantage ends Tuesday, the start of a recruiting dead period that runs through Jan. 3. Staffs may only contact recruits who have been admitted for mid-year enrollment.
Meyer's latest coup was securing a verbal commitment on Sunday from five-star recruit Noah Spence, who is ranked as the country's top defensive end and No. 7 overall recruit. He wasn't even considering Ohio State until three weeks ago.
Once Meyer was hired, though, Spence took a visit to Columbus and committed shortly thereafter -- even though he hadn't visited any other campuses.
He is the third elite defensive line recruit to commit to the Buckeyes since Meyer's hiring three weeks ago. Tommy Schutt already has switched his pledge from Penn State to Ohio State, and former Michigan State recruit Se'Von Pittman followed suit.
Ohio State's four defensive line recruits average 4.75 stars, according to Scout, and could present an intriguing matchup in future years with Michigan's impressive offensive line haul. The Wolverines have commitments from Kalis (ranked No. 7 at the position, according to Scout), Erik Magnuson (20), Ben Braden (41) and Blake Bars (52).
Tight end A.J. Williams also is projected to be the 30th-best tackle recruit, and could switch to that position. (2012 recruiting class)
For now, the head-to-head battle between Meyer and Hoke could remain relatively quiet. Trieu said he does not expect Meyer to flip any current Michigan commits, and the only player they're both fighting for right now is five-star offensive tackle Jordan Diamond of Chicago.
But, that turf battle is expected to ratchet into one of the nation's fiercest as the 2013 recruiting cycle gets under way.
Hoke is from Ohio and has expressed a specific interest in mining the state, which is one of the country's most fertile for big-time football recruits. Meyer also has strong ties to the state and is one of the country's top recruiters. He also now has momentum.
It makes Rivals national analyst Mike Farrell seem prophetic. Here is what he told AnnArbor.com in a July interview, when Hoke was the hottest name in recruiting and scandal-ridden Ohio State was bleeding recruits:
"Everything looks bleak now for Ohio State, but what's going to happen is they're going to do a national coaching search (at the end of the season), and this guy is going to be a slam-dunk hire. Let me put it this way: Michigan didn't get the top two guys in its search (Jim Harbaugh and Les Miles), and even with that, they're off the charts right now because of excitement from Hoke they can sell.

"But Ohio State? They're not going to miss on their top two guys, and things will go back to normal very quickly."
Although the Wolverines will continue to target Ohio and pull recruits from that state, it's clear their window for capitalizing on the Buckeyes' troubles has closed.

Quick hit
Trieu said receiver Jehu Chesson is expected to announce his decision this week, and that he'd "be a little surprised if it's not Michigan." Chesson is a three-star wideout from Ladue, Mo. He is 6-foot-3, 175 pounds and ranked 82nd at his position, according to Scout.
Kyle Meinke covers Michigan football for AnnArbor.com. He can be reached at 734-623-2588, by email at kylemeinke@annarbor.com and followed on Twitter @kmeinke.