Posted on
Thu, Jun 3, 2010 : 5:59 a.m.
Michigan picked to finish middle of Big Ten by most college football preview magazines
By Dave Birkett
The college football season doesn't begin for three months, but magazines previewing the fall already are in bookstores nationwide.
The Michigan football team, most pundits agree, is headed for a middle-of-the-pack finish in the Big Ten.
"If you're a long-time Michigan fan, eight wins doesn't sound like a lot, but after the last two years, yeah, (they should be) much better than the last two years, no doubt about it," said Phil Steele, editor of Phil Steele's College Football Preview. "Who would have ever thought they'd have two straight losing years after 40 straight winning years?"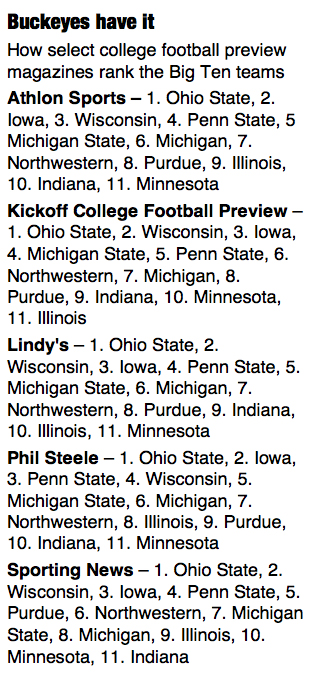 Steele picked Michigan to finish sixth in the Big Ten in his magazine and said Wednesday he expects the Wolverines to win seven or eight games.
That seems to be the consensus. Lindy's College Football also picked Michigan to finish sixth in the Big Ten, Athlon Sports had the Wolverines tied for fifth, while Kickoff College Football Preview picked Michigan seventh and The Sporting News ranked the Wolverines eighth.
Athlon, the only magazine to project records, has Michigan finishing 7-5 overall, 4-4 in the Big Ten, and playing Missouri in the Insight Bowl.
"It's a make or break season for Rich Rodriguez," the magazine writes, concluding, "With non-conference games against Connecticut and at Notre Dame, an 0-2 start isn't a stretch. U-M should return to the postseason, but it won't be easy."
Steele said he runs nine sets of computer power rankings to help make his prediction. Three of the nine had Michigan winning nine games.
"But of course there's nine sets so that means that six did not call for a nine-win season," Steele said. "I would say best-case scenario for Michigan would be a 10-win season because the Notre Dame game in Week 2 is a winnable game, the Iowa game at home is winnable.
"The only two games where I have them as a clear underdog is at Penn State and at Ohio State. But in my mind every other game falls into the winnable category."
In his magazine, Steele ranks Michigan 37th nationally and predicts a 5-1 start with wins over UConn in the home opener and Michigan State in early October. He also writes that coach Rich Rodriguez "is one of my top coaches on the hot seat, but should be off it after 2010."

"Overall I just think that they didn't catch a lot of breaks last year," Steele said Wednesday. "They'll catch them this year and you're probably looking at about a seven-, eight-win season for Michigan."
Sporting News, the most pessimistic of the magazines, was one of two publications (Lindy's was the other) to put Michigan guard Steve Schilling on its preseason all-Big Ten first team.
The magazine also called Schilling the best interview in the Big Ten and cornerback Demar Dorsey the top impact freshman, though there's a good chance Dorsey does not get admitted to Michigan.
Of Michigan's Oct. 9 game against MSU, Sporting News writes, "If the Wolverines have any hope of a turnaround they need to beat the Spartans, who underachieved in 2009."
Lindy's surmises that "Rodriguez might have to get to a bowl or beat Ohio State to keep his job. Better make that both," and the Kickoff Preview suggest Michigan "might have to outscore teams to win."
All five magazines project Ohio State as Big Ten champs and put the Buckeyes in their preseason top five.
Steele has Ohio State losing to Oklahoma in the national championship game.
"What concerns me with Ohio State this year is the schedule," Steele said. "They do have to play both Iowa and Wisconsin on the road. I think when you see the AP top 10 come out, Iowa's clearly in the top 10, Wisconsin's one of those 10-11-12 teams.
"So the schedule's not without its landmines, but when I factor in everything I just think Ohio State's ahead of those programs enough to get tough road wins. Neither will be easy, but I do pick Ohio State to run the table this year play in the title game."
Dave Birkett covers University of Michigan football for AnnArbor.com. He can be reached by phone at 734-623-2552 or by e-mail at davidbirkett@annarbor.com. Follow him on Twitter @davebirkett.