Posted on
Thu, Feb 9, 2012 : 5:59 a.m.
Michigan recruit Kyle Kalis, scooped from Ohio State, is a 'road-grading' lineman
By Kyle Meinke
Darrell Funk was eating dinner with his family at a local Damon's last year when he stepped away to take a business call.
The wife of the Michigan football team's offensive line coach didn't mind. She knew who was on the other end: Kyle Kalis, a five-star offensive lineman who was committed to her husband's biggest rival, Ohio State.
The Wolverines were trying to poach him away.
This was Kalis' first chat with Funk, who had to walk past a photo of former All-American tackle Jake Long to get outdoors for the conversation.
"We hit it off well," Funk recalled last week. "He was asking great questions, he was excited, he knew Michigan's traditions. I told him I just walked by a big picture of Jake Long, and of course who doesn't know that guy?
"He seemed real interested, and I'm glad it's come to pass."
Funk didn't specify when the call took place, only noting that "it was still cold out, and it wasn't in the past seven months, if you know what I mean."
Melanie Maxwell I AnnArbor.com
Kalis didn't decommit from the Buckeyes right away. But, when he finally did on June 21, he booked a visit to Ann Arbor for the following weekend, during which he called Wolverines coach Brady Hoke from the block M on Michigan Stadium's 50-yard line to say he was in.
Now, he's the gem of the country's No. 3 offensive line class.
"He just wants to tear your head off," Funk said. "He plays like that all the time and practices like that all the time, and we need that. You can Xs and Os all you want, and that's important, but at the end of the day, it starts up front.
"Everyone thinks it's coachspeak, but (winning) starts with knocking the heck out of the guy in front of you, and that's one thing Kyle does real well."
Funk laughed when he described one sequence of film in which Kalis knocks over an umpire "when he was throwing someone around" and couldn't decide whether to help the guy up or find someone else to hit.
Kalis is a 6-foot-5, 305-pound prospect from Lakewood, Ohio. He is ranked as that state's top high school player, which makes his gain -- and the Buckeyes' loss -- all the more pivotal for Michigan.
Hoke described Kalis as a "powerful, strong, road-grading type of offensive lineman," and also said he has "tremendous resolve" for gracefully handling the backlash he received after ditching Ohio State for its chief rival.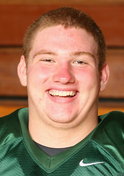 "The basic reaction (to my Michigan commitment) in Ohio has been, 'Ah, how could you do this to your home state? You betrayed your home state!!'" Kalis texted AnnArbor.com last summer. "It just makes me laugh because I've only been here for 2 1/2 years.
"About 95 percent of everyone has accepted (my decision). And of course my family is OK because they're happy if I'm happy."
Funk said Kalis has the versatility to play guard or tackle, but will come to Michigan to play right tackle. The Wolverines are losing their starter there in Mark Huyge, and Kalis figures to push for time as a true freshman.
But his future also could be elsewhere.
"It's based on how you can get on the field," Funk said. "We're going to bring him in and play him at the position he wants to play, and then we'll go from there.
"I've had a number of guys get to the league, and almost all of them's first start was at a different position than they ended up playing. ... But that's our plan going in, we'll be flexible and we'll see where we go."
Kalis is joined in the 2012 class by fellow offensive linemen Erik Magnuson (Carlsbad, Calif.), Ben Braden (Rockford) and Blake Bars (Nashville, Tenn.).
Funk said the 6-foot-6, 275-pound Magnuson, a four-star prospect, projects as the successor to Taylor Lewan at the left tackle position. Braden projects as a tackle but could play guard, and Bars can play tackle or guard.
None of the four play center, Funk said. The Wolverines will have to replace departing senior David Molk from within, either in the form of Ricky Barnum, Jack Miller or Rocko Khoury.
Despite not snagging a center prospect, or a fifth linemen he so hotly pursued, Funk said this class still is strong enough to be the best of his career -- better than the one he had at Colorado State that produced four NFL players.
Kalis is the cream of the crop.
Good thing Funk took that phone call.
Kyle Meinke covers Michigan football for AnnArbor.com. He can be reached at 734-623-2588, by email at kylemeinke@annarbor.com and followed on Twitter @kmeinke.