Michigan QB commit Shane Morris impersonates Michigan State coach Mark Dantonio
Posted on Sun, Jul 8, 2012 : 5:58 a.m.
Incoming Michigan football freshman Ondre Pipkins already has showcased his Brady Hoke impression -- and it's a classic.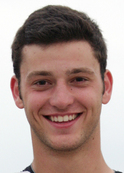 Courtesy Allen Trieu | Scout.com
Now, it appears 2013 quarterback commit Shane Morris has some acting chops of his own. Only, they're not of Hoke, but of in-state rival Mark Dantonio.
Morris was included in an ESPN video this weekend that featured several recruits talking about the easiest coaches to impersonate. But rather than choose a Michigan coach, the Warren DeLaSalle star chose Michigan State's head man.
The routine, as it happens, was pretty spot on. Take a look (Morris enters the video at about 37 seconds):