Posted on
Wed, Aug 8, 2012 : 5:59 a.m.
Michigan QB Denard Robinson receives outpouring of support for media day speech, but ready to work
By Kyle Meinke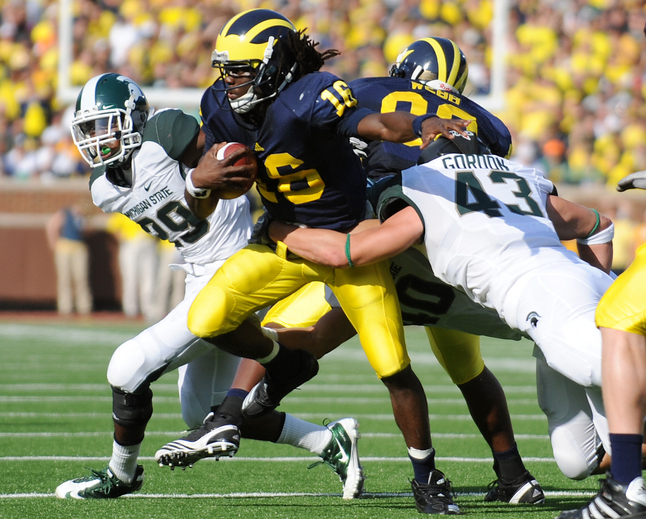 Melanie Maxwell | AnnArbor.com
Denard Robinson
, the
Michigan football
team's famously shy star quarterback, spent three years hiding behind his flashy smile and fleet feet.
Now a senior and the face of a Wolverines team craving his leadership, Robinson is working to open up -- and speak up.
His first big breakthrough occurred recently at the Big Ten's media days in Chicago, where he delivered a stirring 8-minute speech while speaking for the league's players. He opened up about his brother dying when he was 10, and later holding recruiting visits at his grandparents' house because he was so self-conscious of the drug-infested streets that surrounded his home.
"As soon as it was over, I texted him and told him that I thought it was incredible," senior receiver Roy Roundtree said this week. "I had never seen Denard open up like that."
Robinson said he has received an outpouring of support since the speech, including from his family back in Deerfield Beach, Fla. It brought his mother to tears.
"I got a lot of text messages," he said. "Everyone just said, 'Thank you for opening up and introducing your life to us.' My family, they just said, 'Man, that kind of hit home.'
"Everybody gave me good feedback. I feel like I could have did better, but, you know, I'm trying to do better at football."
Robinson has been a star ever since he made his first start as a sophomore in 2010, when he announced himself to the world by completing 19-of-22 passes and rushing for a school quarterback-record 197 yards in the opener against Connecticut.
He followed up that performance by rushing for 258 yards against Notre Dame, another record, and he immediately was inserted into Heisman Trophy considerations.
He didn't have time to acclimate to the limelight -- but it found him, and he's had a hard time embracing it.
Robinson, though, evolved this past offseason knowing his team would have a leadership void after the departure of captains Mike Martin, David Molk and Kevin Koger. He responded by asserting himself not only as a leader of the team, but an outspoken one at that.
Roundtree said Robinson even chewed out a few players for not working hard enough in the offseason.
"It is all about growing up and taking on a leadership role," Robinson said. "That's something I have to be ready to do this season."
On the field, Robinson has evolved as well. One of the country's most dynamic rushers the past three years, the senior spent the offseason working to master the passing game.
He completed only 55 percent of his passes last year and tossed a Big Ten-worst 15 interceptions. He's pored over film this offseason to diagnose what went wrong mentally, and worked diligently to correct footwork problems.
After his first day of camp Monday, Robinson said he missed a couple throws due to being "too excited," but that overall he was relaxed and executed. There were fewer timing errors, and his footwork and follow-through were improved.
He also tried out his new personality -- and teammates noticed.
"Denard's really picked it up," Roundtree said. "He's a lot more vocal than he has been in the past. You can actually hear him now."
Kyle Meinke covers Michigan football for AnnArbor.com. He can be reached at 734-623-2588, by email at kylemeinke@annarbor.com and followed on Twitter @kmeinke.