Posted on
Fri, Jul 27, 2012 : 12:30 p.m.
Michigan QB Devin Gardner will play receiver, Brady Hoke confirms
By Kyle Meinke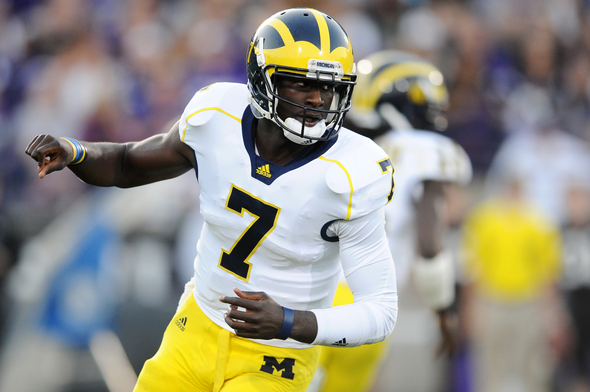 Melanie Maxwell | AnnArbor.com
CHICAGO --
Michigan
quarterback
Devin Gardner was practicing at receiver in the spring
. Everyone knew it, even though coaches weren't saying much.
Now, they are.
Wolverines head coach Brady Hoke said Friday at Big Ten media days in Chicago that the junior will split time this fall between backing up starter Denard Robinson at quarterback and getting reps at receiver.
Although Gardner's move has been rumored for months, this marks the first time Hoke has talked about it at length.
"We have a chance to get Devin on the field as a wide receiver some, because of his athleticism," Hoke said. "He's a big guy. So, I think we've got all kinds of different things that we look towards with Devin.
"I think Devin has grown as a quarterback, grown as a kid. I think that's a big part of it."
Gardner is a 6-foot-4, 205-pound junior from Inkster. He was ranked as the country's top dual-threat coming out of high school, but hasn't played much as Robinson developed into one of the nation's most exciting players.
Hoke and offensive coordinator Al Borges said in the spring they would like to get Gardner on the field to take advantage of his athleticism. Now, it appears that's happening, with his time split between quarterback and receiver.
Hoke wouldn't commit to how much time Gardner would receive at wideout, but did say it would depend some on his ability to protect the football at that position.
The coach also said the development of third-string quarterback Russell Bellomy helps give Michigan insurance to make the move. Bellomy was solid in the spring game -- more effective than Gardner, in fact -- and seems to be earning the trust of the coaching staff to operate the offense.
"It allows you to work Devin a little bit more at some different things, some different positions where he could help the football team," Hoke said.
Robinson said he's worked on formations and routes with Gardner this summer, and could see him being an impact player on deep balls due to his size. That could help Michigan account for the loss of top receiver Junior Hemingway, who was the team's go-to threat on jump balls last year.
The Wolverines return two experienced starters at receiver in senior Roy Roundtree and junior Jeremy Gallon, but Roundtree is 6-foot and Gallon 5-8. Gardner, at 6-4, brings a size dimension to the position.
And he can run.
"Devin is one of the best athletes I've ever seen," Robinson said. "He can make some plays happen -- he can be an impact player. Whatever position he is on the football field, he's an impact player.
"You see him on the football field, you look at No. 12 he's wearing now (after wearing No. 7 last year), you see him on the field, he's going to be explosive at quarterback, receiver, even if he goes to running back. He's an impact player.
"He's an athlete, so when you see him at receiver, you think he's a receiver. He can play ball -- he can straight-out play ball. That's just Devin."
Kyle Meinke covers Michigan football for AnnArbor.com. He can be reached at 734-623-2588, by email at kylemeinke@annarbor.com and followed on Twitter @kmeinke.