Posted on
Sun, Aug 28, 2011 : 5:57 a.m.
Michigan quarterback Denard Robinson adapting to new offense, expectations
By Kyle Meinke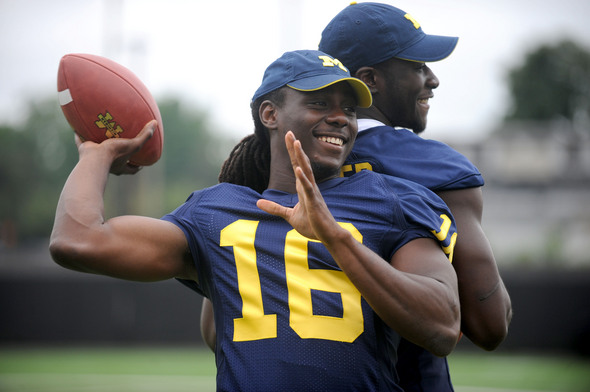 Angela J. Cesere | AnnArbor.com
There is a long tradition of pro-style quarterbacks who have starred for the Michigan football team.
Now that Denard Robinson is learning the scheme, after whom is he patterning his game?
"There's two of them," Robinson said without hesitation after a recent practice. "Michael Vick and Peyton Manning."
It's an odd combination, but what is most striking is who he omitted — particularly since he was standing in the middle of Michigan's football museum at Schembechler Hall, where's there's a photo of that great quarterback.
"And Tom Brady," Robinson added after a moment, realizing his mistake. "I forgot about Tom Brady. I'm sorry, Tom."
It's about the only misstep Robinson's made this off-season — a remarkable feat, considering the transformation he's been asked to make.
DENARD ROBINSON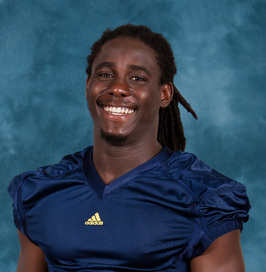 Age:
20
Hometown:
Deerfield Beach, Fla.
Class:
Junior
Major:
Kinesiology
Size:
6-foot, 195 pounds
Position:
Quarterback
PASSING
2010: 182-for-291 (62.5%), 2,570 yards, 18 TDs, 11 INTs
2009: 14-for-31 (45.2 %), 188 yards, 2 TDs, 4 INTs

RUSHING
2010: 256 att., 1,702 yards, 6.6 avg., 14 TDs
2009: 69 att., 351 yards, 5.1 avg., 5 TDs

Records set in 2010: NCAA single-season record for rushing yards by a quarterback (1,702). … School record for single-season touches (547) and total offense (4,272). … School record for total yards in a game, accounting for 502 of Michigan's 532 against Notre Dame. … School and Big Ten record for single-game rushing yards by a quarterback (258 against Notre Dame).
Other 2010 notables: Completed 62.5 percent of his passes, up from 45.2 in 2009. … Posted Michigan's five best rushing performances (258, 217, 197, 191, 129). … Finished sixth in Heisman Trophy voting. … Became first player to undergo a coaching change a season after being named the Big Ten offensive player of the year. … Named first-team All-Big Ten. … Finished fourth nationally in rushing yards. … Set Michigan record for most rushing yards by a player who returned the next season. … Led Big Ten in total offense (328.6 yards per game) and second nationally. … Set school record for total offense (383 yards) and rushing yards by a quarterback (197) in his first career start against UConn, both of which were eclipsed the next week. … Became ninth player in NCAA history to rush and pass for 200 yards in a game. He did it twice.
The junior is, by all accounts, adapting to the pro-style offense despite being recruited to run the spread-option — a scheme he fit perfectly. He's lightning fast, with a first step that rivals any quarterback in the history of college football.
Defensive coordinator Greg Mattison said Robinson is the fastest player he's seen on a football field. Mattison, mind you, is a 31-year college assistant who coached the Baltimore Ravens the past three years.
Robinson rushed for an NCAA quarterback-record 1,702 yards last year as a sophomore first-year starter. Now he's back, becoming Michigan's first returning starter at quarterback since Chad Henne in 2007.
The biggest leap for college quarterbacks often comes between their first and second years as starters. They have a better feel for protection schemes, where rushers will penetrate the pocket, where receivers will be and so on. It all leads to better vision and anticipation.
Robinson won't have that luxury. Not at all.
Instead, he has worked assiduously this off-season to learn the new route trees, develop timing with his receivers, sharpen his footwork and forge his pocket presence.
It's paying off.
"Everyone wants to say he's a running quarterback, and he's really been sitting back and reading the defense and timing off the routes," said junior Roy Roundtree, Robinson's top target last year.
"He's getting more comfortable day by day. He's really spraying it out."
The fawning over Robinson's game has come from all directions. Coach Brady Hoke, offensive coordinator Al Borges, the receivers, the cornerbacks ... probably the water boys would too, if they were made available for comment.
They all say the same thing: Robinson's a solid pro-style quarterback whose passes are crisper than ever. His mechanics are improving daily. He's bouncing in the pocket less, and making better check-downs.
And, hey, when trouble comes? He can do a little running, too.
"He's a unique talent," Borges said. "I've said this 1,000 times, and I'll say it again: As long as he uses good judgment and doesn't try to do more than he's capable of doing, he'll be a very, very good player for us.
"Sometimes, change can be met by resistance — we're all that way by human nature — but unless I'm naive, and my wife says I am, I don't see much of that."
For as much as Robinson is adopting his game to the pro-style offense, Borges is adopting his pro-style offense to Robinson, who is expected to receive about 10 to 15 carries per game.
"This running quarterback thing really poses some interesting options I haven't had in a while," Borges said. "The biggest thing about the quarterback, whether it's Denard or anybody, is you have to, as quick as you possibly can, identify what he can do.
"Now, he can do darn near everything, but find what he can do best and gear your schemes to that."
Roundtree and Borges both said Michigan's offense will look familiar at times this year, with Robinson in the shotgun and taking off on designed runs. He's been seen running such plays during media availability at practices.
As for Robinson, he isn't divulging much about what the offense will look like Saturday against Western Michigan.
"It's going to be a surprise," he said.
His motives, though, are clear.
"He wants to be a great Michigan quarterback," Hoke said.
He's off to a good start. He already has his photo displayed at the museum.
Not far from Brady's.
Kyle Meinke covers Michigan football for AnnArbor.com. He can be reached at 734-623-2588, by email at kylemeinke@annarbor.com and followed on Twitter @kmeinke.