Michigan quarterback Denard Robinson back to 100 percent entering Gator Bowl
Posted on Tue, Dec 28, 2010 : 2:32 p.m.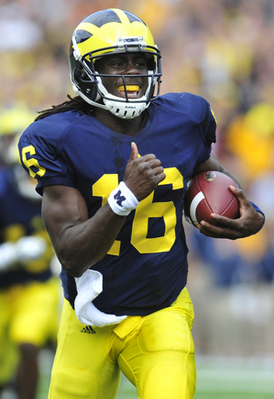 Had Michigan quarterback Denard Robinson hypothetically envisioned this Gator Bowl matchup three years ago, he would have bet he'd be on the opposing sideline.
Mississippi State coach Dan Mullen, then a Florida assistant coach, had all but convinced the Deerfield Beach, Fla., native to play college ball in Gainesville.
"I basically committed to him," Robinson said Tuesday amid preparations for the Gator Bowl on Saturday. "Something like that. I thought, 'I'm probably going to be his quarterback someday.'"
It didn't happen quite like that.
Robinson's interest in Mullen waned when the offensive coordinator took the head-coaching job at Mississippi State, and his interest in Florida tailed off when Michigan emerged.
"Better opportunity," Robinson said. "Better school, I guess."
Robinson's choice, coupled with Mullen's handiwork in Starkville, put the two on crossed paths. They'll meet Saturday (1:30 p.m., ESPN2) at EverBank Stadium in Jacksonville.
For Robinson, the game presents a chance to showcase his speed one more time in what's been a breakthrough season.
A true sophomore, he sidestepped questions Tuesday about the toll an assortment of injuries took throughout the season. At various times, Robinson suffered from a bruised knee, an injured shoulder and concussion-like symptoms. "He's not banged up anymore," receiver Roy Roundtree said. "He's ready to go and he's just getting the offense ready."
Robinson didn't divulge how much of an impact the injuries had on his performance, but he said while speaking at the team's hotel that he was now "100 percent."
Video from MGoBlue.com