Posted on
Sat, Aug 13, 2011 : 2:32 p.m.
Michigan quarterback Denard Robinson ironing out mechanics; next step is improving decision making in pro-style offense
By Kyle Meinke
Coaches say Denard Robinson is picking up the nuances of the pro-style offense. His mechanics have improved, and his pocket awareness is coming along.
Now, he must work on his decision making.
Michigan's star junior quarterback is "on schedule" in his development, offensive coordinator Al Borges said, but needs to show a little more discipline in the passing game.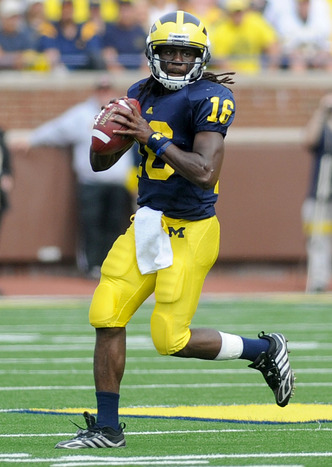 Angela J. Cesere | AnnArbor.com
"He still has an occasional error," Borges said. "The thing about Denard is because he's so athletic, he can create. ... He has that ability. Now, he has to understand, and we're talking to him all the time about creating, yet not doing something that simply isn't there. Make plays, don't make miracles.
"As long as his judgement is good, he's deadly, because he can do so many things you don't draw up on the chalkboard."
Robinson's ability to run is lethal, as he showed last season when he racked up 1,702 rushing yards, an NCAA record for quarterbacks, and posted the most prolific offensive season in Michigan history. He also became the first quarterback to rush for 1,500 yards and pass for 1,500 yards in the same season.
Michigan finished eighth in the country in total offense last year largely because of what Robinson did with his feet, or the threat of that ability.
But there were times when he made poor decisions in the passing game, particularly against better defenses late in the season. After throwing only one interception in his first five games, he threw 10 in his final eight. That equates to one interception in 96 pass attempts in his first five games, and one every 19.5 passes thereafter.
He finished 182 of 291 passing for 2,570 yards, 18 touchdowns and 11 interceptions.
Robinson's mistakes could be amplified in the pro-style offense this year because he will be passing more. He averaged 22.4 pass attempts and 19.7 rushes last year. Borges has said he still will utilize Robinson's running ability, but certainly less than that.
Robinson also will be expected to make tougher throws, and his receivers will be running more nuanced routes in Borges' system.
Michigan coach Brady Hoke said Robinson has shown a lot of improvement since spring camp, but needs to exercise a little more restraint on passes over the middle.
"He's had two throws you wouldn't want to make late over the middle, where he could make some things happen with his feet and buy a little time," Hoke said. "You never want to throw the ball late over the middle, and that's kind of a standard rule."
Hoke said Robinson's best improvement has come in the subtleties of the position: Ball fakes, throwing mechanics, ball placement, timing and his footwork coming from under center and in the shotgun formation.
Footwork was expected to be one of the more challenging elements of the new offense for Robinson, but it appears he's picking it up quickly.
"It's much better," Borges said. "We're trying to get him to push the pocket a little more. Less bouncing, more pushing, which allows him to see better, but also run a little better. He's worked on that and we saw that (Wednesday).
"I'd say his growth has been really good."
Kyle Meinke covers Michigan football for AnnArbor.com. He can be reached at 734-623-2588, by email at kylemeinke@annarbor.com and followed on Twitter @kmeinke.