Posted on
Fri, Jan 15, 2010 : 4 p.m.
Michigan quarterback Denard Robinson is running track, still focused on football
By Dave Birkett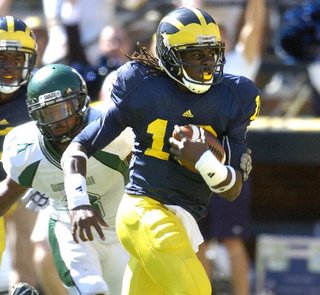 Finally,
Denard Robinson
and
Troy Woolfolk
can find out once and for all who's Michigan's fastest football player.
Robinson, Michigan's electric backup quarterback, joined Woolfolk and two other football players, freshmen receivers Je'Ron Stokes and walk-on Joe Reynolds, on the Wolverines track team last month.
Robinson will run the 60-yard dash in his first dual meet Saturday against Ohio State. The home meet begins at noon. Woolfolk, a junior safety who's sprinted each of the past two years, also competes in the event, but won't run until next weekend as he continues to recover from a football shoulder injury.
Track coach Fred LaPlante said Robinson and Woolfolk had a mini showdown last week in practice, when they raced against each other while working on starts.
"They had a little fun with that," LaPlante said. "They were only running 20 meters, doing starts. I think they kind of traded off."
Robinson and Woolfolk will race in four meets each during the indoor season, but won't go head-to-head until the Big Ten indoor championships Feb. 27-28 in Minneapolis.
"I kind of felt, especially at home, I know that those guys, they'll so much want to beat each other, I want them both to feel like they're ready to go," LaPlante said. "I think right now it's too early to do that. And they're great, those guys, they're just competitors. They'd compete in tiddlywinks or whatever.
"The other responsibility I have is I don't want (football coach Rich) Rodriguez coming after me if these guys get hurt. I want to make certain that they're fit and ready to go because sometimes the mind is more ready than the body is, and we got to get them fit first."
Robinson said he intended to run track from the moment he signed a football scholarship with Michigan last February.
He won two Florida state championships in the 4x100-meter relay, and finished second as a senior and third as a junior in the 100-meter dash.
"When I was getting recruited I always wanted to run track and play football," Robinson said. "It helped me move faster on the football field, so I was like I'm going to keep going with it, I guess."
LaPlante said Robinson ran the 10th fastest 100-meter high-school time in the nation last year and, despite being a bit raw in technique, ranks as "one of the four or five best guys in the Big Ten."
"One thing in football that you don't see in track is quickness," LaPlante said. "He's incredibly quick and his lateral movement is unbelievable and his ability to go in one direction and get in another. The perception people have is that's speed. That's not speed, that's quickness. But this thing is basically he has to run straight down the track. You're not dodging anybody, there's no linebackers, you just go."
Robinson said he plans to run track all four years at Michigan, though his first priority remains football.
He's been working out regularly since the end of the season - he trains twice a week with the track team and lifts weights with football players - and has dedicated time in the film room and with his receivers to improve as a quarterback.
"Working on my footwork, throwing the ball, stuff like that," Robinson said.
Last year, Robinson played in all 12 games as a true freshman and was used primarily as a running quarterback. He finished with 351 yards rushing and five touchdowns, and completed 14-of-31 passes for 188 yards with four interceptions.
Robinson, who'll compete with classmate Tate Forcier for the starting job this spring, said he still envisions himself as a quarterback. He started one game at running back and played a handful of snaps at receiver last year.
"It was all right," he said of playing all over the field. "But right now I still want to be competing for the quarterback job so that's where I'll be at."
Asked if he'd ever consider a position change, Robinson said, "I don't know yet. I don't know about that."
One other football issue Robinson hasn't had to deal with on the track - tying his shoes.
Robinson earned the nickname "Shoelaces" as a youth because he left his shoes untied on the football field. In track, that's not an option.
"Actually the model of adidas and the shoes that we have, the new models, they don't make the Velcro," LaPlante said. "Fortunately, we have last year's model. He loves these shoes. I think they're ugly. They're orange and they have Velcro, and he loves them. So he doesn't have to tie his shoes and everybody's happy."
Dave Birkett covers University of Michigan football for AnnArbor.com. He can be reached by phone at 734-623-2552 or by e-mail at davidbirkett@annarbor.com. Follow him on Twitter @davebirkett.