Posted on
Sat, Dec 10, 2011 : 6:05 a.m.
Michigan quarterback Denard Robinson kept hospital stay and staph infection secret, even from teammates
By Kyle Meinke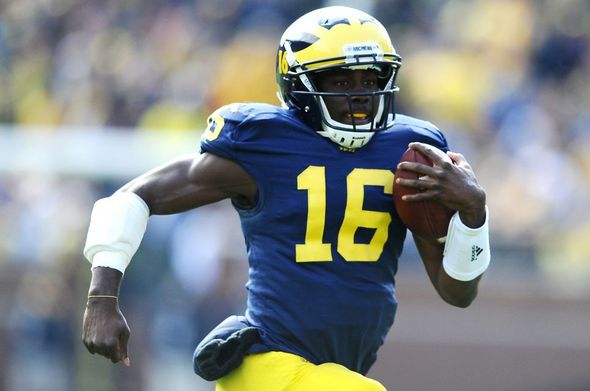 Melanie Maxwell | AnnArbor.com
While the world criticized Denard Robinson for his declining accuracy and growing inconsistency, he had a secret.
The Michigan football team's star quarterback was suffering from a staph infection on his right arm -- his throwing arm.
It was serious, too. Serious enough, he landed in the hospital for a night.
He nearly missed a game.
"I was close," Robinson said. "But, there was no doubt in my mind. I knew I had to play for my team.
"I told (the doctors) I was going to play, regardless."
Although he wouldn't say which game that was, it's believed to be the Big Ten opener against Minnesota, when Robinson sported a bulky bandage on his right arm. He called the injury a "boo-boo" at the time.
Turns out, it was a lot worse than that.
"It affected me a lot in games and practices," said Robinson, adding he's not sure how he contracted the infection, but doctors think it was colliding with the field turf. "But, I kept pushing it because I knew my teammates would do the same for me. I had to be accountable."
Part of being accountable, Robinson said, was doing his job without making excuses. That's why he didn't tell the public — the secrecy was his choice, not the coaching staff's — and that's understandable.
The unusual part, though, is he didn't even tell his teammates.
Junior safety Jordan Kovacs didn't know about the staph infection until the media told him about it Friday. Senior defensive lineman Mike Martin knew about the infection, but not the hospital stay.
Even receiver Junior Hemingway, who works closely with Robinson every day, didn't know about the injury, although he knew something was bothering his quarterback because of his performance.
Finally, he asked Robinson what was up.
"I just saw him one day in the training room, and I just started asking questions," Hemingway said. "He was like, 'Man, I don't want to tell you.'
"'C'mon, I already know," Hemingway replied. "Just go ahead and tell me."
It's remarkable so few people knew about the extent of the star quarterback's injury. But, that's the way he wanted it, even though he was taking heat from critics for his performance -- especially his accuracy, which hovered below 50 percent for several weeks.
Robinson wouldn't acknowledge whether the injury affected his accuracy, but he did say there was some pain while throwing for two or three weeks.
Some critics were calling for backup Devin Gardner to replace him. Still, he remained mum.
"I'm out there playing, so there's no excuses," said Robinson, who guided his team to a 58-0 win against Minnesota despite the injury. "I feel like if you go out there and play, there shouldn't be an excuse for why you lost, or for why you're this way or why you're that way.
"I'm close to all my family, and everybody on this team is my family, and everybody on this staff is my family, and (them and) everyone back home told me just to keep my head up," Robinson said.
"They knew what was going on, and everybody on the inside here knew what was going on. So, we didn't worry about what outsiders said."
Robinson addressed the media on Friday for the first time since Michigan earned a bid to play in the Sugar Bowl. It will face No. 11 Virginia Tech (11-2) in New Orleans on Jan. 3.
The junior was unusually talkative, and as relaxed as he's been in weeks. He wasn't even wearing shoes.
He talked at length about the injury, and the unusual circumstances surrounding it, after covering it up for much of the season.
Coach Brady Hoke said earlier Friday that in addition to elbow and hand problems that already were public, Robinson also had a previously undisclosed abdominal injury.
The staph infection, though, was the most serious of them all.
"There was some concern," Hoke said. "They are serious. You want to make sure you are doing everything the right way to help him through it. We have a great medical staff here and they did a tremendous job."
Hoke said he didn't have to quarantine Robinson from teammates, but the football support staff had to thoroughly launder his gear.
Robinson said the infection bothered him for two or three weeks, and there was a concern at one point whether he'd even be able to take snaps in practice.
"There were times I couldn't take some, but I was OK," Robinson said. "(Center David) Molk eased the snap into my hands. I mean, he's one of the best centers in the country."
Kyle Meinke covers Michigan football for AnnArbor.com. He can be reached at 734-623-2588, by email at kylemeinke@annarbor.com and followed on Twitter @kmeinke.