Posted on
Mon, Sep 26, 2011 : 5:15 p.m.
Michigan ready to compete for Little Brown Jug for first time in 3 years
By Nick Baumgardner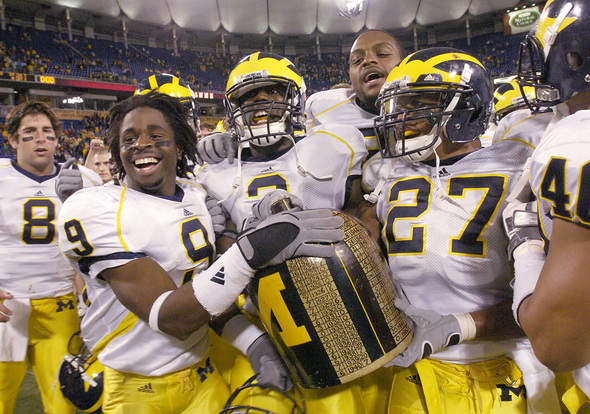 File photo
On the surface, the Little Brown Jug isn't the most awe-inspiring trophy.
There's no crystal or diamonds, it doesn't shine or sparkle and as far as practical use is concerned, it no longer serves a purpose as a water cooler.
"It's not the most beautiful jug you've ever seen," senior defensive lineman Ryan Van Bergen said, joking about the traditional trophy the Minnesota and Michigan football teams have competed for since 1909. "I don't think you'd want to drink any water out of that."
It might be simple and unsafe for drinking, but that doesn't mean it's unimportant.
"It's a big part of our tradition, and it's part of what makes Michigan what it is," Van Bergen said. "The fact that it has these little things that we've been a part of for (so long). I'm really excited, and it's something we have to take pride in."
For the first time since 2008, Michigan and Minnesota will tangle for the Little Brown Jug when the Golden Gophers visit Michigan Stadium on Saturday (Noon, Big Ten Network).
Though Michigan is in possession of the jug following a 29-6 road win over the Gophers in 2008, Saturday will mark the first time that several Wolverines have had any experience with college football's oldest trophy.
The game will also serve as a landmark for Michigan coach Brady Hoke. The first-year coach was involved in six Brown Jug battles as a Wolverine assistant from 1995-2002, but Saturday marks his formal introduction to a Michigan rivalry trophy as a head coach.
"That Brown Jug, it's pretty important to us," said Hoke, who brought the trophy into a Michigan team meeting Sunday and delivered a history lesson on its past. "And we'd like to keep it here in Ann Arbor."
Minnesota is struggling this season at 1-3, but the Brown Jug is 108 years old. That coupled with the fact that the team itself hasn't had a chance to compete for one of the school's most celebrated bits of football history makes this week more than just another contest.
"It's the oldest rivalry trophy game in the NCAA," senior tight end Kevin Koger said. "It means a lot to us, and we want to keep the jug where it belongs."
Hoke keeps Jerry Kill in his thoughts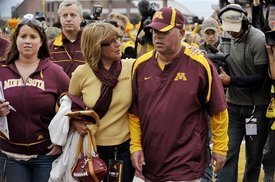 Associated Press
Hoke wished ailing Minnesota coach Jerry Kill well Monday, saying that he and the Michigan football team are keeping Kill and his wife, Rebecca, in their prayers.
After suffering a seizure on the sideline during Minnesota's home-opener against New Mexico State earlier this season, the first-year Golden Gopher coach announced Sunday that he would be re-admitting himself into the hospital following another seizure Sunday morning.
Hoke coached against Kill in 2008 when the two were head coaches at Ball State and Northern Illinois, respectively.
"Jerry and I competed against each other at the MAC level, and he and his wife, Rebecca, are two of the finest people you'll ever be around," Hoke said. "Our prayers for him and his family are there. He's a great person and a terrific coach."
Too much contact for Robinson?

Through four games, Michigan junior quarterback Denard Robinson has 71 carries, an average of 17.8 per game. A season ago in former coach Rich Rodriguez's spread-option offense, Robinson averaged 19.7 carries per game.
The carries have been high, but has Robinson done a better job of avoiding unnecessary contact so far this season?
"(He's done that) as best as he can," Hoke said. "He's gotten out of bounds at some opportune times, but he's a competitor. The first play of the (San Diego State) game, he went after the guy (that was shadowing) him. He's a competitor."
Hoke added that it might be a good idea to further stress the importance of avoiding risky hits to Robinson, but hinted that he doesn't want to remove any of his quarterback's natural aggression.
"That would be a wise thing for a coach to tell him," Hoke said. "But the guy's a competitor."
Gallon settling into punt returner job

Sophomore receiver Jeremy Gallon continues to impress the Michigan coaching staff as a punt returner.
Gallon, who leads Michigan in receptions with eight this season, has returned five punts for 64 yards. The 5-8, 185-pound sophomore had a nearly 80-yard return called back due to a penalty against Eastern Michigan, and he nearly broke another last week with a 21-yard scamper against San Diego State.
"He's very consistent, he does it all in practice and all that kind of stuff," Hoke said of Gallon. "He has a nice feel for it with hand-eye coordination and all the things that go with it. We're real comfortable with him being back there. We were about a block away from springing him again for a decent return, and I think that will happen.
"That punt return unit really worked their tails off last week, and it showed in where we're at as far as having things set up for (Gallon)."
Hoke mum on Minnesota courtship

Prior to the Michigan job opening up in January, Hoke reportedly met with a Minnesota official about the Golden Gophers' vacancy last November. A job that eventually went to Kill.
Hoke declined to elaborate on how formal that meeting was.
"I'm not going to talk about that," he said. "That has nothing to do with anything."
Odds and ends

Despite only seeing one series this season, Hoke said that the coaching staff has full confidence in sophomore quarterback Devin Gardner. "I feel pretty good about Devin," Hoke said. "I think we all do, I think Al (Borges) does, too. He's had a very good fall camp and to this point, he's conditioned himself and prepared himself to play." … Hoke said that Van Bergen and fellow defensive tackle Mike Martin played their best games of the season against SDSU, but still aren't quite where they need to be yet. … When asked about the play of his linebackers Monday, Hoke gave praise to redshirt freshman Jake Ryan, but seemed overall disappointed with the group's production in general. "We're not playing near as well as we need to at that position," he said.
Nick Baumgardner covers Michigan basketball for AnnArbor.com. He can be reached at 734-623-2514, by email at nickbaumgardner@annarbor.com and followed on Twitter @nickbaumgardner.