Posted on
Sun, Sep 11, 2011 : 2:24 a.m.
Michigan receiver Roy Roundtree breaks down his game-winning catch against Notre Dame
By Kyle Meinke
With his team trailing by three points and 8 seconds left, Roy Roundtree had one thing to tell Denard Robinson in the huddle before one of the biggest snaps of his career.
"He told me in the huddle, 'Denard, I got to get 'em, I got to get 'em,' and he gave them the move, their guy kind of held him, and I just threw it up," Robinson said.
He threw it to the perfect place.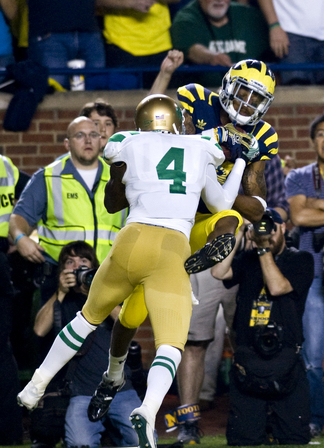 Joseph Tobianski | AnnArbor.com
Roundtree, fading into the right corner of the end zone, fought off
Notre Dame
defender
Gary Gray
while landing just inches inbounds to haul in Robinson's 16-yard toss for the game-winning touchdown with 2 seconds left in the game.
Michigan prevailed 35-31 on Saturday, its third consecutive comeback win against the Irish. The Wolverines hadn't beaten them three times in a row in any fashion since 1908.
It almost didn't happen, though, after Michigan trailed by 17 in the fourth quarter, then gave up its only lead of the day with 30 seconds left.
There was no panic on the Wolverines' sideline.
"We were composed," said Roundtree, a junior who led Michigan in receiving last year. "We go through that every day in practice. Coach (Brady Hoke) always says, 'The game is not over until there is 0:00 on the clock.' We just went out there and played hard and finished strong."
It was a circus catch for Roundtree, who was draped by Gray — who was called for pass interference on the play — and tip-toe along the sideline, while maintaining control of the ball.
The play was reviewed by the officials. The call was confirmed.
"I knew I had possession of it," Roundtree said. "I looked to the sideline because I knew I already had it. I wouldn't mind looking at the replay again and celebrate with my teammates."
It was Roundtree's only catch of the day — not that he's complaining.
"I'm a team player," he said. "I'll go out and put my hand in the dirt and block. I'm not really concerned about the ball. I'm a team player. That's why I'm here."
Kyle Meinke covers Michigan football for AnnArbor.com. He can be reached at 734-623-2588, by email at kylemeinke@annarbor.com and followed on Twitter @kmeinke.