Posted on
Fri, Apr 13, 2012 : 10:22 p.m.
Michigan receiver Roy Roundtree eyes No. 1 jersey last worn by his childhood idol, Braylon Edwards
By Kyle Meinke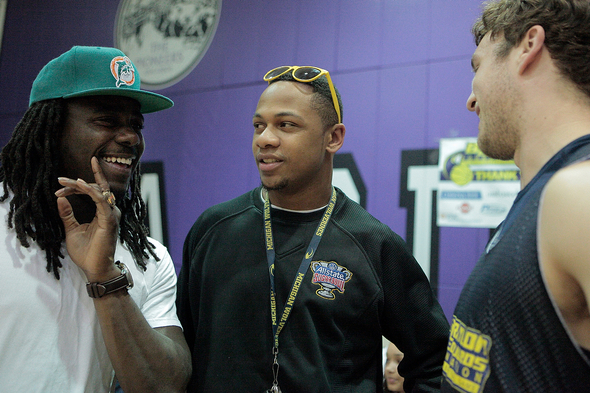 Chris Asadian | AnnArbor.com
Roy Roundtree wants to wear the No. 1 jersey for the Michigan football team, and not just because of the prestige attached to it at his school.
He grew up idolizing the last guy who wore it.
And that guy, Braylon Edwards, enlisted Roundtree to coach in his charity basketball game Friday night at Pioneer High School in Ann Arbor.
"That was my idol growing up," said Roundtree, who grew up in Ohio but is a lifelong Michigan fan. "I watched him every Saturday, and to see all the great wide receivers come through Michigan, that weighed on my options coming here."
Roundtree led Michigan in receiving as a freshman, then blew up as a sophomore in 2010 after hauling in 72 catches for 935 yards and seven touchdowns.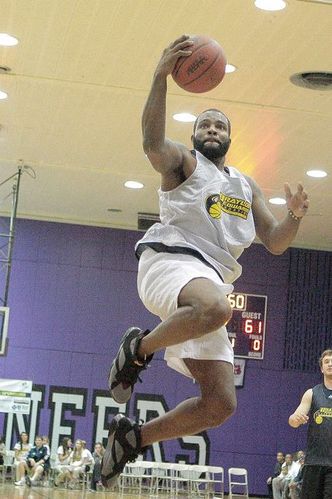 Chris Asadian | AnnArbor.com
He seemed to be well on his way to earning the No. 1, until his production went into a freefall last year. He caught just 19 passes for 355 yards and two touchdowns.
Earning the No. 1, though, isn't his primary focus this spring.
"I ain't really worried about that," he said. "It's a traditional number and, one day, another wide receiver will wear that blessed number. Right now, I'm going to keep doing me and wear number 12.
"I mean, every receiver wants that number. (But) we don't really talk about it because you really got to show up every day, and I feel like every wide receiver shows up every day, but it's up to the coaches and who they decide wears it."
Instead, Roundtree is focused on helping to fill the leadership void left by the departures of captains Mike Martin, David Molk and Kevin Koger. He has impressed his coach, Brady Hoke, who last week said he is a candidate for the team's captaincy.
"That's something I put my heart (into)," Roundtree said. "But it's up to the players to vote on that. It ain't the coaches, it's the players and if you got that bond, and you got that leadership factor that all the younger athletes need on our team, hey, I'll be a captain.
"You don't get no campaign. You just got to work hard and your work ethic will show it all."
Roundtree and the football team are scheduled to hold their annual spring game at noon Saturday at Michigan Stadium, although it's possible inclement weather will move it indoors. If that's the case, it will be closed to the public because of the limited capacity at Al Glick Field House.
On Friday, Roundtree's focus was on having a little fun and coaching his Maize team to victory -- even if he'd rather be playing. (See photo gallery)
"I haven't played basketball since high school," he said. "I think I still got the jumper I had back in high school, but I'm going to coach today, relax, and enjoy my time with these alumni, older guys and I'll just use my talents tomorrow at the spring game."
Roundtree said his team might have a little trouble adjusting to his coaching style.
"Back in my day, I played full-court press and I don't think they're going to listen to me about that full-court press," he said. "But I'm going to try. And run-and-gun, you got to run the court.
"There's a lot of old people out here, so I got to watch what I say."
Kyle Meinke covers Michigan football for AnnArbor.com. He can be reached at 734-623-2588, by email at kylemeinke@annarbor.com and followed on Twitter @kmeinke.