Posted on
Wed, Feb 3, 2010 : 10:51 a.m.
Michigan football recruits share their tales from the trail
By Dave Birkett
What Michigan football assistant coaches were responsible for securing what recruit? What do recruits eat on their official visits? What do they hate about the recruiting process and what memory will be with them forever?
AnnArbor.com asked members of Michigan's 2010 recruiting class those questions and more.
Who was your primary recruiter?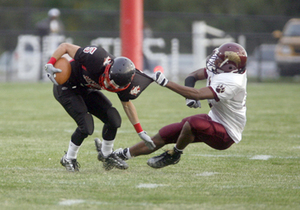 Tony Dews
: Josh Furman
Tony Gibson
: Cullen Christian, Conelius Jones, Antonio Kinard, Jordan Paskorz, Davion Rogers, Ray Vinopal, Ken Wilkins, D.J. Williamson
Fred Jackson
: Drew Dileo, Stephen Hopkins, Jeremy Jackson, Carvin Johnson, Austin White
Rod Smith
: Richard Ash, Devin Gardner, Ricardo Miller, Marvin Robinson
Bruce Tall
: Courtney Avery, Will Hagerup, Christian Pace, Jerald Robinson, Jake Ryan
Jay Hopson/Bruce Tall
*: Jibreel Black,Terry Talbott, Terrence Talbott *Hopson left Michigan in December to become defensive coordinator at Memphis.
What weekend did you take your official visit? Sept. 12 (Notre Dame game): Josh Furman Sept. 26 (Indiana): Will Hagerup Oct. 24 (Penn State): Stephen Hopkins, Carvin Johnson Nov. 7 (Purdue): Drew Dileo Nov. 21 (Ohio State): Cullen Christian, Marvin Robinson Dec. 5 - Richard Ash, Courtney Avery, Jeremy Jackson, Ricardo Miller, Christian Pace, Jerald Robinson, Terrence Talbott, Terry Talbott, Austin White Jan. 15 - Devin Gardner, Conelius Jones, Antonio Kinard, Jordan Paskorz, Davion Rogers, Jake Ryan, Ray Vinopal, D.J Williamson Jan. 22 - Jibreel Black, Ken Wilkins
What school did you grow up rooting for? Cincinnati*: Jibreel Black Clemson: Antonio Kinard Kansas State: Stephen Hopkins LSU: Carvin Johnson LSU, Michigan and Notre Dame: Drew Dileo Miami and Virginia Tech: Josh Furman Michigan: Conelius Jones Michigan, Pitt and Penn State: Jordan Paskorz North Carolina*: Courtney Avery Ohio State: Devin Gardner, Jerald Robinson, Davion Rogers, Ray Vinopal USC: Marvin Robinson Wisconsin: Will Hagerup No one: Jake Ryan *For basketball
If not Michigan, where would you have gone? Ball State or Toledo: Jake Ryan Cincinnati: Jibreel Black Florida or LSU: Devin Gardner Louisiana Tech: Drew Dileo North Carolina: Conelius Jones, Marvin Robinson Penn State: Antonio Kinard Pitt: Jordan Paskorz Stanford: Courtney Avery Virginia Tech or North Carolina: Josh Furman West Virginia or Michigan State: Davion Rogers Wisconsin: Ray Vinopal Don't know: Carvin Johnson, Jerald Robinson Not Ohio State: Will Hagerup Somewhere in the SEC: Stephen Hopkins
What was your favorite meal on any official visit? • Josh Furman: Pre-game breakfast at the team hotel. "It was just a regular English McMuffin, egg, cheese and bacon sandwich, but that thing was good. And every time I'm (hungry) I just be thinking, 'Boy, I can't wait til I go to Michigan,' because when I went up there, I left, I did not want to eat anything. And I ate all the time. That's all I did. I was full all the time. They were like, 'Are you ready to eat?' I was like, 'No, I'm not ready to eat. We just ate.'" • Stephen Hopkins: The Chop House. "That was my favorite meal. I remember I got a steak there, and that was the best steak I ever had. I'm not even a steak person."
• Jibreel Black: On his visit to Cincinnati "we went to this Brazilian steak house and it was all different kinds of meat and they were just coming non-stop. Second would probably be the Cottage Inn up at Ann Arbor."
• Jerald Robinson: Training table at the Michigan practice facility. "The first day I got there we had crab legs, ham, anything you could imagine. There wasn't a time that I wasn't full. I would just be full and I would just start to come down, so I wouldn't even be hungry and they'd tell us we got to go eat again. So the whole trip I probably gained a good 5 pounds."
What did you like most about the recruiting process? • Jordan Paskorz: "Just seeing everything. It's awesome to go into those stadiums and just see - I can't even describe it. A lot of schools let you walk through their tunnels during the game. It's an electric feeling."
• Devin Gardner: "The fans."
• Ray Vinopal: "Obviously, the offers, knowing that you're not gonna be paying for anything in college. Besides that, it gets old pretty fast."
• Jibreel Black: "I guess all the attention you get can be pretty fun. The calls from different type of coaches that you never thought you'd be talking to. And the home visit would be the fun"
What did you like least about the process? • Carvin Johnson: "I didn't like anything about it. I don't like all that, I really don't. I don't like recruiting, I don't like going to the recruiting camps. I don't like all that, I just like to play, pretty much. You want to watch me play, come and watch me play."
• Ray Vinopal: "Phone's ringing off the hook. Mail. Coaches, just a lot of stuff. You got a bunch of coaches all telling you the same thing and you don't really know where your head's at."
• Jake Ryan: "Least was choosing. Not choosing, but telling those coaches I can't go here or I'm not going to be able to play for you guys. That was a really hard phone call to make."
• Josh Furman: "The interviews. Sometimes I got three or four phone calls a day. I'm just a regular teen-ager, I got to get a cat nap in sometimes. They'd call me and if I don't answer they'll call me again and mess me all up."
• Jordan Paskorz: "We drove to a lot of places, so I guess the rides."
Your most memorable story from the recruiting process? • Courtney Avery: Getting his car towed during a basketball game while on an unofficial visit to Cincinnati. "I guess we would have been fine any other day, but since it was a gameday they had reserved spots, so I guess we were parked in someone else's spot. So we went back in there and talked to one of the assistant coaches and he called around and helped us find our car. It was like three buildings away on top of a roof somewhere. It was pouring down rain and I had my little (1-year-old) nephew with me."
Avery didn't have to pay to get his car out of impound, but he did get a ticket. "They said it was like a campus ticket so you only have to pay if you come back to campus. We said we wouldn't be back."
• Ray Vinopal: "I would have to say Coach Rod coming to the house is definitely something I'm going to remember. It was real cool. He comes in, he kicked off his shoes. We told him he could keep his shoes on, he kicked off his shoes and said he's a hillbilly anyway. He came and sat down, we ate, we just went over everything. ... My cousin is a big Michigan fan so he was on me about having autographs. I pulled out some stuff and I was like, 'I'm sorry Coach Rod, this isn't for me. But I got to do this for my cousin.' And he was cool about it."
• Josh Furman: Checking in minutes late with his father and missing his flight home, while his high school coach, Jason Dunlap, just beat the deadline and boarded the same plane. "The lady (at the counter) wouldn't let us go. And then she finally let us go and my 4.3 speed was not going to catch that flight because I got my father back there, he's getting tired. ... Basically to make a long story short, me and my father sat at the airport for 7 hours. I caught the (next) flight and he couldn't because (he was on) standby. There was only one seat left on standby, so basically my father stayed the night in the airport and caught the 12 o'clock flight."
• Jibreel Black: "Coach Hopson, he came to my house during one week and Coach Tall had visited me the next week. So Coach Hopson was here, and next week Coach Tall comes to the school and he's like Coach Hopson's gone. ... I thought that was kind of funny. It kind of shows how college football can be."
• Jerald Robinson: "The craziest story I have, the Pittsburgh coach called me after I told him I committed, he came to my school and I told him I committed. He told me that Michigan wasn't the right place for me and that I could come there to get NFL ready. He was talking all this stuff about if I came in I could do this and I could do that, but I didn't feel like that was anything I was trying to do as a football player. I wanted to go to a team that ran the spread because that's what I ran in high school."
• Marvin Robinson: "When I was at practice and I seen four different coaches from four different schools show up. It was crazy because I had never seen that happen before, and none of the guys on the team have. It was kind of crazy."
The four coaches were Michigan assistant Rod Smith, former Florida defensive coordinator Charlie Strong, North Carolina assistant Troy Douglas and former South Florida defensive coordinator Joe Tresey.
• Davion Rogers: Getting his first scholarship offer. "I was excited, just like dang, I did it. made it for my family. The first person in my family to go to college and try to do something. ... I was over my dad's house. It came in the mail to my house, at my mom's house. My mom called. I told her to open it. I wasn't expecting it. She read it. It was just, you know how the feeling is, that's like somebody giving you $200,000 right there on the spot. Just a loan that you don't have to pay back."
Dave Birkett covers University of Michigan football for AnnArbor.com. He can be reached by phone at 734-623-2552 or by e-mail at davidbirkett@annarbor.com. Follow him on Twitter @davebirkett.