Posted on
Thu, Nov 18, 2010 : 3 p.m.
Michigan redshirt freshman Cam Gordon settles into hybrid position, focuses on constant improvement
By Jeff Arnold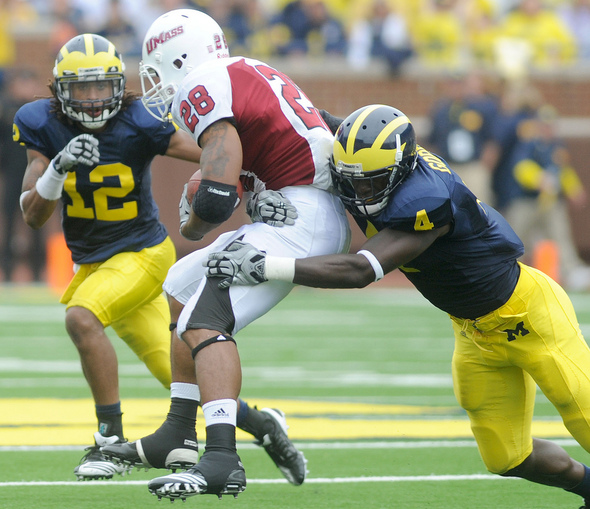 Angela J. Cesere | AnnArbor.com
A different position is nothing new for Cam Gordon.
He went from a hard-hitting linebacker to a speedy safety and sure-handed wide receiver as a high school player.
With the Michigan football team he's gone from wide receiver to safety.
Three weeks ago, the redshirt freshman transitioned from safety to a hybrid position that takes advantage of his physical style of play.
"It's just been a learning experience," said Gordon, who ranks fourth on Michigan's defense with 63 tackles. "I kind of just wanted to help the team. That was my whole goal.
"If it's good for me, it's good for me. I'm a football player, and I just want to play."
At 6-foot-3, 207 pounds, Gordon provides the Wolverines with a physical presence at the hybrid spot. By moving to a slower safety spot, he doesn't have to concern himself with covering as much ground, allowing him to grow in the position without being overwhelmed.
"He's still a first-time starter," Michigan coach Rich Rodriguez said. "We're trying to keep it simple, and there's probably more we can do as he gets more experience.
"But he is a really smart football player from a concept standpoint, but you see so many different things in college that every week is a learning experience."
Gordon spent the off-season in the weight room, becoming stronger, better establishing himself as even more of a hard-hitter. He has started all nine games this season.
"He just has this great drive and a great mentality just to get better," senior cornerback James Rogers said. "You can just see it as he's playing more."
Despite the week-to-week adjustments, Gordon continues to feel more comfortable at what he believes will be his permanent role. The position plays to Gordon's strengths, allowing his physical side to come to the surface.
"When you're a starter, there's a certain expectation," Gordon said. "If the coaches feel like you're the best guy for the job, then you want to prove to him that he's right. That's been my whole thing is just proving to the coaches that I am the right guy for the job.
"Now, I just want to keep that thought in their head about me."
Last week against Purdue, Gordon scored Michigan's first touchdown, scooping up a Boilermakers fumble and returning it 58 yards. Gordon's score not only laid the groundwork for a 27-16 win, but it helped instill confidence in a defense that has been questioned all season.
The criticism of the unit has been wide spread, casting doubt on a unit that is allowing 32 points a game heading into Saturday's game against No. 6 Wisconsin (noon, ESPN). Wisconsin scored 83 points last week against Indiana and is averaging 40.2 points a game.
In recent weeks, the defense has undergone a bit of a shift as Gordon has moved to hybrid, freshman Ray Vinopal has moved into the other safety position and Craig Roh has jumped from linebacker to defensive end.
Next week, the Wolverines travel to Ohio State, which boasts the Big Ten's most explosive offense, putting up 41.6 points a game. That, Gordon says, is another chance to prove people wrong about Michigan's defense.
"We have this attitude that we don't care - after one good play or one bad play, we just empty it and keep on playing, and that builds more good plays," Gordon said. "We're just all about proving ourselves."
Jeff Arnold covers sports for AnnArbor.com and can be reached at (734) 623-2554 or by e-mail at jeffarnold@annarbor.com. Follow him on Twitter @jeffreyparnold.