Posted on
Tue, May 10, 2011 : 7:57 a.m.
'Michigan Rivalry' football package just one way Griese/Hutchinson/Woodson event will raise money
By Jim Knight
A Super Bowl outing, Brandon Inge's suite and a seven-day Florida trip with golf are three reasons the annual Griese/Hutchinson/Woodson Champions for Children's Hearts Weekend raised more than $1 million last year.
The three-day event, which for the fifth year combines former Michigan football players, dinners and golf to raise money for C.S. Mott Children's Hospital, begins Friday with a 12-hour radio fundraiser.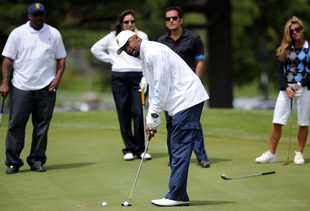 File photo
A "gala dinner" is scheduled for Saturday at the Al Glick Indoor Fieldhouse and the 500-plus athletes, sponsors and supporters will golf Sunday with Michigan athletes at the Michigan Golf Course.
The dinner Saturday includes the live auction, which again this year offers the Brandon and Shani Inge suite at Comerica Park (room for 17 friends) for the Tigers-Giants game in July and a suite for the Mets-Tigers game in June.
Last year, a four-ticket Super Bowl in Dallas package with lodging at a ranch had a top bid of $20,000, the biggest-ticket item of the night. The Inge-suite package raised $14,000, and a Palm Beach getaway/golf with former Michigan players Chad Henne and Jake Long went for $16,000.
This year, associate director of development Tammi Carr expects the "Michigan Rivalry Experience" to draw the most action at the auction.
"That's a pretty incredible package for the Michigan fans," she said. "Coach (Brady) Hoke is going to be up on stage helping us auction that one off."
The Michigan Rivalry package:
Two sideline passes to the Sept. 10 Notre Dame-Michigan game, the first night game at Michigan Stadium.
Two sideline passes to the Nov. 26 Ohio State at Michigan game.
A tour for four of Schembechler Hall, with the chance to watch a practice and have dinner with the team.
Fourteen tickets in a suite and pregame sideline passes for the Nov. 19 Nebraska at Michigan game.
Obviously, a weekend for the shooters. But the radiothon on WTKA-AM (1050) is a chance for fans not part of the golf and gala to listen in. Called the Mott Takeover, it starts at 6 a.m. Friday with former Michigan football coach Lloyd Carr and former kicker and current Arizona Cardinals player Jay Feely.
Athletic director Dave Brandon and Hoke wrap up the day when they go on at 5 p.m. In between, weekend hosts Charles Woodson, Brian Griese and Steve Hutchinson will take shifts, as will 21 other former and current coaches and players.
Any donation is welcome during the radiothon, and donors who contribute any amount from $20 to more than $500 will receive gifts. To make a donation, call 800-559-2657 or go online at wtka.com or mottchildren.org.