Posted on
Mon, Jun 6, 2011 : 3:38 p.m.
Michigan football running back commit Justice Hayes ready to compete
By Michael Rothstein
ROCKFORD — On a day he proclaimed on Twitter to be his worst track day in a while, Grand Blanc High School's Justice Hayes also took a minute to look toward his future.
In a couple of weeks, Hayes will head to Ann Arbor to start his freshman year at Michigan. He is one of two running backs in the class of 2011, along with Thomas Rawls, and someone who could compete for playing time in a massive group of Wolverines backs.
Over the past few weeks, Hayes — a four-star recruit by Rivals.com and Scout.com — said he's felt a range of emotions about his upcoming future. He's been eager and excited, nervous and getting ready to try and see the field as a true freshman.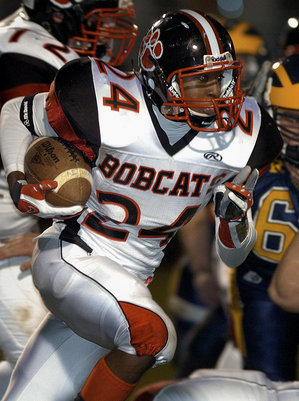 The Flint Journal
"It's a little bit of everything," Hayes said after finishing his final track event at Saturday's Division 1 state finals. "You want to know how things are going to go when you get down there and you're excited as well. I think it's going to be fun playing football for one of the best teams in the nation with one of the best traditions in the nation.
"A little bit of nerves, too, because you don't know what to expect when you get there. It's why you have to prepare yourself before you get there so you won't be surprised."
During track season, Hayes hasn't lifted weights much, instead working on his speed and agility. Starting today, though, he plans on going back to weightlifting to add muscle and bulk to his 5-foot-10, 175-pound body. In order to compete at Michigan, he knows he needs both.
His final track meet at Grand Blanc didn't go as planned. He didn't get out of the preliminaries of the 100-meter dash, finishing 17th with a time of 11.33 seconds. His 4x100 meter relay team finished 12th of 25 teams.
The track season, though, helped him. It let him be competitive since he wasn't able to finish out his senior football season after dislocating his wrist in his third game of his senior year. In three games, he ran for 230 yards and two touchdowns. As a junior, he gained 1,295 yards and scored 12 touchdowns.
It was something that bothered him — mostly because he didn't want to end high school like that.
"I wanted to do something to stay competitive and that will help me out during football season," Hayes said. "I needed to do something. Needed to do something."
He isn't ruling out running track at Michigan, although he said he hasn't spoken to coaches about it.
"If I'm able to run indoor, I'll do it to help my speed out," Hayes said. "But outdoor I couldn't run it because of football season."
Football is his main focus. He also sees the glut of running backs at his position led by Michael Shaw, Vincent Smith, Stephen Hopkins and Mike Cox, and knows it could be difficult for him to see time in the Wolverines backfield as a true freshman.
So he's already angling for another job to start.
"Kickoff return," Hayes said. "We've got a great amount of running backs and they've been peaking lately. So probably not this year, but I'm definitely going to compete to try and get a spot in the kickoff return.
"It doesn't matter (what I do), just coming in to compete."
Michael Rothstein covers Michigan sports for AnnArbor.com. He can be reached at (734) 623-2558, by email at michaelrothstein@annarbor.com or follow along on Twitter @mikerothstein