Posted on
Sat, Oct 1, 2011 : 7:05 p.m.
Michigan running back Vincent Smith continues to do it all, and makes history in the process
By Nick Baumgardner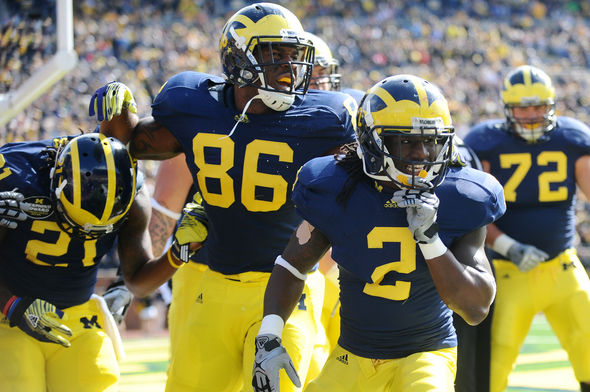 Melanie Maxwell | AnnArbor.com
Michigan junior running back Vincent Smith does a lot of things for his team.
On Saturday, he took that up a notch, accomplishing a feat no Wolverine has since at least World War II.
The 5-foot-6, 172-pounder ran for a 3-yard touchdown, caught a 28-yard scoring pass and threw for a 17-yarder on a halfback pass in Michigan's 58-0 win over Minnesota.
It was the first time a player has ran, thrown and passed for a score in modern Michigan football history (post-World War II).
"I was just put in the right place at the right time," said the soft-spoken Smith. "Coaches know what I'm capable of, and whatever I have to do to help them out, I'll do."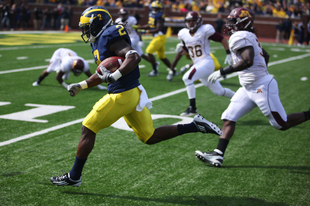 Jeff Sainlar | AnnArbor.com
Entering the season, Michigan coach
Brady Hoke
dubbed Smith as a hard-nosed player that would likely occupy the role of third-down back this season.
Smith's done that part just fine, but he hasn't stopped there.
Through five games, the junior has run for 206 yards and two touchdowns, has caught six passes for 98 yards and two scores, and now, has added a passing touchdown to his resume (the first non-quarterback passing touchdown since receiver Adrian Arrington hit Mario Manningham for a score at Illinois in 2007).
"He does everything you want him to do," Hoke said. "When you look at him as a football player and how he prepares and his toughness and all those things, Vince is a guy that you know you can count on.
"If he makes a mistake or doesn't do something well, it's not because of lack of effort or lack of toughness."
The question of who the team's featured running back will be this season has likely been answered over the past two weeks by the play of Fitzgerald Toussaint, who eclipsed the 100-yard mark for the first time in his career Saturday.
But that doesn't lessen Smith's accomplishment, or his value.
"Whatever the coaches want me to do or whatever situations they put me in (I'll do)," Smith says. "(I want) to step up and contribute to the team."
Four left off dress list Saturday
Michigan junior guard Ricky Barnum and senior fullback John McColgan sat out Saturday's game due to injury, while sophomore cornerback Terrence Talbott and junior running back Michael Cox sat out for unspecified reasons.
Barnum had started the previous three weeks at left guard, but was held out of practice last week after suffering an apparent leg injury against San Diego State. He was replaced in the starting lineup by sophomore Michael Schofield.
Sophomore running back Stephen Hopkins took the majority of snaps at fullback.
Hoke said that McColgan was "banged up," and is likely either "week to week" or "day to day."
Senior cornerback Troy Woolfolk limped off the field during the fourth quarter and did not return. Hoke said he was unaware of any injury to Woolfolk.
Both injured linebackers Cam Gordon and Brandon Herron dressed Saturday. Herron played for the first time since the season-opener, while Gordon did not play for the fifth straight game.
Robinson plays with arm wrap after 'boo-boo'
Michigan junior quarterback Denard Robinson played Saturday with a heavy wrap around his right elbow.
Asked why the wrap was there, Robinson offered little explanation.
"I took a shot last week and they just put it on there," Robinson said. "I got a little boo-boo."
Hoke, who has offered little to no insight on injuries this season, gave the exact same response when asked about his quarterback's elbow pad.
"Denard had a boo-boo," Hoke said.
Wolverines alter helmets for Big Ten play
Michigan made a slight alteration to its game helmet Saturday, as each player sported his own number near both ear holes.
The Wolverines wore numbers on their helmets earlier this season during the "Under the Lights" game against Notre Dame.
"That was my decision," Hoke said. "We will have those numbers on there throughout the rest of the season.
"We want to honor those guys who wore those numbers (on their helmets) before. The 42 championship teams. And the guys who have represented Michigan. That's important to us."
Kill says health issues didn't effect preparation
After starting the week in the hospital due to recurring seizures, Minnesota coach Jerry Kill was on the sideline Saturday in Ann Arbor.
Kill, a former Saginaw Valley State coach, left a game earlier this season due to a seizure, and didn't join the Golden Gophers on the practice field until Wednesday.
Despite all that, Kill said his absence earlier this week had no effect on his team's poor play.
"They knew I was going to travel," he said. "I don't know what you read, I don't read what's out there. I don't read the paper, I don't read the blogs. I was coaching. I missed one practice, that's it.
"I've never missed a game in my coaching career. You're dealt the cards that you're dealt, and you coach your butt off. I don't think we missed a beat."
Gibbons continues to impress
With three field goals Saturday, sophomore kicker Brendan Gibbons now has as many field goals through five games this season (four) as Michigan did as a team last year.
Gibbons connected on kicks of 25, 32 and 38 yards Saturday. He is 4-for-5 on the year and 24-for-25 on extra points.
"Someone was said that he's kicked really good during fall camp and everything," Hoke said jokingly, referring to himself. "We've got a lot of confidence in him and hopefully (Saturday's performance puts) even more confidence into him."
Odds and ends
Michigan sophomore punter Will Hagerup returned from his four-game suspension Saturday. Hagerup punted twice, averaging 37.5 yards per kick. Freshman kicker Matt Wile had been punting, but just handled kickoffs Saturday. … Former Michigan quarterback John Navarre was honored during the first media break of the game. … Saturday marked the third straight game that Michigan has rushed for 300 yards as a team. The Wolverines finished with 363 Saturday, 320 against San Diego State and 376 against Eastern Michigan.
Nick Baumgardner covers Michigan basketball for AnnArbor.com. He can be reached at 734-623-2514, by email at nickbaumgardner@annarbor.com and followed on Twitter @nickbaumgardner.