Posted on
Wed, Oct 13, 2010 : 2:48 p.m.
Michigan running back Vincent Smith relishes chance to break free, looks forward to Hawkeyes
By Jeff Arnold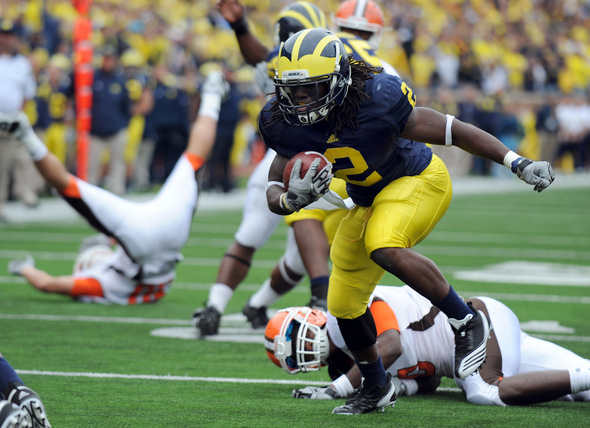 Vincent Smith realizes that when people talk about the effectiveness of the Michigan football team's running back, they are more than likely referring to sophomore quarterback Denard Robinson.
That's hard to argue with considering Robinson has accounted for 991 of the 1,784 yards the Wolverines have covered on the ground as well as nine of Michigan's 21 rushing touchdowns.
But having a dynamic playmaker like Robinson in the playmaker only opens up opportunities for Smith, who, along with Michael Shaw have combined for nine touchdowns and 560 yards though six games.
Adding to that total may be tough Saturday when Iowa bring its Big Ten-best run defense to Michigan Stadium (3:36 p.m., ABC), presenting perhaps the biggest challenge the Wolverines' ground game has faced this season. Trying to solve the Hawkeyes along with sharing backfield space with Robinson were among the topics AnnArbor.com touched on in a conversation with Smith.
Q: With the kind of ridiculous numbers Denard Robinson has put up this season, do you feel like that frees up the rest of the running backs or does it bring more attention to what you are trying to do as a whole in the running game?
A: He pretty much opens the running backs up and makes us feel like one of these games is going to be a breakout game for us. We have faith in that, and we know that chance is going to come for us to make a big impact on the offense because (the defense) is going to be keying in on Denard. So we're pretty excited about that.
Q: You use the word exciting, and people who play in front of Denard have described what it's like to see him break into the open. As some who shares the backfield with him, what's it like for you to see him hit a hole in the line and break out?
A: It just feels like we have another running back there, so it's pretty amazing. We don't talk about (running) a lot, but we know he loves the big runs and loves the long runs. But he also loves to throw it, so whenever he's in a position to make a play, we know he's excited too.
Q: After you tore your anterior cruciate ligament last season, how hard was it to miss time on the field when you knew the starting tailback spot would be open in the fall?
A: It was pretty frustrating and at times it got hard, but I think keeping my focus was the main thing. I knew I had to be patient in order for it to heal properly. At home, I did little things at home like calf raises just trying to get strength back into it when I wasn't at (Schembechler Hall) working on it.
Q: Do you think you've gotten past the point of doubting how strong your knee is to the point where you feel like you can do everything you did before the injury?
A: I trust it more than I did before (the injury). Each week, it gets better and better. And the more that happens, the more I trust it and the more I have confidence in it as the weeks go by. I feel like I can do more things on it every week.
Q: Do you feel like you're moving closer to maybe having the kind of breakout performance you've been waiting for?
A: I feel like I'm getting very close to that - very close. The key is just being patient and ready to make an impact whenever my number is called.
Q: When you look at Iowa, you're talking about a defense that hasn't allowed a rushing touchdown this season. When you hear that, what do you think?
A: I guess that just shows us that we he will have to prove ourselves. Coming into this game, we know it's going to be a dogfight, and we're just going to have to work to gain every yard we can.
Q: But when you hear no rushing touchdowns allowed, that's got to give you some motivation to be the team to break that streak doesn't it?
A: Yeah, there's a lot of motivation, because it makes you want to challenge their defense in the rushing game. Their front four is very talented, and they depend on their front four a lot. So I guess on my front, (the challenge) is breaking through the line of scrimmage as fast as I can. But our guys up front have to maintain leverage on those (defensive linemen) up front and if we can do a good job up front, we'll be good.
Jeff Arnold covers sports for AnnArbor.com and can be reached at (734) 623-2554 or by e-mail at jeffarnold@annarbor.com. Follow him on Twitter @jeffreyparnold.