Posted on
Sun, Jan 31, 2010 : 11:11 a.m.
Michigan safety recruit Ray Vinopal 'will earn everybody's respect'
By Dave Birkett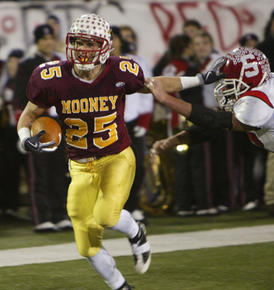 Ray Vinopal
grew up an Ohio State fan.
He had Buckeye hats and hoodies and a sweet Nike pullover that said "Ohio State Footbal." A few weeks ago - sometime after he committed to the Michigan football team - he sold it all, his whole OSU wardrobe, to a friend and former teammate at Youngstown (Ohio) Cardinal Mooney.
"I made some money," Vinopal said. "I had some good stuff, so he took it off my hands."
His closet now re-stocked with Michigan gear, Vinopal is ready to begin the next phase of his football career decked out in new favorite colors.
The 5-foot-11, 175-pound safety plans to sign with Michigan on Wednesday, the first day recruits can ink binding letters of intent, regardless of what late prospects the Wolverines add.
Michigan has three safeties already committed for its 2010 class in Vinopal, Marvin Robinson and Carvin Johnson, and the Wolverines are still recruiting three others - Sean Parker, Rashad Knight and Demar Dorsey.
Vinopal is the biggest sleeper of that group and the lowest-ranked member of Michigan's 26-person class according to Rivals.com.
He committed to the Wolverines in early December after leading Cardinal Mooney to a state championship. At the time, Vinopal's only other scholarship offers were from Air Force, Bowling Green and Kent State, though Wisconsin and Vanderbilt pursued him more recently.
Cardinal Mooney coach P.J. Fecko cautioned not to read too much into Vinopal's mediocre recruiting ranking.
"He's somebody that will earn everybody's respect up in Ann Arbor on the football field and off the football field," Fecko said. "If they aren't believers right now, I guarantee you they will be very, very shortly."
Vinopal said he doesn't put much stock in Internet evaluations of his play, either.
"I use it as motivation," he said. "I know what I can do, the coaches obviously know what I can do, that's why they offered me. I mean, it's Michigan and the Big Ten, they're not throwing out offers because they want to be nice. There's a reason behind it."
A two-way starter at running back and safety, Vinopal scored 10 touchdowns on offense as Nebraska commitment Braylon Heard's sidekick, and intercepted four passes on defense. He'll play the deep or strong safety position at Michigan.
"He is extremely physical, extremely explosive," Fecko said. "He did some things where there were some balls, fades thrown up along the sideline, and it looked like they were going to be a completion and he was coming across just smacking people, dislodging footballs. A great run-stopper that was a sure tackler, and when he had his chance to lay a lick on you he definitely did."
Vinopal said Michigan ramped up its pursuit of him midway through last season after seeing his highlight tape. When coaches called to gauge his interest, he promised to get them another tape of the second half of the year that was just as good.
"I got it to them and they said it reaffirmed what they saw in the first (tape) and just hit the trigger" on an offer, Vinopal said.
Almost as quickly, Vinopal pulled he trigger on a commitment.
Now, he's working on his flipping his friend who bought all that Ohio State gear, Tom Hubert, into a Michigan fan.
"He's die-hard O-State," Vinopal said. "He said he'll root for me to do good, but no can do on the win. He goes, but I'll root for you to do good and if you hook me up with free gear I'll wear it."
Dave Birkett covers University of Michigan football for AnnArbor.com. He can be reached by phone at 734-623-2552 or by e-mail at davidbirkett@annarbor.com. Follow him on Twitter @davebirkett.