Posted on
Wed, Oct 26, 2011 : 5:59 a.m.
Michigan searching for solutions to paltry production from tailbacks
By Kyle Meinke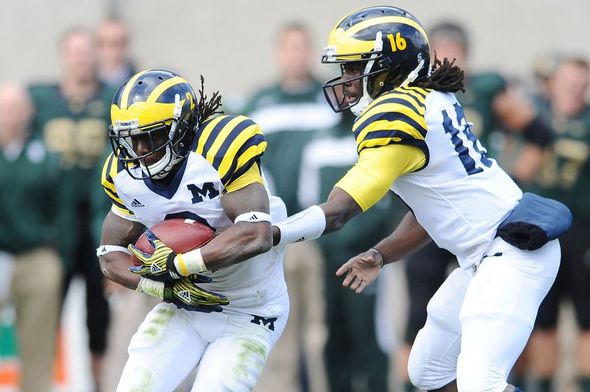 Melanie Maxwell | AnnArbor.com
Fitz Toussaint said he thinks he has an inside track on becoming the Michigan football team's next featured back -- whether he earns the title this year or the next.
Offensive coordinator Al Borges just wants someone to produce, regardless of who it is.
The Michigan tailbacks have struggled in recent weeks, bottoming out with a 10-carry, 40-yard performance in a 28-14 loss to Michigan State in their last game Oct. 15.
That is not enough, especially for a team that has struggled to pass the ball consistently this year.
"I thought we beat ourselves," Toussaint said of the loss to the Spartans. "I thought we needed to match their intensity, and we didn't."
The tailbacks have been a sore spot for much of the season, stretching back to fall camp. The coaching staff made it clear they were searching for one back to carry the bulk of the load -- "I don't like rotating guys — never have," Borges said the first week of camp -- but the group has been so underwhelming, the Wolverines ended up going with multiple backs anyway.
THURSDAY LIVE CHAT
Come back to AnnArbor.com at noon Thursday for a live chat with Kyle Meinke. He'll discuss news that emerged during Michigan's off week and preview the game against Purdue on Saturday.
Michigan's top back, Toussaint, has rushed for 333 yards this season, which is 143rd in the country. Junior
Vincent Smith
has been the other primary back with 37 carries for 251 yards.
Each provides something a little different. Toussaint is more of a downhill, punishing runner, whereas Smith is more elusive. He also is better at catching screens and blocking.
Toussaint said he thinks he's close to separating himself. Until then, he said he's getting increasingly comfortable with the tailback-by-committee approach.
"Just go out there, compete every day, never stop, compete through the whistle," he said of how he mentally prepares for sharing the carries.
Toussaint said frustration has not set in among the tailbacks, mostly because the team is winning. Their lack of production also has been mitigated by the deft running of quarterback Denard Robinson, who leads the Big Ten with 108.9 yards rushing per game.
But against the Spartans, who successfully corralled Robinson (18 carries for 42 yards and 9-of-24 passing), their failure was accentuated.
Toussaint received only two carries against the Spartans, a season low, after struggling to pick up Michigan State's blitzes early in the game. Smith received the other eight carries for 37 yards -- 26 of which came on one first-quarter run.
That's 10 carries for 44 yards and no touchdowns. That kind of paltry production allows teams to key in on Robinson, who did not run or pass well against Michigan State.
Although coach Brady Hoke prefers to have a featured back, he said this week he's OK with the current arrangement, as long as the backs combine for more than 100 yards. That, obviously, did not happen against Michigan State.
Hoke was quick to point out, though: It wasn't entirely the backs' fault.
"I don't want to put it all on them," he said. "I think they're doing a nice job. Two of them are playing most of the time. They're competitive, and they're tough. Like anything else, whether you talk about your quarterback, or a linebacker not making as many tackles -- sometimes, that's the front.
"It's the same thing with a running back. Sometimes, it's the opportunities, or what we're doing up front."
Michigan's offensive line was pushed around consistently against the Spartans, to the tune of seven sacks. There also were few rushing lanes for the backs to attack.
"Up until the last game, I thought we were really starting to get a good feel (up front)," Borges said. "But, you know, sometimes, you get a rude awakening and you realize you're not where you need to be. Sometimes, it takes a game like that to realize that, I guess.
"It's never one thing. It's always a combination of things. People always want to blame one player or coach or whatever, and it's generally not that. It's normally a combination of issues.
"It's not the backs, it's not the line — it's all of the above."
It's worth pointing out Michigan State is eighth in the country in rush defense and No. 2 in total defense. So, it's not alarming the Wolverines struggled in that game.
But the backs continuing to scuffle, and no one seizing the featured back role, is more disconcerting.
"No one's standing out," Borges said. "It's not that there's something missing, it's just no one is standing out. Until (someone does), we're going to operate as we've operated."
Kyle Meinke covers Michigan football for AnnArbor.com. He can be reached at 734-623-2588, by email at kylemeinke@annarbor.com and followed on Twitter @kmeinke.