Posted on
Wed, Feb 3, 2010 : 6:50 p.m.
Michigan solidifies top-20 recruiting class with 2 late commitments, defensive help
By Dave Birkett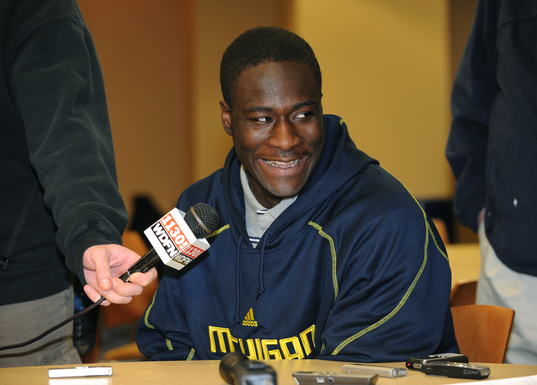 A late push by North Carolina had Huber Heights (Ohio) Wayne defensive tackle
Terry Talbott
rethinking his recruitment until minutes before he signed his national letter of intent Wednesday.
"Seriously, I'm telling you as of 7:30, 7:45 when he came in my office (Wednesday) morning, he was still probably somewhat teetering, just really didn't know," Wayne coach Jay Minton said. "Terry's a kid that's not a big ego guy, he's a pleaser. He wants to make people proud of him, that's why he works so hard and has such a great work ethic. He doesn't want to disappoint people, and by allowing North Carolina in, now he was going to disappoint someone."
At 8:03 a.m., three minutes after Wayne's signing day press conference was supposed to begin, Talbott reaffirmed his summer commitment to Michigan once and for all.
He joined his brother, Terrence, a cornerback, and 25 other recruits in pledging for the Wolverines in what was a relatively quiet (for once) first Wednesday in February.
Blue-chip safety prospect Demar Dorsey of Florida also chose the Wolverines over Florida State in a signing-day surprise, while four-star prospect Sean Parker of California picked Washington over Michigan and USC.
Dorsey, ranked the No. 2 safety in the nation by ESPN.com, committed to Florida early in the process, but that pledge fizzled in recent weeks.
His signing solidified Michigan's class among the nation's 20 best. Scout.com ranked the Wolverines' haul 12th, ESPN.com put it 19th and Rivals.com rated Michigan No. 20. All three services ranked the Wolverines among the top three in the Big Ten.
"Everybody wants to rank a certain recruiting class or kind of put a stigma or something on the guys coming in," Michigan coach Rich Rodriguez said. "This sounds like coach speak, but you really need to wait a couple years and then determine how good the class is.
"I've had recruiting classes before that weren't ranked anywhere in the top 25 or 30 and they wound up leading the team to a top-five ranking in the country and winning a BCS bowl, so I think you have to be careful about all that. But obviously if we signed them, we think they're great fits here for our football program or for our university and we're excited to have them."
Michigan's class has a distinct defensive flavor, with 16 players on that side of the ball.
Dorsey, a 6-foot, 175-pound defensive back whose cousin is Michigan quarterback Denard Robinson, is the headliner. Rodriguez said Dorsey will start his career at cornerback, but also can play safety.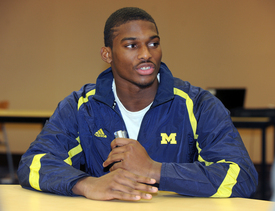 "If Calvin Magee was the lead recruiter, Denard was the second lead recruiter on him," Rodriguez said. "Denard looks like he's going to have a future in recruiting, for sure."
Rodriguez wouldn't single out any recruits as candidates for early playing time - "That's like, I've got two beautiful children, tell me which child do you like better?" he said - but Dorsey, cornerback Cullen Christian and safety Marvin Robinson are three players who could help immediately in Michigan's thin secondary.
"I would think anybody, particularly at the positions on defense, where we have thin numbers, are going to get a real good look early," Rodriguez said. "They're all going to get a look, but those guys at those positions defensively may be on the two-deep just because that's all the numbers we have there."
Seven offensive recruits already have enrolled in classes and will take part in spring practice, including Devin Gardner, the nation's top-ranked dual-threat quarterback according to Rivals.com.
Rodriguez said Gardner will compete with incumbent Tate Forcier and backup Denard Robinson for the starting quarterback job.
"I think I have a good chance because I work hard and I'm ready to play," Gardner said.
Center Christian Pace, running backs Austin White and Stephen Hopkins, and receivers Jeremy Jackson, Ricardo Miller and Jerald Robinson also are on campus.
Rodriguez said one recruit, linebacker Antonio Kinard, still "has a little work to do academically" to qualify. If Kinard does not make it to campus in the fall, Rodriguez said Michigan will help place him in a prep school.
Dave Birkett covers University of Michigan football for AnnArbor.com. He can be reached by phone at 734-623-2552 or by e-mail at davidbirkett@annarbor.com. Follow him on Twitter @davebirkett.