Posted on
Thu, Dec 29, 2011 : 9:51 p.m.
Michigan defensive lineman Will Heininger unsure if he'll play through foot sprain at Sugar Bowl
By Kyle Meinke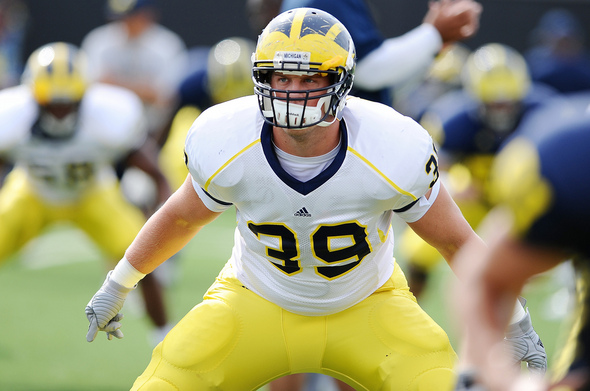 Melanie Maxwell | AnnArbor.com
NEW ORLEANS -- Will Heininger grew up watching Michigan football stars like David Harris and Shawn Crable "knock players out."
He is a native of Ann Arbor and attended Pioneer High School, which shares an intersection with Michigan Stadium. He used to dream of one day wearing a winged helmet himself.
So, it wasn't hard for him to turn down an opportunity to play Division I baseball so he could walk-on to the Michigan football team as a 220-pound defensive lineman.
Now, as the final game of a dream career approaches, he is walking around with a protective boot.
The fifth-year senior defensive lineman suffered a sprained foot in practice Dec. 22 and his status for the matchup Tuesday against Virginia Tech in the Sugar Bowl (8:30 p.m., ESPN) is questionable.
How optimistic is Heininger that he'll be available against the Hokies?
"I don't know," he said. "I just keep working with (trainers) every day, and it keeps responding every day."
Michigan coach Brady Hoke said Heininger is experienced enough and cerebral enough that he's not concerned about the senior's grasp of the game plan, but Heininger also said he needs to get in some practice time if he is to play next week.
He said the foot is getting better every day, but he's still not sure when -- or if -- he will be able to practice.
"If there's any way I can play," he said, "I'm going to play."
If he can't play, it'd be a devastating ending for a senior who rose into the starting lineup this year after battling his entire career to crack the rotation.
Heininger was an unheralded recruit who, as a 220-pound freshman, matched up every day in practice with future No. 1 draft pick Jake Long. In five years, Heininger put on nearly 80 pounds and remade his game.
He turned himself into one of the Wolverines' steadiest defenders, helping to lead a resurgence this year on that side of the ball. He started every game, recording 23 tackles and one sack.
He also has excelled in the classroom, and already has an investment job lined up in Chicago for next year. He has the lofty ambition of one day owning a pro football or baseball franchise.
Heininger knows it's possible he's played his last game at Michigan, and that hurts, but he also has no regrets.
"I would definitely say this is a dream come true," Heininger said. "I love this school, and I wouldn't trade this experience for anything."
While he hasn't been able to practice, Heininger has immersed himself in film study, adding, "I know Virginia Tech pretty well. I've watched a ton of film and I know what they're going to do, I think."
He's been imparting that knowledge on young players such as Quinton Washington and Richard Ash -- guys once considered building blocks for the future who now could be thrust into the present, if Heininger can't go.
Michigan already is without reserve defensive lineman Nathan Brink, who suffered an undisclosed injury.
Washington is the youngster who's name comes up the most from coaches and players as a possible fill-in next week.
"Quinton has gotten years better this year," Heininger said. "He's really come into his own. You have to remember, he's only been playing D-line for a year-and-a-half."
Junior Will Campbell also is expected to play a more significant role against the Hokies.
"Will is just freakishly talented," Heininger said. "Sometimes he doesn't show it, but when he does, look out."
Kyle Meinke covers Michigan football for AnnArbor.com. He can be reached at 734-623-2588, by email at kylemeinke@annarbor.com and followed on Twitter @kmeinke.