Posted on
Mon, Nov 14, 2011 : 5:59 a.m.
Michigan tailback Fitz Toussaint picks up where Denard Robinson left off as primary rushing threat
By Kyle Meinke
Melanie Maxwell I AnnArbor.com
CHAMPAIGN, Ill. — The Michigan football team has a defense that can win games. That's nice.
But you still have to score points. The Wolverines have struggled to do that the past two weeks, and it's becoming increasingly clear tailback Fitz Toussaint is more important to that end than quarterback Denard Robinson.
Robinson gets the headlines because he's electrifying and exciting and polarizing and has awesome dreads. But Toussaint, when he's on a roll, makes Michigan very difficult to beat.
When he's not, Michigan becomes very beatable.
And, right now, Toussaint is playing much better than Robinson.
The sophomore tailback set career highs with 27 carries for 192 yards in No. 20 Michigan's 31-14 win Saturday against Illinois. He also scored one touchdown.
Those are impressive numbers. They are more impressive considering Illinois entered the game No. 1 in the Big Ten in rush defense, giving up just 103 yards per game.
Toussaint needed only eight carries and half a quarter to eclipse that total.
"Up front is where we executed well," he said. "The offensive line, I give them credit for creating creases, allowing me to go through them and explode."
Toussaint later said he had bigger holes against Illinois than he's had all year, an impressive feat considering how formidable Illinois' defensive line has been all year. That bodes well for Michigan's final two games.
Nebraska — which has lost All-American defensive tackle Jared Crick for the season — entered the weekend eighth in the league against the run, and Ohio State was fourth.
Toussaint has shown bursts before (such as his 170 yards against Purdue three games ago), but also has struggled with consistency and health. Can he keep it going?
Michigan (8-2, 4-2) will need him to, with the way Robinson is playing.
The junior quarterback has never been a gifted passer, but he's always been so deft running the ball, it didn't matter. The passing was the ante Michigan paid to get the ball in Robinson's hands every play.
Now, though, even the run is abandoning him.
Robinson missed several holes against Illinois. He made bad cuts. He sprung one nifty run of 11 yards, but looked a step slow even on that one.
Is he injured? That's more of a rhetorical question at this point, as Robinson has left four of his past five games, including against Illinois due to a bruised wrist. And, in that span, he's averaging just 3.7 yards per carry.
Robinson rushed for just 30 yards on 12 carries against Illinois — a 2.5-yard average per carry — despite an offensive line that, according to Toussaint, was opening its biggest holes of the year.
Worst of all, though: Robinson quickly is turning into a turnover machine.
He had another interception Saturday, and he now has 13 this year, tied for fourth most in the country. Of the other six teams featuring quarterbacks with at least 13 picks, only Southern Methodist (6-4) has a winning record. The six combine for a record of 17-43.
Teams win despite quarterbacks with that many picks, not because of them — if they win at all — and Robinson has thrown a pick in all but two games this year.
That doesn't even include his fumbles. Robinson put the ball on the turf twice against Illinois, and now has three in his past two games.
The bottom line: Robinson is a gifted runner and challenged passer. That's his dichotomy, and it's one that has worked for Michigan in the past.
But Robinson also isn't immune to the challenges of anyone or any team that is one-dimensional: When that one dimension isn't working, you have no dimensions. That's where Robinson is at heading into the final two games.
The reality is, Toussaint gives Michigan a better chance to move the ball, and keep the ball, right now. The Wolverines need to give it to him consistently against Nebraska and Ohio State.
Floyd's late film session pays off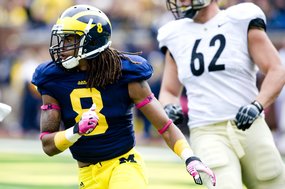 Joseph Tobianski | AnnArbor.com
Michigan asserted itself defensively against Illinois, and it was a can-kicking no matter which way the stats are diced. Sometimes, though, the most telling signs of dominance aren't stats at all.
J.T. Floyd can attest.
The junior cornerback, who has had a strong year but was coming off a rough day against Marvin McNutt and Iowa, played exceptionally well. He filled up his stat line with four tackles, one interception and two pass breakups.
But it was a morning film session, mere hours before the game, that made the difference for him.
Floyd said he saw something watching that last bit of film that was triggered as Illinois approached the line early in the fourth quarter. And, with the game still in question, Floyd jumped a route by Big Ten leading receiver A.J. Jenkins, picked off the pass by quarterback Nathan Scheelhaase and returned it 43 yards.
It led to a touchdown that put away the game — a fitting touch for a game that was won by the defense to be put away by the defense.
"I saw the split, and the coaches were telling me to trust my instincts," Floyd said. "I just read it. I seen the receiver kind of raise up in his break, and I just went for it."
Defensive coordinator Greg Mattison has been lauded for the defense's remarkable resurgence. Hard to dispute that, when his players are making these kinds of anticipation plays.
Countess, Floyd a one-two punch
Jenkins, who entered the game as the Big Ten's leader in catches and receiving yards, finished with eight catches for 103 yards against Michigan. Impressive numbers against that powerful (weird to say, right?) Wolverines defense. Aren't they?
Not really.
Jenkins had just four catches for 35 yards in the game's first three quarters, when the game was in the balance. He had four catches for 68 yards in the fourth quarter, with the Illini out of reach.
Those catches pad stats, but don't win games. Michigan will take that.
Floyd and freshman corner Blake Countess played exceptionally together, and are quickly developing into a formidable one-two punch for the Wolverines. Floyd has shown flashes of becoming a shut down corner, and Countess already has begun to draw comparisons to former Michigan corner Donovan Warren by coaches and teammates.
Bright future, indeed.
Third-down first-rate ... again
It's difficult to pinpoint which defensive statistic is most impressive from Michigan's mastery of Illinois, but its performance on third down continues to be fantastic.
Consider:
Michigan allowed Illinois to convert on third-and-short (4 yards or fewer) just two-of-six times, an impossibly low rate. ... What's that? Small sample size, you say? Well, remember, the Wolverines allowed the same 33.3-percent clip on third-and-shorts last week against Iowa. Simply put, this team is tough in short-yardage situations.

The Wolverines helped themselves with good work on first and second downs. Illinois' average yardage needed to convert a third down in the first half was 10.3 yards. Even in the second half, when Illinois picked up some garbage-time yards, the average was 6.9 for a first down.

Because of those two factors, Illinois did not convert a third down until the closing minutes of the third quarter. It missed on its first eight tries, and finished 5-of-17.
Rush defense sharp
More from the mind-blowing defensive stats department:
Michigan held the Illini to minus-12 yards rushing in the first half. That is to say, the Wolverines gained 1.2 yards rushing every time Scheelhaase handed off the ball.
Who are you, and what have you done with the Michigan defense?
Entering the fourth quarter, it still had allowed just 20 yards on 19 carries.
"When you stop the run, it starts there," Hoke said. "When you see those maize helmets hitting the ball carrier multiple times, I think that's Michigan defense."
Seeing red in red zone
Michigan won a road game, and made important steps on offense, but it was far from a perfect game for the Wolverines.
Two disconcerting trends: Turnovers, of which three, and red-zone offense.
The red-zone problems are must noteworthy, simply because Michigan had been so good for so long this year. Once among the top-five teams in the country at scoring within the 20-yard line, the Wolverines now are 68th (80.4 percent scores).
They scored on just three of six red-zone trips against Illinois.
"Everyone gets frustrated," Hoke said of the struggles. "You always have to look at your opponent and what they're d0oing and also look at what you did (in diagnosing the problem). 'Where did we not block the guy right, or hit an open receiver?' — and I think we did that once."
Odoms breaks through
Senior receiver Martavious Odoms entered the season with 87 career catches. He was a prototypical slot receiver who figured to play an important role in Rich Rodriguez's spread offense.
And then Rodriguez was gone, and so was Odoms' role. He had just one catch entering the weekend.
That makes his 19-yard touchdown grab to ice the game against Illinois — on a perfect throw from Gardner, who showed poise in stepping up in the pocket — all the more special.
Some players benefit from coaching changes, and others don't. It's unfortunate, but inevitable. Odoms is an example of the latter.
Kyle Meinke covers Michigan football for AnnArbor.com. He can be reached at 734-623-2588, by email at kylemeinke@annarbor.com and followed on Twitter @kmeinke.