Posted on
Tue, Jun 12, 2012 : 10:44 p.m.
Michigan to honor Gerald Ford, Bennie Oosterbaan and Ron Kramer as 'Football Legends'
By Nick Baumgardner
Desmond Howard and Gerald Ford will have company in the "Michigan Football Legend" department.
After Michigan coach Brady Hoke announced via radio Tuesday that the program plans to honor former President Gerald Ford's No. 48 next season, the university announced that two more retired uniforms will be placed back into circulation next season.
In 2012, Michigan will honor Ford's No. 48, Bennie Oosterbaan's No. 47 and Ron Kramer's No. 87 as "Football Legend" numbers, joining Howard's No. 21.
"The success and acceptance of the Desmond Howard 'Legend' recognition led to conversations with the family members who had retired jerseys, several of whom were never recognized or celebrated in the appropriate manner," Michigan athletic director Dave Brandon said in a statement. "The Ford, Kramer and Oosterbaan families want to see their family member honored in this way.
"This program is about tradition and legacy and this is a unique way to recognize these great Wolverines."
Per the release, Michigan will honor Oosterbaan during the Sept. 8 game against Air Force, Kramer during the Sept. 15 game against Massachusetts and Ford during the Oct. 13 game against Illinois.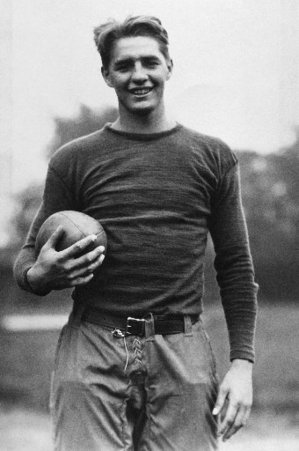 Associated Press file photo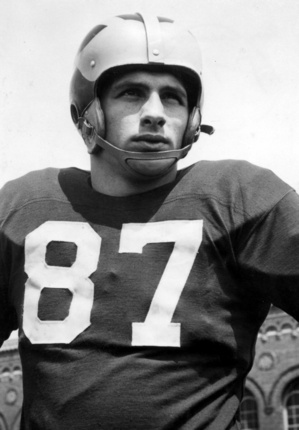 Courtesy University of Michigan
The school has yet to announce which current players will wear the three soon-to-be unretired jersey numbers.
Currently, Michigan has two other retired numbers -- Tom Harmon's No. 98 and the No. 11 worn by Francis, Albert and Alvin Wistert. Brandon said Michigan has yet to discuss the "Legend" topic with either the Harmon or Wistert family.
"This is an outstanding way to recognize our former greats," Hoke said in a statement. "It speaks to the tradition and success of our program, and it honors those who led the way in the past."
Last season, Michigan unveiled its "Football Legend" distinction by enshrining Howard's No. 21 into the special category prior to a home game against Notre Dame. A year ago, former wideout Junior Hemingway donned the No. 21 with a special "Legend" patch sewn on his shoulder.
Michigan senior receiver Roy Roundtree will wear the No. 21 jersey this season. Moving forward, any player wearing the No. 47, 48 or 87 will also don the special patch on his chest.
Also, the lockers being used by anyone wearing the enshrined numbers will be "customized to reflect the fact that Oosterbaan, Ford and Kramer will forever be Michigan Football Legends."
Ford, the 38th President of the United States, earned three varsity letters at Michigan as a center from 1932-34 and was named the team's most valuable player as a senior. His No. 48 was retired in 1994.
Oosterbaan was the first-ever Michigan football player to have his uniform retired. He was the program's first three-time All-American (1925, 1926 and 1927). From there, he went on to become the program's head coach from 1948-58, compiling a 63-33-4 record. During his time as coach, Oosterbaan led Michigan to three Big Ten titles, the 1948 national championship and the 1951 Rose Bowl crown.
Kramer, meanwhile, was a two-time football All-American (1955-56) who earned nine varsity letters in three sports at Michigan. The two-way player had his uniform retired upon graduation and was eventually the No. 4 overall pick by the Green Bay Packers in 1957.
The College Football Hall of Famer went on to earn All-Pro honors, and is also a member of the Green Bay Packers' Hall of Fame.
Nick Baumgardner covers Michigan sports for AnnArbor.com. He can be reached at 734-623-2514, by email at nickbaumgardner@annarbor.com and followed on Twitter @nickbaumgardner.