Posted on
Mon, May 24, 2010 : 10:42 a.m.
Michigan to self-impose penalties today, probation, loss of practice time expected
By Dave Birkett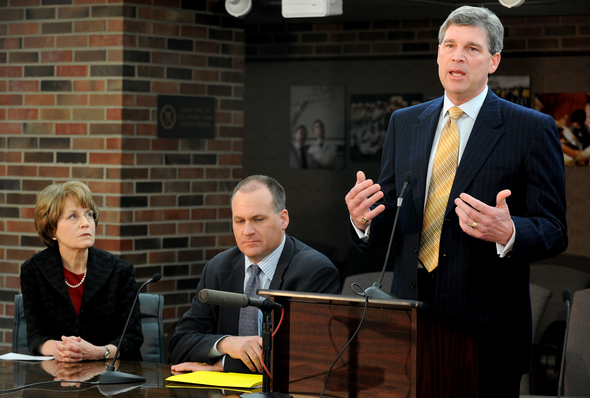 Angela J. Cesere | AnnArbor.com
In the 11 years that Michael Buckner has represented schools under NCAA investigation, he's seen a clear pattern emerge.
"I do get that sense from being at hearings as well as things that I read, they want you to come in and fall on your sword," Buckner said. "That goes for the university as well (as individuals)."
Michigan will administer its own punishment for violating NCAA rules today when it responds to an official Notice of Allegations by self-imposing penalties on its football program.
In February, the NCAA accused the university, football coach Rich Rodriguez and former graduate assistant Alex Herron of five potentially major infractions. Rodriguez allegedly failed to promote an atmosphere of compliance within his program; Herron allegedly lied to NCAA investigators; the university was charged with failing to monitor its football program; and the program itself with exceeding staff size limits and holding impermissible practices.
Michigan athletic director Dave Brandon said last week the university will make its response public on Tuesday. The response is expected to include a period of probation and loss of practice time, and Michigan already has made internal changes to its compliance practices and Rodriguez's coaching staff.
Herron was disassociated from the program and the "quality-control" position was eliminated and replaced by "staff intern." Michigan has scaled back its support staff as well, going from five quality-control assistants to three staff interns.
Buckner said schools typically follow the blueprint laid out by past NCAA cases when deciding how to penalize themselves.
"The goal is to try to walk that tight rope," he said. "What they're trying to do is trying to make it as close to possible as what the Committee on Infractions will make it anyway. The goal is for the Committee on Infractions to agree with the university's responses and not to add any punishment."
Michigan, which conducted its investigation jointly with the NCAA, is due in front of the Committee on Infractions Aug. 13-14 in Seattle. The committee can accept, reduce or add to Michigan's self-imposed penalties, but won't make a formal announcement on its findings until later in the fall.
Rodriguez, who has his own attorney for the matter, and Herron also will file responses today. It's unclear if those responses will be included in the materials Michigan makes public.
Buckner said coaches who are still employed by the school usually have their "responses mirror or be similar to the institution's response."
"Individual responses are going to be much more focused on trying to defend the coach and the coach's actions," he said. "In a lot of the responses I've seen, they've tried to place the responsibility elsewhere.
"I think the coaches have every right to go into the enforcement hearing, infraction hearing, and to dispute any fact that's presented. If Coach Rodriguez feels that he did nothing wrong or that there was a reasonable fact or some type of mitigating factor, he has to present that."
Attorneys for Michigan and Rodriguez spent last week finalizing the language on their responses. Buckner said once those have been filed, they'll move on to preparing for August's hearing.
"I'll be even more relieved when it's over in August and you just move on and all that," Rodriguez said last week at the Big Ten spring meetings. "The process since last August has really kind of been like a big weight on everybody. We've tried to minimize that as much as we can amongst the players. They did their interviews and all that - and from the staff as well. I've had a whole lot more talks with my attorney than I wanted to, so I'll be happy to get that over with."
Dave Birkett covers University of Michigan football for AnnArbor.com. He can be reached by phone at 734-623-2552 or by e-mail at davidbirkett@annarbor.com. Follow him on Twitter @davebirkett.