Posted on
Thu, May 17, 2012 : 1:47 p.m.
Big Ten wants to stress strength of schedule in college football playoff
By Kyle Meinke
CHICAGO -- The Michigan football team is preparing to face Alabama and Notre Dame during next season's nonconference schedule. That, along with the Wolverines' difficult Big Ten draw, has some calling it the nation's toughest slate.
But is it possible teams could move toward similar scheduling practices in the future?
The Big Ten hopes so.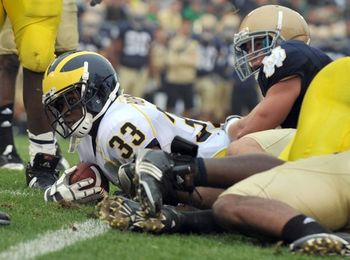 AnnArbor.com file photo
The league's athletic directors met with commissioner Jim Delany this week in Chicago, where the conversation mostly hinged on hammering out the league's preferred model for a college football playoff.
It became clear they prefer a four-team playoff that exists within the bowl framework -- and encourages tough non-league competition.
"I personally believe that strength of scheduling should be more important, so we don't get to a world where we're all being incentivized to come up with the (easy) schedule the way we can, because people forget in December who we played in September," Michigan athletic director Dave Brandon said.
"You may lose a game early in the season because you played a great football team, but I don't know that should be such a big penalty versus a team that schedules high schools in September to run up their record."
The playoff system the Big Ten will be pushing when Delany meets with the other conferences next month features inclusion of the bowls -- notably, the Rose Bowl -- and a human element such as a selection committee to determine which four teams qualify.
But they're wary of implementing any system that blunts the importance of the regular season.
If Delany and his league's athletic directors have their druthers, schedule strength will have a prominent place in whatever formula is used to rank teams in 2014 and beyond.
Schedule strength plays only a minor role in the current BCS system. It was eliminated from the formula in 2004 shortly after LSU (BCS) and USC (Associated Press) split the national title.
It factors incrementally into the computer rankings, and indirectly into the human polls, but its significance is nominal at best. That's not good enough for the Big Ten.
"I don't want to adopt a model that discourages playing good opponents," Delany said.
The Big Ten's athletic directors, as well as Delany, appear to be in concert with a general playoff model: Four teams, which are determined in part by a human element -- a la the selection committee used in basketball -- and play at bowl sites.
They also favor automatic bids for two or three conference champs, with one or two spots reserved for non-champs and independents.
But strength of schedule also came up, as much as any other topic. It's clear this is top priority for the league, after years in a system where teams are punished severely for losing to top competition, but not equally rewarded for winning.
"It's how many wins you get, not who you play," Michigan State athletic director Mark Hollis said. "I think we need to come up with a system that motivates schools to want to play tougher non-conference games during the season.
"One of the reasons we're looking at the Pac-12 coalition is to kind of instill that in our schedule and force it in. But I think nationally, we have to have that in play, both for bowl eligibility and for championship qualification."
Brandon has yet to announce Michigan's plan for the Pac-12 scheduling alliance, but said the school is close to reaching an agreement and an announcement could be forthcoming later this year.
Delany had hoped to have a full slate scheduled for 2017, but that may not happen now.
For Michigan, that could ramp up its schedule considerably. It already plays the eight-game conference schedule and has a three-year rolling contract to play Notre Dame.
Brandon said he can't predict the future of that rivalry, but added there are no plans to scrap it right now. If either team wanted out, it would have to give notice three years in advance.
As for now, Brandon said he's "dragging his feet" with future scheduling until he knows how important strength of schedule will be in the future postseason formula, and the Pac-12 partnership is sorted out.
But if schedule strength does become a prominent component of the playoff formula, Michigan could be in a good position with its Pac-12 game, Notre Dame and the conference slate.
And that's where this thing is headed, if the Big Ten has its way.
"I fear we could get into a world where we're all scheduling down to make sure our records are where they need to be," Brandon said. "We've seen this in basketball, where the regular season has become diminished because this tournament has become bigger than the regular season.
"We shouldn't let that happen, we can't let that happen in football, and I think that's what we need to be concerned about."
Kyle Meinke covers Michigan football for AnnArbor.com. He can be reached at 734-623-2588, by email at kylemeinke@annarbor.com and followed on Twitter @kmeinke.