Posted on
Sat, Nov 26, 2011 : 8:11 p.m.
Was this Luke Fickell's only Michigan-Ohio State game as head coach?
By Pete Cunningham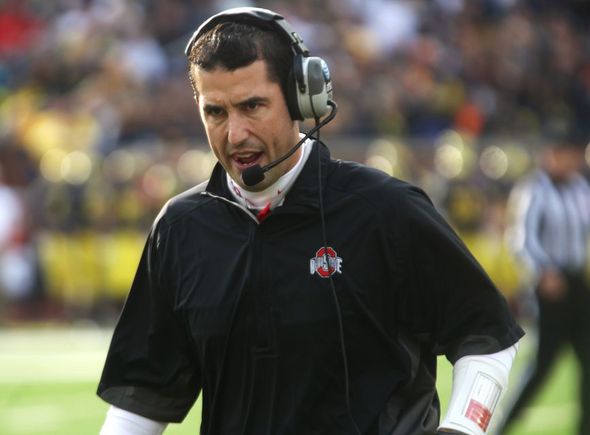 Jeff Sainlar I AnnArbor.com
Ohio State football coach Luke Fickell pounded his fist on the table at the post-game press conference following the Buckeyes' 40-34 loss to Michigan.
Moments earlier, he was almost brought to tears when asked if he would remain the Buckeyes' head coach. Now, Fickell was at the other end of the emotional spectrum.
"Like I said, it's about the Ohio State-Michigan (game)," Fickell said, banging on the table, but not raising his voice. "It's been about that since Sunday and it's going to be about that always. And that's the way it is."
But that's not really the way it is. Is it?
If it ever was just about the game, that changed when Fickell took over for Jim Tressel on an interim basis this spring following the tattoos-for-memorabilia scandal that brought about an NCAA investigation and multiple player suspensions.
It was only heightened this week amid reports that former Florida coach Urban Meyer would soon take over for Fickell, regardless of what transpired Saturday.
So, despite the fact that the Buckeyes' put up more yards on offense (372) against Michigan than they have all year against an opponent not named Akron or Indiana, Fickell was asked whether he's talked to the players about his future. He was asked whether he's spoken to them about staying at the university where he's spent the bulk of his adult life, either playing for or coaching.
"I've told (the players) I wouldn't worry about (a coaching change). You know, if we spend our energy on that, then we would have problems. So, out of respect for the Ohio State-Michigan rivalry, I wasn't going to think about it and wasn't going to talk about it," Fickell said. "Out of respect for the Ohio State-Michigan rivalry, that's all we've talked about.
"We try to focus ourselves, on the things that we can control."
With all the national attention swirling around Fickell -- or, rather, who will replace him and when -- it couldn't be ignored.
"In the social media world that we live in, it's in our face," said senior wide receiver DeVier Posey, playing in just his second game of the season due to suspensions. "I think that our group this week did a great job of focusing."
The approach seemed to have worked. Ohio State and freshman quarterback Braxton Miller put up more points than any team has against a Michigan defense ranked eighth in the country in scoring defense.
Less than one year removed from his high school senior prom, Miller looked like Troy Smith 2.0, passing for 235 yards and two touchdowns while rushing for 100 yards and another score.
But when Miller continued to dazzle throughout the game, the prevailing thought wasn't how Fickell and his staff have helped him develop. It was 'wait until Meyer gets a hold of this kid.'
Some Ohio State players wrote the letters "LF" on their tape in support of Fickell, a sign of support for the coach that has led them through a season in which off-the-field issues eclipsed the attention of anything on.
Running back Daniel "Boom" Herron, who missed the first five games of the season, said he thought Fickell should stay on because of how he's handled everything.
"He's done a lot for this team and he's definitely kept the team together. For everything that we've been through this year I think he did a great job," Herron said.
Posey also spoke in support of his coach, but recognized the decision isn't really up to him.
"If I was on the board of trustees, I would give you that answer, but I don't know, man," said Posey when asked if he thought Fickell should stay on as coach. "I can't make that call. All I know is, I love playing for the man."
What Fickell could control was keeping his players focused on the rivalry and the task at hand on Saturday, and they played one of their best games of the year. If it ends up being the only Michigan-Ohio State game Fickell is a head coach in, it wouldn't be a surprise, nor would it be anything to be ashamed of.
"I'm hurt just like every one of those seniors in there," Fickell said.
Pete Cunningham covers sports for AnnArbor.com. He can be reached at petercunningham@annarbor.com or by phone at 734-623-2561. Follow him on Twitter @petcunningham.