Posted on
Sat, Sep 24, 2011 : 8 p.m.
Michigan whips San Diego State, then shows humanity toward a team with familiar faces
By Kyle Meinke
Al Borges hung around just outside the tunnel that leads to the depths of Michigan Stadium, consoling players after a tough loss.
They just weren't his players. Not anymore.
But it's obvious, after Michigan football coaches spent the past week downplaying the emotional subplot of facing their old team, that detachment probably was the only emotion not in play Saturday as the Wolverines hammered San Diego State, 28-7, at Michigan Stadium.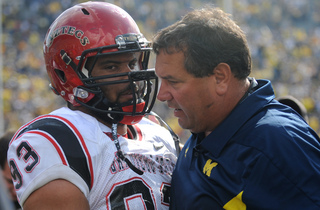 Angela J. Cesere | AnnArbor.com
Look no further than the nearly 15-minute conversation Borges, Michigan's offensive coordinator, had outside the tunnel with Aztecs quarterback Ryan Lindley, a fifth-year senior who blossomed into a top-10 quarterback under him.
Lindley was abysmal in their reunion.
Coordinators love hammering opposing quarterbacks. Not this time.
"I told him to hang in there," Borges said. "He's a good player and they're going to have a good season. They've got a good team. They're better than they played today."
Michigan coach Brady Hoke brought five assistants with him when he departed San Diego State in January. They had to leave promptly, during semester break, meaning there never was a proper goodbye.
Just a mass text.
They reunited Saturday, when Michigan bludgeoned them in nearly every facet of the game. Afterward, though, coaches downplayed the rout. It was a moment for humanity.
"We spent two years with those kids," Borges said. "They're near and dear to our heart. You know, I'm glad this game's over, I really am. I was kind of in denial until we actually had to play it."
Hoke also spent time on the field afterward, consoling the players he helped mold into winners — into a team that, on the right day, could triumph at a place such as the Big House.
Hoke declined to elaborate on those conversations — "It's great to see them, but it's personal" — yet his intentions were clear.
"That part of it is being a human being," he said. "There's a love you have for those guys that you've coached and you've been around."
Melanie Maxwell | AnnArbor.com
San Diego State coach
Rocky Long
served as Hoke's defensive coordinator with the Aztecs. When Hoke left for Michigan, he extended an offer for Long to join his staff in Ann Arbor. When the Aztecs offered to make Long their head coach, he decided to stay.
He embraced Hoke at midfield after the game, surely a bittersweet reunion.
"Brady and I are good friends," Long said. "I just wished him good luck the rest of the way. Brady will win a national championship here. I don't know how soon it will be, but he'll win a national championship.
"It was like brothers playing against each other. Loved each other before the game, loved each other after the game. Don't like each other between."
There was a lot for Long not to like during the 60 minutes football was played.
Hoke's defense emerged from a season-long slumber to post its best game of the year. It hounded Lindley into a miserable day and held Ronnie Hillman, the nation's second-leading rusher, to 112 yards. He had been averaging 167 per game.
For Hoke, those are encouraging signs as his team closes nonconference play with a perfect record.
He must have been impressed, for him to say something as out of character as this: "I think our defense is playing pretty good, to be honest with ya."
Coming from a man who, quite literally, demands perfection on that side of the ball, it's a telling sign for just how good that unit played against a team averaging 38 points per game.
The players launched into unbridled celebration, with the hooting and hollering and chants of "Go Blue!" spilling into the team's news conference.
But for coaches, it wasn't so pure.
College football can be a cruel game, on the field and off it.
The sight on the field after Saturday's game was a reminder just how good this game can be, when good men play it and good men coach it.
It was a tough week for Hoke and his staff, and they faced tough questions. Saturday, they came up with hard answers on the field and soft hearts off it.
Kyle Meinke covers Michigan football for AnnArbor.com. He can be reached at 734-623-2588, by email at kylemeinke@annarbor.com and followed on Twitter @kmeinke.