Posted on
Fri, Nov 30, 2012 : 11:38 a.m.
Michigan wide receivers coach Jeff Hecklinski gains perspective from wife's battle with cancer
By AnnArbor.com Staff
Without exception, coaching college football is a demanding job. For Michigan wide receivers coach Jeff Hecklinski, who is also Michigan's recruiting coordinator, life off of the field as a husband and father became even more demanding when he made the move to Michigan from San Diego State in 2011 and it had nothing to do with football.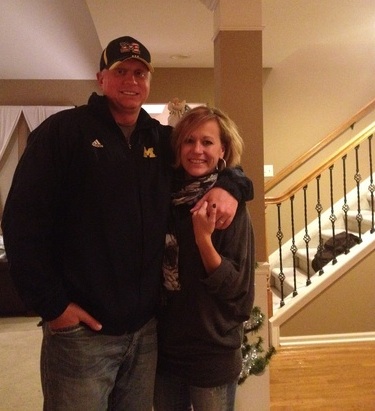 Photo courtesy of the Jeff Hecklinski family
Shortly after agreed to come to Michigan with head coach
Brady Hoke
, Hecklinski's wife, Tiffany, was diagnosed with colon cancer.
As MLive.com Michigan football writer Kyle Meinke writes, as she battled cancer, Tiffany felt bad not for herself, but for her husband.
"I can't imagine (what he's been through)," Tiffany Hecklinski said. "Obviously, to coach here is such an honor, and to go from that elation of being so happy to not only to work for (Hoke), but to work for him at the University of Michigan, and then to have that low of, 'Oh my gosh, my wife has cancer.' And then, yeah, go out and try to win a football game. I can't imagine that kind of pressure, to be able to do deal with all those emotions.
"I've never been mad cancer happened to me. I don't question it. I don't question God. I'm not angry. I'm upset that cancer has happened to those around me, and to my kids, what it's done to Jeff and my parents. That's what's hard for me to digest."
After aggressive treatment, Tiffany was recently declared cancer free. Meinke's article details the admirable resolve of Tiffany as a mother and wife Jeff's as a husband, coach and father. Not to mention the support from his coaching brethren.