Posted on
Sat, Oct 15, 2011 : 5:06 p.m.
Michigan State flusters Denard Robinson, gets 4th straight win over Michigan
By Nick Baumgardner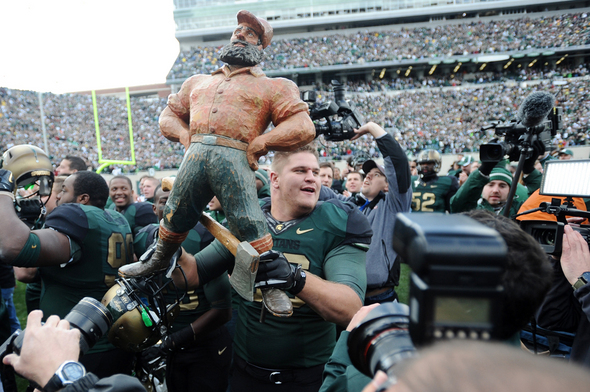 Melanie Maxwell I AnnArbor.com
Updated 5:06 p.m.
EAST LANSING -- Despite sputtering on offense for most of the afternoon, the Michigan football team had its chances to end its longest losing streak to Michigan State in five decades.
But in the end, every one of them came up empty. And for the first time in 49 years, the Paul Bunyan Trophy will have a four-year stay in East Lansing.
Michigan managed just 250 yards of total offense Saturday and failed to take advantage of Michigan State's 13 penalties in a 28-14 loss at Spartan Stadium, the Wolverines first defeat of the season and fourth straight against MSU.
"Give (Michigan State coach) Mark (Dantonio) and his staff credit," first-year Michigan coach Brady Hoke said. "They out-coached us and out-played us."
For the second straight year, the Michigan State (5-1, 2-0 Big Ten) defense made Wolverine junior quarterback Denard Robinson look human.
And for the second straight year, Michigan (6-1, 2-1 Big Ten) paid the price.
Robinson went 9-for-24 for 123 yards through the air, and rushed for just 42 yards before leaving with an apparent injury following a roughing the passer penalty late in the fourth quarter.
Neither Hoke nor Robinson elaborated on the nature of the injury. Robinson said he was held out by the Michigan trainers, and explained that he feels confident he won't miss any game time because of it.
He also hinted that the play in question, a late hit by Michigan State junior defensive end Marcus Rush, was not a cheap hit.
"We were playing football," he remarked. "It's a dirty game."
As a team, the Wolverines ran for just 82 yards. Michigan State was led by a 167-yard performance by junior Edwin Baker, while senior quarterback Kirk Cousins finished his day 13-for-24 with 120 yards and two touchdowns for the Spartans, who now hold a four-game winning streak over in-state rival Michigan for the first time since 1959-62.
Despite the lackluster offensive performance, Michigan did find itself in prime position to steal the game late.
After Roy Roundtree hauled in a 34-yard touchdown pass from Robinson to make it 21-14 with 9:56 to go, Michigan caught its biggest break of the game.
Wolverines cornerback J.T. Floyd forced a B.J. Cunningham fumble on MSU's next play from scrimmage, Jordan Kovacs recovered, setting Michigan up on the Spartan 32.
On its next drive, Michigan would get a fourth-down conversion rush by Robinson before moving down to the Spartan 9-yard-line for another fourth-and-inches play.
But rather than power forward, the Wolverines attempted a play-action play, and Robinson was sacked for a 10-yard loss, giving Michigan State the ball back on downs.
Hoke explained that the decision to go for the fourth down conversion was his, and the play call was made by offensive coordinator Al Borges. He also said that, in the past, that particular call has worked.
It didn't work this time.
"We've been very successful the last two years (with) that same play," Hoke said. "Al makes the call, but I'm the one that said go for it."
The Wolverine defense didn't fold following the turnover on downs, though, as it forced a quick three and out and getting Michigan the ball back on its own 35 with just 4:40 to play in the game.
The last gasp of air for Michigan didn't last long, though, as Isaiah Lewis intercepted Robinson on the first play of the series and ran it back for a 39-yard touchdown to essentially seal the contest.
"Me and (running back Vincent Smith) weren't on the same (page)," Robinson said. "That's all it was."
After playing to a 7-7 tie in the first half, the Spartans took their first lead of the game on their first possession of the second. Following a poor Michigan kickoff set MSU up at its own 46, Cousins then led the Spartans on a nine-play scoring drive, capped off with a 10-yard touchdown pass to Keshawn Martin to make it 14-7 with 11:07 to go in the third.
After stalling on its next possession, Michigan received a break on MSU's next drive when Thomas Gordon stripped Baker on the tail end of a 20-yard pickup. Desmond Morgan recovered, putting Michigan at the Spartan 41 with six minutes to play in the quarter.
The Wolverines could do nothing, though, as Robinson was sacked on third and long, forcing another punt.
Michigan State wouldn't cough it up on its next drive, as Cousins led the Spartans on a 10-play, 61-yard drive, converting a pair of third downs through the air before finding Martin again, this time on a 13-yard score to make it a 21-7 game late in the third.
Smith rushed eight times for 37 yards for Michigan, while Roundtree finished with four catches for 66 yards and a score.
The Spartans committed 13 penalties for 124 yards. Asked if he felt Michigan State played a dirty game, Hoke said that was no concern of his.
"I don't know (about that)," Hoke said. "I'm worried about Michigan."
Michigan will now enter its bye week before hosting Purdue for a homecoming game on Oct. 29.
Hoke and players insisted that this year's team will bounce back from a loss to Michigan State better than it has in the past.
But at the same time, Hoke said his group needs to remember what Saturday felt like.
"They need to feel this one," Hoke said. "We all need to feel this one for awhile."
Nick Baumgardner covers Michigan sports for AnnArbor.com. He can be reached at 734-623-2514, by email at nickbaumgardner@annarbor.com and followed on Twitter @nickbaumgardner.