Posted on
Sun, May 27, 2012 : 5:59 a.m.
Michigan's Al Borges, 2-0 against Alabama's Nick Saban, draws from past as he schemes for nation's top defense
By Kyle Meinke
Melanie Maxwell I AnnArbor.com
They're big. They're fast. And they reload.
The Alabama defense is fearsome on a yearly basis, and no Michigan football player or coach knows that better than Al Borges.
The Wolverines' second-year offensive coordinator got an intimate look at the Crimson Tide during his tenure with Auburn from 2004-07, when his Tigers engaged them annually in the Iron Bowl.
His takeaway: "They're fast guys. Coaching down there, I'm very aware. Plus, they're very well trained. Their staff, (defensive coordinator) Kirby Smart does a great job and (head coach Nick) Saban is a defensive guy by nature."
Michigan is slated to face Alabama on Sept. 1 at Cowboys Stadium in what many already are calling the nation's most-anticipated opener.
The Wolverines are coming off an 11-2 season and Sugar Bowl championship. The Crimson Tide are the defending national champions -- and also happen to feature the country's reigning No. 1 overall and scoring defense.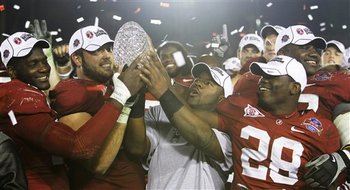 Associated Press
Saban spent 13 years as a college defensive assistant, defensive backs coach and defensive coordinator at several schools, and six more in the NFL. Smart is considered one of the top assistants in the nation.
Together, they've created a speedy -- and complicated -- defense that is to be feared.
"Alabama has always been good on defense, this staff has just made them better," Borges said. "When I was at Auburn, every year they were top five I think. A couple years, they were No. 1.
"That's them. That's what you're dealing with."
Borges' Auburn teams went 4-0 against Alabama during his time in that rivalry, but his offense was held under its scoring average in each game.
The Tigers averaged 22.0 points per game against the Tide in that four-year stretch, and 28.8 points per game against everyone else. That's a 23.6-percent dip in production.
Borges also faced Saban twice while at Auburn, and beat him both times -- but it was a struggle to do so.
The first matchup came in 2004, when Saban was still head coach at LSU. Borges' SEC-best offense, which averaged 32.1 points per game, was held to 10 points.
The second meeting came in 2007, Saban's first year at Alabama. Borges won again, but Auburn scored just 17 points, a touchdown off its average of 24.2 points.
Borges said he already has begun watching Alabama film as he tries to reverse that trend, and has paid close attention to what Saban does against dual-threat quarterbacks such as Denard Robinson.
"The schematic doesn't change, the awareness of the quarterback does," Borges said. "In terms of containing him, making sure that they're fencing in all their blitzes.
"They'll get a lot of big plays out of it, because they basically make you beat them. They play aggressively, but they play smart."
What could be troubling for Michigan is Alabama was particularly stout against the run last year, allowing only 72.2 yards per game. That was more than 10 yards per game fewer than anyone else in the country.
The Wolverines' offense is predicated on the run, averaging 221.9 rushing yards per game last year (13th nationally).
Kyle Meinke covers Michigan football for AnnArbor.com. He can be reached at 734-623-2588, by email at kylemeinke@annarbor.com and followed on Twitter @kmeinke.