Posted on
Fri, Sep 2, 2011 : 5:58 a.m.
Michigan's biggest worry for its football opener? Western Michigan quarterback Alex Carder, coaches say
By Kyle Meinke
The Michigan football team is more talented than Western Michigan at nearly every position, and that's how it should be when it faces a Mid-American Conference team.
But if there's one personnel matchup that concerns the Wolverines entering Saturday's season opener against the Broncos (3:30 p.m., ABC), it's their secondary squaring off against Western Michigan's passing game.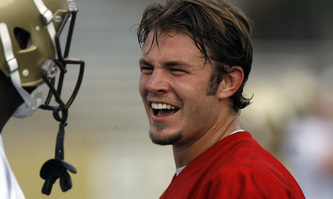 Kalamazoo Gazette
Junior quarterback
Alex Carder
and sixth-year, record-setting receiver
Jordan White
both return for a Broncos unit that
ranked 16th nationally
last year in passing. Carder, in particular, has captivated the attention of the Michigan coaching staff.
In fact, defensive coordinator Greg Mattison, who coached the Baltimore Ravens the past three years, thinks Carder is an NFL talent.
"You'll find out when you ask me about players that we're going to play against, I'm always going to be honest," Mattison said. "I think this guy is special. I think you're going to see this guy playing on Sundays some day.
"He has got an arm that he can throw it from the hash to the sideline, and the thing that impresses me about him is he is a very, very tough kid."
Carder is a junior from Shawnee, Kan. He started slowly last year, but came on strong in the final six games. He finished with 3,334 yards, 30 touchdowns and 12 interceptions while completing passes at a 63.1-percent clip.
ALEX CARDER FILE
School: Western Michigan
Position: Quarterback
Size: 6-2, 224 pounds
Year: Junior
Hometown: Shawnee, Kan.

2010 STATS
289-458 (63.1%), 3,334 yards,
30 TDs, 12 INTs

Those are strong numbers for anyone, regardless of conference.
"Last year, I think he probably took too many chances early in the season," Western Michigan coach Bill Cubit said Monday during his weekly teleconference. "I think his interceptions were up, his turnovers were up — and, at the end of the year, I think he threw for (20) touchdowns with three interceptions (in the final six games).
"He was a different guy once he got in the system and understood we don't have to take as many risks. That's the biggest difference I see."
Michigan coach Brady Hoke spent six seasons in the MAC while coaching at Ball State, going 4-2 against Western Michigan and 3-1 against Cubit. He also spent time as an assistant with the Broncos, as well as at Michigan.
He knows the MAC. He knows the Big Ten. He's been on both sides of the talent disparities that exist in these kinds of matchups.
He thinks Calder could play anywhere.
"I think he's as impressive as anybody that you'll (watch tape) of for the entire year," Hoke said. "I'd like to see who's a better quarterback in the Midwest than that kid."
High praise, coming from a guy who has a Heisman Trophy candidate taking snaps for him at quarterback.
Preseason hyperbole? Gameweek hype? Maybe, but Carder has the numbers to back it. At the very least, Michigan is respecting what he showed in his one season as a starter, when he helped the Broncos set a school record for touchdowns in a season (51) and average 32.3 points per game.
"He can put the ball in tight windows," said sophomore Thomas Gordon, who was named a starting safety this week. "He's a real polished quarterback and has experience, but we still can disguise our looks and get him confused, and I think that'll play to our advantage."
That will be the key to Michigan's counterattack.
Senior Troy Woolfolk, out all of last year, and junior J.T. Floyd, who missed the final four games and all of spring, are expected to start at corner after battling injuries. Sophomore Courtney Avery is listed as a co-starter with Floyd and is expected to see snaps, as well.
It's a talented group, but one with a lot of questions after a season in which Michigan ranked 112th in pass defense. Opposing quarterbacks posted a combined rating of 144.79, 104th in the country. Only Minnesota and Indiana were worse among Big Ten teams.
Applying pressure on the quarterback will be a point of focus, particularly with Western Michigan missing several key players on its offensive line due to injury.
"(Carder) makes them go," senior defensive end Will Heininger said. "He can really read defenses because he makes a lot of checks. You can see that on film.
"We need to get after him."
Kyle Meinke covers Michigan football for AnnArbor.com. He can be reached at 734-623-2588, by email at kylemeinke@annarbor.com and followed on Twitter @kmeinke.