Posted on
Sun, Aug 19, 2012 : 5:40 a.m.
Michigan's Blake Countess draws inspiration from Charles Woodson, but he's not trying to be him
By Nick Baumgardner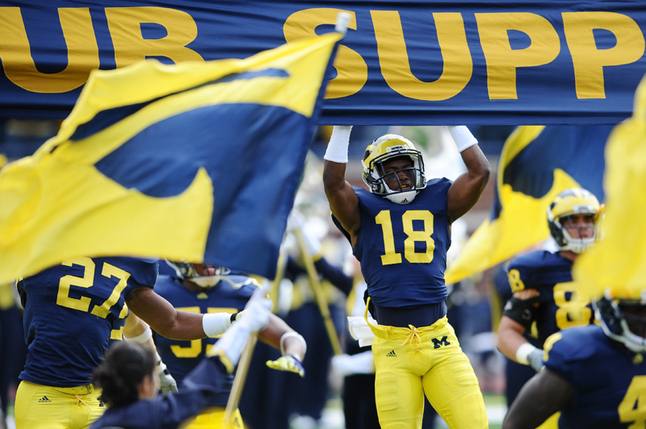 Melanie Maxwell | AnnArbor.com
Blake Countess
tries his best to avoid it.
Not too many people have held down a starting cornerback spot for the Michigan football team over the years, and as much as he attempts to block out the usually unfair shoe-filling requests, he seems to fail every time.
Countess can't even escape it in the Wolverines' defensive backfield meeting room, where photos of former Michigan All-Americans don the walls.
Which picture does he find himself looking at the most?
The one that's hardest to look away from.
"The biggest picture is Charles Woodson," Countess said.
From the moment Countess was inserted into the starting lineup midway through last season, the inevitable -- and unfair -- fan questions began.
Was he aware Woodson started as a freshman? Did he know what Woodson accomplished at Michigan? Had he seen Woodson's Heisman Trophy before?
Yes, yes and yes.
At Michigan, coach Brady Hoke often claims that there's a program-set expectation for every position -- no matter who plays it.
And for Countess, fair or not, the high-water mark for his position is Woodson. And that's just part of the deal.
"That's just another part of Michigan football," Countess said. "I hear (about Woodson) a fair amount, I don't know if I'm trying to avoid it, but I have to focus on me.
"Charles Woodson is a great role model and a great person to model yourself after."
Countess obviously has a long way to go before he comes close to the level of Michigan's greatest cornerback. And though his rookie campaign featured 44 tackles and six starts, it wasn't without a few hiccups.
In the final two games of the season, against Ohio State and Virginia Tech, Countess seemed to be at his worst. He struggled to stop big plays, and seemed to close the year out with anything but a bang.
But the one thing that seems to consistently keep the coaching staff buzzing about him is his ability to remain calm.
Asked if he was ever nervous about playing so much last season as a freshman, Countess answers, honestly, that no -- he wasn't.
He didn't have time to be.
"He's a mature young man," Michigan defensive backs coach Curt Mallory said. "He's handled his playing early well and he had some bumps in the road toward the end of the year.
"But when you play that position, you have to have a short-term memory and move on and learn from those mistakes. And that's what we expect him to do."
Mallory said the 5-foot-10, 180-pound Countess had a mature summer away from the coaching staff as well, spending plenty of time in the weight room to gain more strength and speed.
He also wasn't too proud to take criticism from Mallory and defensive coordinator Greg Mattison on his season-ending struggles, something Countess sees as an important part of his development.
Described as a "business-like" player, Countess' ceiling -- in Michigan's eyes -- remains high.
"Blake Countess continues to take a great amount of pride in how he plays," Hoke said. "In my opinion, Blake is one of those guys who is driven. He's got a lot to prove yet, too, (though).
"But he wants to be as good as he can be."
Countess understands the rare air he flew in last season.
But he also knows playing a lot as a freshman doesn't guarantee anything as a sophomore or beyond.
He's not trying to be the next Charles Woodson or Marlin Jackson. Not even close.
Right now, he's trying to be the best Blake Countess -- because he doesn't have time for anything else.
"I try not to think about the past too much," Countess said. "I have to worry about Blake and I have to worry about Team 133."
Nick Baumgardner covers Michigan sports for AnnArbor.com. He can be reached at 734-623-2514, by email at nickbaumgardner@annarbor.com and followed on Twitter @nickbaumgardner.