Posted on
Fri, Jun 8, 2012 : 5:59 a.m.
Michigan's Brady Hoke on football playoffs: 'I hope they think about the kids'
By Kyle Meinke
Michigan football coach Brady Hoke supports playoff reformation, but isn't getting too involved with the particulars as conferences hash out their preferred systems.
He is resolute about one thing, though: He does not want to see the playoff field expanded to the point where multiple rounds are required to determine a champion. One extra game is enough.
"Whatever happens, here's the only thing I hope: I hope they think about the kids, and the families of those kids who are out there on the field, because how many games do we want to play?" Hoke said this week during a meeting with the Michigan Associated Press Sports Editors at Weber's Inn in Ann Arbor.
"These are not professional athletes. They are student-athletes. They have classes."
The BCS' reign appears to be nearing an end, despite the Big Ten's wishes to maintain the status quo. BCS officials are set to meet June 13 in Chicago, and Division I commissioners follow June 19-20.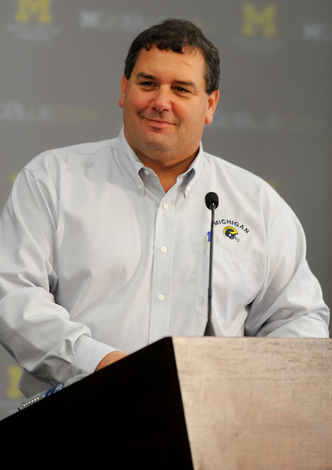 Melanie Maxwell | AnnArbor.com
The BCS presidential oversight committee wraps things up June 26 in Washington, at which point a new format could be announced. It's also possible, however, that negotiations will protract into August.
A new four-team playoff is expected to be in place for the 2014 season.
Some believe that could become the precursor for an expanded field, which already exists at the lower levels of college football.
Hoke said he summarily opposes that approach for FBS schools, though, and noted big-time college football players face challenges that do not exist at the lower levels.
"I think that's a whole different deal," he said. "The game (at lower levels) is not near as physical as it is at this level. If it was, those guys would be playing at Michigan and USC. And their games aren't on TV every week, so you may call it pressure or not pressure or whatever you want, and then you're going to take the second semester, we have school, and you're going to play all the way through?
"What are you going to do? Do you want to play eight games and then start (the playoffs), like they do in high school in the state of Indiana? Well, that's not going to work, because when we fill up the Big House, I bet we make pretty good money."
Hoke said he's also concerned about the cost of travel, which could burden families and fans even in a four-team format. It's conceivable a Big Ten team could travel to a league title game, national semifinal and national final in the span of a month.
That's especially true if bowl sites are used for the semifinals, which the Big Ten favors.
Michigan athletic director Dave Brandon said recently he would support providing families with a travel allowance, similar to what already is in place for the men's basketball tournament. Still, the travel is a concern for Hoke.
"They can't afford it (in some cases)," he said. "We got guys on our team whose parents can't afford to get up to Ann Arbor once a year."
One way to mitigate that problem would be to use campus sites as semifinal hosts, which would provide an extra home game for teams seeded in the top two.
Reeling playoff games into the Big Ten footprint seemingly would help the league's competitiveness on the field as well, after decades of traveling south and west to face SEC, Pac-12 and Big 12 schools in bowl games.
Hoke would love to host playoff games at Michigan Stadium, which is not surprising. That would be an immense competitive advantage for his team.
But he also is realist, and knows he won't get his way.
"We all know it's about money," he said. "We all know it's about TV.
"That's not going to happen because people, or networks, or whoever -- and I'm getting way too far into this; like I said before, I'm just a D-line coach, I coach defensive linemen -- I mean, they're going to want to play in a controlled environment."
Kyle Meinke covers Michigan football for AnnArbor.com. He can be reached at 734-623-2588, by email at kylemeinke@annarbor.com and followed on Twitter @kmeinke.