Posted on
Sat, Mar 24, 2012 : 5:58 a.m.
Michigan's Brandon Moore emerges as leader to fill void at tight end
By Kyle Meinke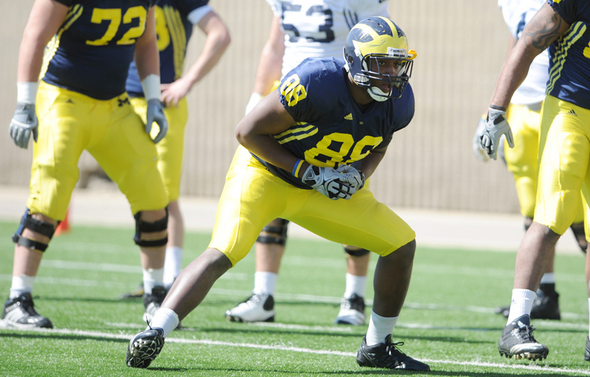 Melanie Maxwell | AnnArbor.com
Brandon Moore is a quiet guy by nature. His play, though, has been loud this spring.
Michigan football coach Brady Hoke said Thursday the redshirt senior has become the leader to replace departed starting tight end Kevin Koger.
"I think Brandon Moore, these couple of days, has grown up a little bit," Hoke said after the team's fourth practice this spring. "I like what he's doing.
"I don't know if it's far and away, but he's the best one at it so far. Most experience, too."
It says something about the Wolverines' depth when Moore -- who has two career catches -- is their most experienced player at the position. But losing Koger and second tight end Steve Watson to graduation has depleted their ranks.
They might not have much choice but to turn to Moore, who largely is an unknown commodity.
Here's what is known: Moore is a fifth-year senior from Trotwood, Ohio. He has appeared in 17 career games, including 12 last year, but mostly as a blocker.
And he likes dogs, according to former high school teammate, current roommate and good friend Roy Roundtree.
"Shy, calm, smart," Roundtree said, when asked what Moore is like off the field. "He don't really do nothing. Half the time, he's playing with his dog, doberman that he has."
Roundtree isn't much of a dog person, after being bit by one when he was young.
"I don't mess with dogs," he said, laughing. "It's a house dog, but my door is closed half the time."
Roundtree said despite Moore's quiet disposition, he is handling the added pressure well.
"Catching the ball good, running great routes and blocking," the receiver said. "This is his year. I feel like if he goes out there and practices, and shows the coaches he can be trusted out there, then he's really going to have an impact this season."
Other candidates for time at tight end include converted receiver Ricardo Miller and incoming freshmen Devin Funchess and A.J. Williams. The freshmen don't arrive on campus until the summer, but Miller has impressed so far this spring.
The junior played in two games last year at tight end, and eight on special teams.
"(He) is more of a move guy, but he's played with his hand on the ground a little bit," offensive coordinator Al Borges said earlier this week. "He understands our offense. Very athletic -- athletic as any tight end we got.
"Used to be a wide receiver, so he has speed and he has receiving skills. He's another one that's going to get a great look."
Koger caught 23 passes last season for 244 yards and four touchdowns. Although it would be optimal for the Wolverines to replace that production in the passing game, Hoke said he's more focused on finding a reliable blocker.
"We have to have a guy who can move the line of scrimmage, first and foremost," he said. "Whether we run the power out of the one-back set, gun set, or if we're running the power and the outside stretch play out of two-back, we've got to have a guy who can combination-block the defensive end with the tackle."
It seems that role is Moore's to lose at this point, although there's a lot of football to be played before Michigan rolls into Dallas this fall.
Kyle Meinke covers Michigan football for AnnArbor.com. He can be reached at 734-623-2588, by email at kylemeinke@annarbor.com and followed on Twitter @kmeinke.