Michigan's David Molk not changing lifestyle after signing 4-year deal with San Diego Chargers
Posted on Tue, May 8, 2012 : 8:18 p.m.
David Molk was a no-nonsense kind of player while becoming an All-America center for the Michigan football team, and doesn't intend to change now that he's in the NFL.
So what does he plan to do with the small financial windfall he's set to receive, after signing a four-year deal Tuesday with the San Diego Chargers?
"Not a whole hell of a lot," Molk said in an interview before the signing, which was reported by Chargers.com. "I'm cheap. Always have been. I think I get it from my dad.
"I'll probably just live in a studio."
Really? An NFL player living in a studio apartment?
"Not going to buy a house, especially in this housing market," he said. "I don't need any more room than I have now. I don't need a big townhouse. Just give me a little crappy apartment and a TV and a nice chair, and I won't know the difference.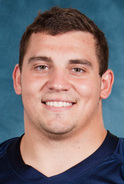 "I get it from my dad. We spend nothing. My dad's got money, but he still buys generic brand ketchup. I'm talking about the crappiest, crappiest ketchup. And I'm not much different."
Molk was selected by the Chargers in the seventh round, and is expected to compete for a backup role behind starter Nick Hardwick. Terms of his four-year deal have not been released.
He was a four-starter at Michigan, and won the Rimington Trophy last year as the best center in the country. He also was an Associated Press first-team All-American.