Michigan's defense took advantage after it knocked Notre Dame quarterback Dayne Crist from game
Posted on Sat, Sep 11, 2010 : 9:55 p.m.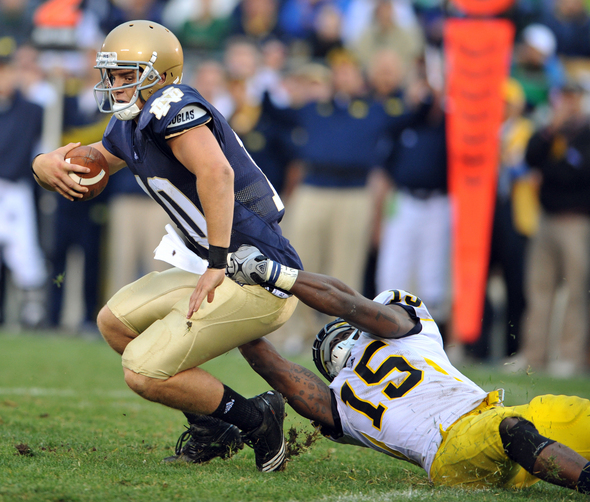 Lon Horwedel | AnnArbor.com
SOUTH BEND, Ind. - Craig Roh had no clue what was going on.
Well, he knew what defense the Michigan football team was in. He knew the plays he had to run. As far as who was playing quarterback for Notre Dame, though, that eluded him.
"It's funny, I actually didn't notice when he came out," Roh, a sophomore linebacker for Michigan, said. "Someone told me a new quarterback was in. I didn't realize it.
"I guess that not much."
While Martin broke the news to him - actually Martin informed him Notre Dame used three quarterbacks Saturday in a 28-24 loss to Michigan - Roh might have been the only person to not think the absence of Dayne Crist in the Notre Dame offense affected the Irish.
With Crist in the game in the first half, Notre Dame moved the ball fluidly on the Michigan defense. The Irish scored on their first drive, which ended with a 1-yard run by Crist that also took him out for the rest of the first half as he struggled to see out of his right eye.
With him out, Michigan capitalized. Backup quarterback Tommy Rees, seeing his first game action, threw an interception and was pulled. His backup, Nate Montana, struggled throughout the first half.
And with Crist on the sidelines, Michigan went from a team struggling defensively to one that shut down the Irish.
"The tempo may slowed down a little bit," Notre Dame freshman receiver T.J. Jones said. "Just to kind of see, get the quarterbacks more time to read the coverages since Dayne was the primary quarterback."
While Notre Dame's players said there wasn't a great difference in Crist vs. non-Crist, Irish coach Brian Kelly acknowledged it.
It became even more evident in the second half, when Crist returned and Notre Dame scored 17 straight points to take a 24-21 lead with 3:41 left in the game.
"Anytime your starting quarterback goes (out), there's always that first sense of 'Oh, my gosh, our starting quarterback's out,'" Kelly said. "Our defense really kept us in the ball game, even while we were mucking around on offense there."
It also left Notre Dame with few targets, few options and Michigan knew it. It even expected it a little bit out of Crist, but the junior from California proved his ability to Michigan on that opening drive.
Crist completed 13 of 25 passes for 277 yards, two touchdowns and an interception. His replacements were 8-of-19 for 104 yards, no touchdowns and two interceptions.
So once Crist went out, Michigan got excited.
"When we saw new faces back there we thought 'We have to get after these guys,'" safety Jordan Kovacs said. "They were unproven and we hadn't seen much film on them so we wanted to see what they were made of."