Posted on
Sat, Sep 17, 2011 : 7:39 p.m.
Denard Robinson takes charge, but not as the pro-style quarterback the Michigan football team desires
By Kyle Meinke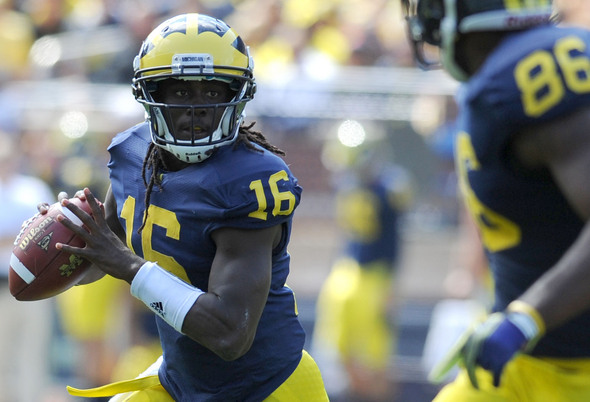 Angela J. Cesere | AnnArbor.com
Denard Robinson might never be a pro-style quarterback.
He almost certainly won't make it this year. Not based on results with a quarter of the season in the books.
The Michigan football team beat Eastern Michigan, 31-3, on Saturday, and appeared hungover for much of the first half after last week's win against Notre Dame.
That's forgivable, though. After all, Michigan won handily and its troublesome defense had its best game in four years and two days.
But Robinson? That one is far more concerning, and can't be passed off as a hangover.
The junior, undergoing that transition from spread-option to pro-style quarterback, missed on his first five passes. He missed badly on a couple of them. Missed open guys. Didn't see open guys.
Angela J. Cesere | AnnArbor.com
He was ineffectual in every way when it came to the passing game.
Eastern Michigan, by the way, was picked to finish last in the Mid-American Conference's West Division.
Robinson played incrementally better as the game progressed, finishing 7-of-18 passing for 95 yards, two touchdowns and one interception. But there are real warts on his aerial game.
The scariest part of all? While everyone else sees them, he doesn't — or at least isn't fessing up.
He deflected questions about the most-concerning aspects of his game.
Denard, are you seeing your receivers?
"We have been practicing this all week, so I saw them pretty good," he said.
Denard, it looked like you were missing and throwing behind a lot of your targets. What's going on?
"Naw," he said curtly. "No."
Robinson's always been a man of few words, but he's always worn that smile. There was less of a smile Saturday, and even fewer words.
He wasn't happy with his performance, surely. And it's not as though he thinks all is right.
"I always got time for improvement, room for improvement, so that's what I got to do," he said.
But will he? Improve? In the passing game?
He just isn't making plays with his arm. He's overthrowing on some plays, underthrowing on others. He's behind his targets. He's late to see receivers break open.
The wideouts finished with five catches, none by starters Roy Roundtree and Junior Hemingway.
This, again, is against EMU, which finished 113th last year in overall defense. For perspective, that was three spots worse than Michigan.
I asked Robinson what he would do to turn things around.
"Got to come back Sunday and come to work," he said. "Just do everything the coaches tell me to do.
"We'll see on the film."
He won't like what he sees on film. Neither will coaches. And this spread-West Coast hybrid of an offense might become even more bent toward the run.
After all, it worked.
He rolled up 26 carries for 198 yards and one touchdown. That would have been his third-best running game last year, both in carries and yards, when he was running a straight-up spread-option attack.
It's not as though offensive coordinator Al Borges wants to run him 26 times in a game — not when the preseason goal, for offensive consistency and ball control and to keep Robinson healthy, was 10 to 15 carries per game.
But Robinson was at 14 by halftime. Even with the game in hand, he had 12 more in the second half.
This surely isn't what Borges envisioned his offense would look like after three games — but it just might be what we see going forward.
When the going got tough against Notre Dame, it was Robinson on the run — and it worked, culling together one of the best four quarters and greatest comebacks in Michigan quarterback history.
When the going got tough against Eastern Michigan, it again was Robinson on the run — and it worked. He was just 2 yards shy off his third career 200-yard game, and Michigan moved the chains.
Robinson just isn't progressing in the passing game. It's possible he's regressed since last year, at least in terms of accuracy. He's completed 49.1 percent of his passes. He finished last year at 62.5 percent, and that was after facing the Big Ten gauntlet.
He might someday pick it up — he's always been coachable, after all, and has always done whatever was asked of him.
But he hasn't yet. That was crystal clear against a bottom-tier MAC team.
What will Michigan do next week against San Diego State?
Kyle Meinke covers Michigan football for AnnArbor.com. He can be reached at 734-623-2588, by email at kylemeinke@annarbor.com and followed on Twitter @kmeinke.