Posted on
Wed, Feb 17, 2010 : 5 p.m.
Greg Banks and Michigan football team's revamped defensive line try to replace Brandon Graham
By Dave Birkett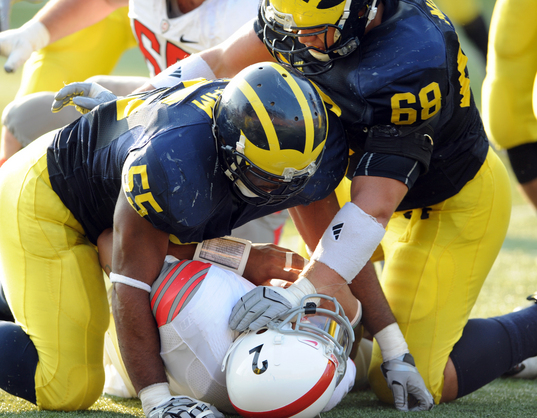 Brandon Graham
had more sacks (10 ½) and tackles for loss (a nation-leading 26) than the rest of Michigan's defensive line combined last year.
So how does the Michigan football team replace its best player for what looks like a make-or-break season?
By committee.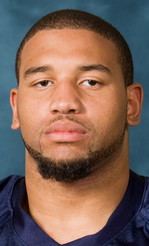 "We're all looking for a rotation because great defensive teams have great rotations," defensive lineman
Greg Banks
said last week. "You can't replace BG. We take characteristics from him, we take things that we seen from him like his emotion, his passion for the game, the way he played and how hard he played it, and try to incorporate them into our own way of being."
Banks is one of a half dozen or so Wolverines who'll play an expanded and slightly different role on Michigan's defensive front this fall.
He said he expects Ryan Van Bergen to take over Graham's pass-rushing defensive end spot - "I think that's the plan," he said - while he plays both end and tackle.
Nose tackle Mike Martin could see time outside, especially if sophomore Will Campbell emerges as a force in the middle, and senior Renaldo Sagesse and bulked-up redshirt freshman Anthony LaLota also should be in the mix.
"See, that's a guy that nobody's seen," Banks said of LaLota. "He's gotten his weight up, he's gotten a lot stronger, he's learning more and more about the defensive schemes, offensive schemes and plans and stuff of that nature. He's coming up."
After serving as a dependable if under-the-radar backup last year, Banks is, too.
He said he's up to 278 pounds - he played in "the low 260s" most of last year - and feeling needed like he hasn't since high school.
"In high school they really counted on me on defense," Banks said. "We're all trying to replace Brandon Graham, even the guys like (LaMarr) Woodley and all them, we're trying to get the D-line back like that. Me, personally, I'm trying to step up my level of game like I did in high school. But this isn't high school. This is college. I'm trying to take it to a whole 'nother level."
Banks, who's still looking for his first career sack, said he turned to Graham, his former roommate, for advice on how to prepare for his senior season.
"He's like, 'You have it physically, you just have to get it mentally,'" Banks said. "He's like, 'When you believe that nobody can stop you, then you're going to go out there and do it.' So I've been working on the mental aspect of my game."
So have his teammates, who Banks said share his vision of an improved defense next season despite the loss of Graham.
"Everybody's excited," Banks said. "We're doing some new things on defense, new people, new places, but me personally, I'm just excited to help my team out.
"I finally got a chance to not only show my coaches but my teammates what I can do, that goes along with showing the nation. A lot of people are sleeping on us, which is good."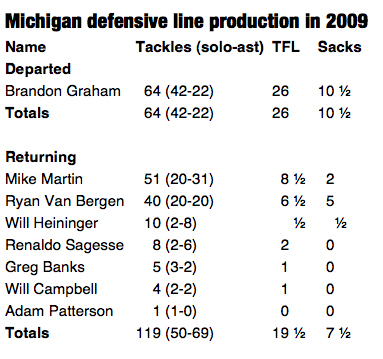 Dave Birkett covers University of Michigan football for AnnArbor.com. He can be reached by phone at 734-623-2552 or by e-mail at davidbirkett@annarbor.com. Follow him on Twitter @davebirkett.