Posted on
Mon, Apr 9, 2012 : 5:59 a.m.
As Michigan receivers erase 'carnival of missed assignments,' Jerald Robinson stands out among them
By Kyle Meinke
In the Michigan football team's continued search for a third wide receiver, one name is mentioned more than any other.
Jerald Robinson.
The sophomore has appeared in only two career games, and has yet to record a catch. But whenever the topic of who will play alongside Roy Roundtree and Jeremy Gallon is broached, it is Robinson whose praise has been most effusive.
Consider this from offensive coordinator Al Borges, on who has stepped up this spring: "The same cast of characters, you know, save Jerald Robinson, who's really proven some toughness because he's been a little banged up, but he's not bad. He's done a very nice job. I've been happy with Jerald."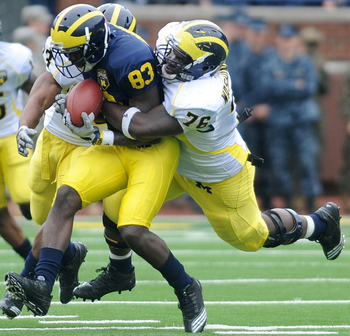 Angela J. Cesere | AnnArbor.com
There are major questions regarding the Wolverines' receiving corps. Junior Hemingway, last year's top wideout, has graduated and Darryl Stonum, the top returner, was kicked off the team.
That's a lot of firepower lost from a group that recorded only 108 catches last year. For comparison, receivers made 197 catches in 2010 -- and Roundtree and Stonum combined for 121 themselves.
Of course, it wasn't just the receivers who were culpable for last season's struggles. Quarterback Denard Robinson had accuracy issues much of the year, completing only 55 percent of his passes and tossing 15 interceptions. That was sixth most in the country.
But there also were an array of missed assignments among the receivers, as they picked up Borges' new spread-West-Coast offense. That's one area where they could make a big leap next season.
"We get very few missed assignments now, whereas last spring, it would be a carnival of missed assignments," Borges said. "It's not their fault. New system, that's going to happen. But we just don't get it anymore from those players that have played significantly."
Borges also mentioned juniors Drew Dileo and Jeremy Jackson as possible contributors.
"Drew Dileo, again, is consistent, smart, tough," Borges said. "Jeremy's been healthy, and because he's been healthy, his game has taken another step. It's good to have him because he gives us some range at the position that we lost in Junior."
The competition could take on a new look in the fall, when freshmen Amara Darboh and Jehu Chesson arrive on campus. Both come highly touted, although Darboh is considered a little more college ready.
But Borges isn't promising anything.
"The guys coming in, we have no idea who's going to help us," Borges said of the freshmen in general. "Neither does anybody in the entire country, regardless of what you told them in recruiting. No one does, because sometimes, guys come in and ... they're just not as good or they're not ready.
"When we get into the first weekend in fall, we start all over again. You install your system, evaluate what you have, and see who's got the best chance to play at that point. You have a new batch of players."
Robinson, on the other hand, is more of a known commodity, even if he hasn't yet shown it on Saturdays. He's a big body at 6-foot-1 and 206 pounds, and could help fill the role occupied last year by Hemingway on deep balls.
"This year, Jerald's going to get a great look," Borges said recently. "So far what we've seen, he's going to make a contribution, and he is that big, physical guy much like Junior was.
"If you're asking how to replace (Junior), he's definitely at least one answer. "
Kyle Meinke covers Michigan football for AnnArbor.com. He can be reached at 734-623-2588, by email at kylemeinke@annarbor.com and followed on Twitter @kmeinke.