Posted on
Thu, Feb 23, 2012 : 2:26 p.m.
Michigan's Mike Martin was strongest player in Big Ten last year, Iowa OL says
By Kyle Meinke
INDIANAPOLIS — Former Michigan defensive tackle Mike Martin is aiming to break the bench-press record at the NFL Scouting Combine, and he has at least one believer.
The poor guy who got beat up by him the past two years.
Iowa offensive guard Adam Gettis told AnnArbor.com on Thursday that he thinks Martin has a legitimate shot at breaking former Oregon State star Stephen Paea's record of 49 reps (at 225 pounds).
Asked if he thinks Martin is the strongest player in the Big Ten, Gettis, who matched up with Martin, didn't hesitate.
"Definitely," he said. "I'd definitely agree with that one. Definitely."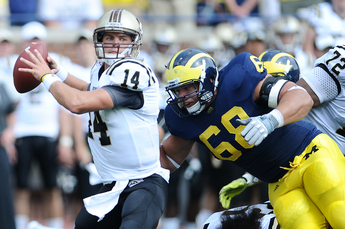 File photo
Iowa beat Michigan each of the past two years, including 24-16 this past season in Iowa City. The only other team to beat the Wolverines in 2011 was
Michigan State
.
But Gettis said the Michigan defense he beat last year was markedly better than the one he beat in 2010 (by a 38-28 score). He credited the schematic change executed by Wolverines coordinator Greg Mattison, who ditched Greg Robinson's 3-5-3 for a 4-3 look.
Gettis said the move made Martin more difficult to handle because it was no longer easy to double-team him. It was, in the 3-5-3.
"They were playing that 3-5-3 thing, and he was getting a lot of double-teams, and he really couldn't do too much," Gettis said. "But this 2011 season, he's done well. There's less double teams on him because of the new system, and he could move a little bit more, get out of his stance better."
Martin finished with 64 tackles and 3.5 sacks last year, both career highs for the three-year starter. As a team, Michigan jumped to 17th in the country in total defense after finishing 110th in 2010.
Martin is scheduled to arrive in Indianapolis on Friday. His combine gets under way Saturday with medical and psychological testing, as well as private interviews with NFL teams. He is projected to be an early- to mid-round pick.
He bench presses with the other defensive linemen on Monday.
Kyle Meinke covers Michigan football for AnnArbor.com. He can be reached at 734-623-2588, by email at kylemeinke@annarbor.com and followed on Twitter @kmeinke.