Posted on
Wed, Oct 26, 2011 : 4:48 p.m.
Michigan's Ricky Barnum declared healthy for Purdue game, but might have lost his job to Michael Schofield
By Kyle Meinke
Changes could be on the horizon as the Michigan football team tries to solve the inconsistencies that have plagued its offensive line.
It seems sophomore Michael Schofield is vying for the starting spot at left guard, even with starter Ricky Barnum returning to full health. Whoever loses that battle also could challenge junior Patrick Omameh at right guard.
Michigan coach Brady Hoke said Wednesday that Barnum is healthy, but hasn't necessarily earned back his job.
"We'll find out," he said. "It's a competition, but he's healthy."
Barnum hasn't played since twisting his ankle against San Diego State. He practiced Tuesday with a wrap on the ankle, though, and is expected to be available when No. 17 Michigan (6-1, 2-1) takes on Purdue (4-3, 2-1) at noon Saturday on ESPN2.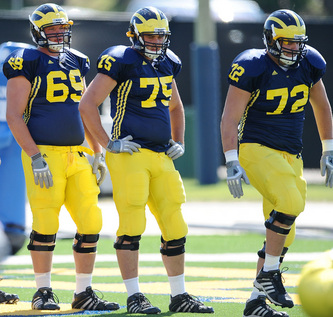 Melanie Maxwell | AnnArbor.com
Schofield has played well in his absence the past three games, and turned in perhaps the best performance of any offensive linemen two weeks against
Michigan State
.
Something that could give Schofield a leg up is not only has he already started four games this year, but his playing style is similar to Barnum's. That minimizes the potential for disruption to the offensive line's consistency.
"They're both athletic kids that can move," offensive coordinator Al Borges said Tuesday. "They can play inside the box pretty well. Smart kids -- both of them -- too. Very similar games.
"They bring about the same thing to the table: athleticism and some toughness."
Center David Molk has not been happy with the offensive line's play -- "On a good day we're an 'A,' on a bad day we're a 'D,'" he said -- but is circumspect of potential changes up front because, more than most positions, the offensive line relies on cohesion and rhythm.
"The longer you play with these guys, the longer you get that gel within," Molk said. "So with me and guards, and the guards and the tackles, its working together as a line, the communication, it all gets better as the season goes on.
"I like consistency. It's always a good thing, especially with how the offensive line play is. We are not individuals, we work together."
Still, Molk said a change should be made up front if a reserve is outplaying a starter.
He stopped short of saying that was the case for Schofield in particular, adding it was the coaches' call to execute such a decision. But, he did say Schofield is playing well and he felt comfortable with him in the lineup.
"If there's one guy who can show up better than another guy, it's better to make a switch, even though I like consistency," Molk said.
Adding another twist to the lineup is the poor play of Omameh at right guard. The junior struggled against Michigan State, especially when pulling, and the right side of the line was much worse as a whole than the left side.
So, it's possible the loser of the Barnum-Schofield battle at left guard could slide over to right guard.
Hoke was asked Monday if Barnum will be competing with Omameh as well as Schofield when he returns.
"I wouldn't say that, but I think all three of those guys — there's always that competition there, and Mike's done a pretty good job in there," he said. "Ricky hasn't been as healthy as he is now. He's healthier today than he was a week ago.
"I think we have kind of what you want."
Michigan did catch one break in regards to its offensive line. Hoke said left tackle Taylor Lewan, perhaps the team's best lineman, is expected to play against Purdue despite sustaining wrist and ankle injuries against Michigan State.
Lewan did not practice last week and might not have played if the Wolverines had a game. The off week allowed him to get healthy, though, without missing time.
Other notes from Hoke's news conference:

Hoke targeting 20-25 carries per game for tailbacks

Hoke continues to back a tailback-by-committee approach, but said Michigan needs to get more carries for the position group if it is to remain productive in the offense.
"We all felt maybe we should have had a few more touches for them a few weeks ago (against Michigan State)," Hoke said. "Whatever you can do offensively to put yourself in position to win is going to take over at some point, but we'd love to have, between the two of them, 20-25 touches a game."
Hoke said sophomore Fitz Toussaint and junior Vincent Smith will continue to be the primary ball carriers, but senior Michael Shaw and freshman Thomas Rawls also could earn snaps.

Rawls to special teams?

Hoke said Rawls "could get" more time in the backfield, but seemed more optimistic the freshman would get work in the kicking game.
Rawls has 12 carries for 77 yards this year, with much of that work coming in the 58-0 blowout of Minnesota.
Hoke also announced another true freshman running back, Justice Hayes, will redshirt this season.
Jeff Sainlar I AnnArbor.com
Denard feeling fine
Quarterback Denard Robinson was hit, hit late and sacked several times against Michigan State, eventually leaving the game in the fourth quarter due to a bruised back.
The junior said he's feeling fine now, though, after seeking treatment throughout the week.
"That made a difference," Robinson said of having a week to rest. "I got in the cold tub, the hot tub, and I'm feeling pretty good now."
Robinson, who said his back injury "wasn't a big deal," said this is the healthiest he's been at this point in the season since his freshman year.

Return to practice gets chippy

Hoke said he was pleased the players practiced with some "chipiness" on Tuesday, especially considering they are returning from an off week.
"Usually, when you have a little bit of edge to you, no matter what you're doing, it seems there's a little energy there, a little focus and wanting to get back on the field," he said.
Kyle Meinke covers Michigan football for AnnArbor.com. He can be reached at 734-623-2588, by email at kylemeinke@annarbor.com and followed on Twitter @kmeinke.